Daisy All Tacked Up
---
So, I have noticed that I have very few pictures of Daisy all tacked up, so I got her all dressed up and took pictures last night.
Here's our trail get-up: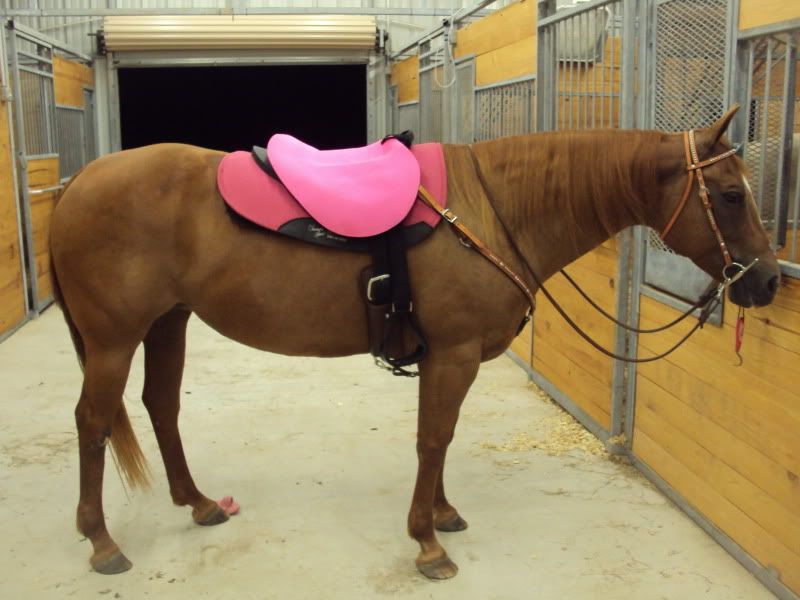 That's my Cashel SoftSaddle - love of my life. SOOOO comfortable.
And here's our work/normal riding get up:
I don't know if you've ever tried to take a picture of a horse that insists on following you around, but it's realy hard. I took a video so you can see her tack better.
It's uploading to YouTube as we speak. I'll post it as soon as it gets done.
Just sharing. Hope you guys enjoy.
ETA: Video uploaded!
---
Last edited by LeahKathleen; 07-07-2009 at

10:34 PM

.
I have that saddle pad!

And Daisy is looking good all prettied and tacked up.
---
Red Money Maker (Red) - 2004 Sorrel QH Gelding
Aw, thanks! Pink is her color - I don't know if you can see the pink crystals on her headstall and breastcollar, but they are there. :]

ETA: Don't you love the way the Charmayne James pads fit under round-skirted saddles? I love mine. :]
Aw, she looks great. Pink is definitely her color. :)
---
Ride more, worry less.
She looks too cute! Pink is definitely her color
.
Oooooo cute! Pink is definitely her "signature" color
---

"Until one has loved an animal, part of one's soul remains unawakened..."
- Anatole France
Aw, love her. I'll have to get a picture of Diesel in his matching headstall :)
Thanks everyone. :]

I'll pass on the comments to Daisy. :P
she is such a cute girl.
---
quarter horses.....simply the best
ETA: Shayna, I demand pictures of Diesel! o.0