Date this saddle!
---
I picked up an older simco saddle today that I'm pretty psyched about. It seems to have an older style (which I'm strangely attracted to). Also what type would you label it? The number on it is 2510. Any educated guesses are welcome!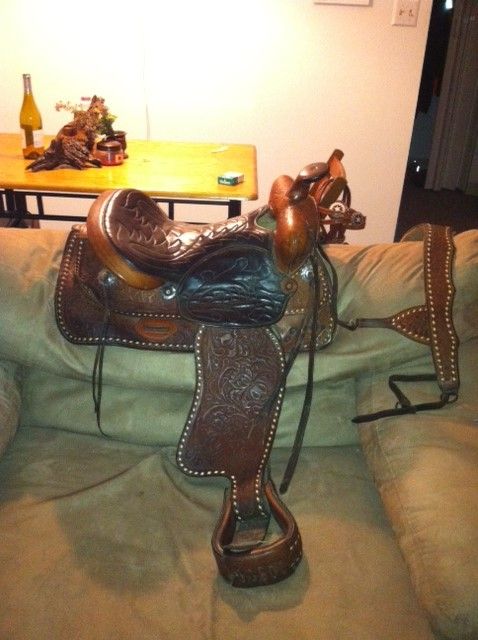 Its not as yellow as the picture insists. I just had the flash on.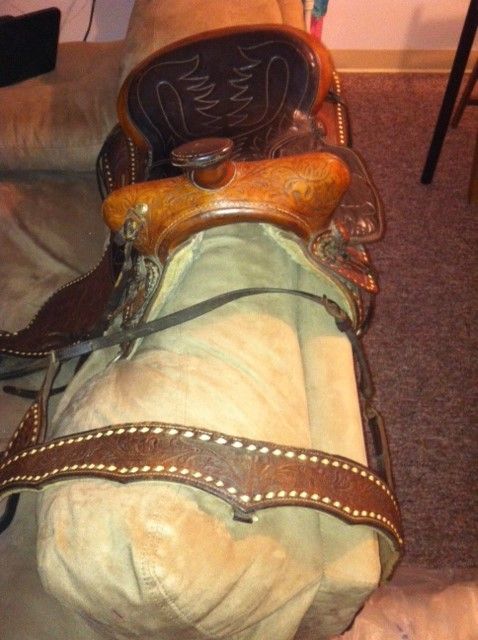 ---
And those who were seen dancing were thought to be insane by those who could not hear the music
My guess, for age, is 1980. I have a Simco also from that era hence my guess. I got the saddle new and I think it was billed as a pleasure/trail saddle (definitely not for roping). Mine is very comfortable (for horse and human) and still going strong.
Oh yeah, late 70s trail type. THe buck stitching went out of style shortly thereafter. They used to be one of the better saddles one could buy.
---
"The question is not, can they reason? nor, can they talk? but, can they suffer?" Jeremy Bentham
Thank you! I did a quick read up on Simco saddles before buying it and everyone seemed to love the old style ones, saying they were pretty good quality as long as it was made before 1990 something. I bought it for $150 and the fleece is still better than some saddles who aren't half as old!

My roper is so heavy...it tipped the scale at 59lbs. I love it but with my back, lifting it to shoulder length and then resting it down on a horse withough dropping or throwing it just hurts. I needed a lighter one!
---
And those who were seen dancing were thought to be insane by those who could not hear the music
I would say early '70s, as evidenced by:
saddle strings with slotted conchos
white buckstitching
square comfort cantle and broad square swells
double skirts, not the California single skirt that was "in" by mid to late '70s
Similar Threads
Thread
Thread Starter
Forum
Replies
Last Post
Saddle Delivery Date

Copperhead

Horse Talk

40

09-06-2012

10:39 PM

Up Date

huggingchester

Horse Training

1

07-10-2011

01:10 PM