Desperately Seeking
---
Hi,
I'm hoping someone can help me with this. I'm looking for an itme of riding gear but I don't know what they are called or where to get them, this I hope one of you can help me with.

Basically, they are chaps for riding out in. They are made of fabric and are stretchy. They are worn under your pants/jeans to stop the leathers rubbing or pinching. You pull them on over your calves. For all the world they look like leg warmers.

I am driven demented trying to find them. My friend has them, he bought them in the US about 10 years ago but has no idea what they are called.

Please someone help!
Maybe they are a variation of a half-chap?
OR... Mabe they're just thick, tight leg warmers
Those are the only ideas I have...
---
...you will be more disappointed by the things you didn't do than by the ones you did do. ... Explore. Dream. Discover."
–Mark Twain
I think you are just talking about half chaps. They make them in leather and in synthetic material.
Yeah, that's what I thought too -
Half Chaps.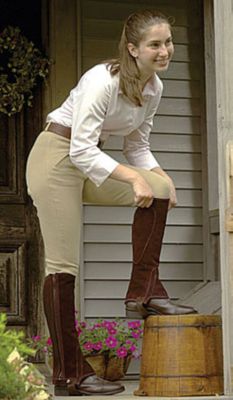 ---
Half chaps maybe? Can you post pics?
Not half chaps, I know what they are. These are literally like footless socks you pull up over your leg underneath your trousers for riding out. They are made of fabric and are really elastic-y.
I know exactly what you're talking about. They sell them in racing supply stores as they are popular with jockeys and exercise riders. They're made of ace bandage like material and are fitted to your ankle and calf.

I absolutely forget what they're called, but they're great for summer riding as they're no where near as hot as half chaps.
Yes, Yes, Yes!!!!! Thats them Maura. Can you think of any name on them that I could google even or a shop that sells them?
That link is to a shop in Florida that sells them; you can order from there.

Or where are you? Not in the US? Google "jockey's equipment" or "jockey's leggings."