Determining English Seat Size
---
As some of you may remember, I recently purchased an english saddle to try out. I am really liking it, but I'm having some difficulties finding the right position. So I had some of my english riding friends out to take a look, and my 17" saddle was deemed much too small for my bottom.
I'm 5'8" and 160 pounds, so I'm not that overweight or anything. I know men ride english, so there has got to be a saddle big enough to hold all of me.
The butt-to-knee length of my thigh is around 23," so what size saddle might work for me? Do they even make anything that big?
On a side note, I found the deal of the century at the consignment section of my tack shop. A lightly used Parelli Theraflex (?) saddle pad, complete with shims for $30.
---
| Kubie, Appaloosa (RIP) | Patches, Pinto Arabian Pony | Scotch, Paint Quarterhorse |
Im sure an 18" would fi you just fine. But is there a local tack shop where you can go and sit in a few different saddles to get the size down and whats comfortable for you? I think that would be your best bet!
Yeah, I do have a couple of tack shops where I could sit in some saddles. Problem is, they are mostly consignment saddles, and almost all of them have 16" seats. It is mostly kids and small women that ride english in my area--everyone else rides western. My brother took some pictures of me riding, so you could get an idea of what this saddle is doing to my position. But then again, my position isn't the best to begin with anyway. Definitely can't draw a straight line from my ear, shoulder, hip, and heel...still working on that.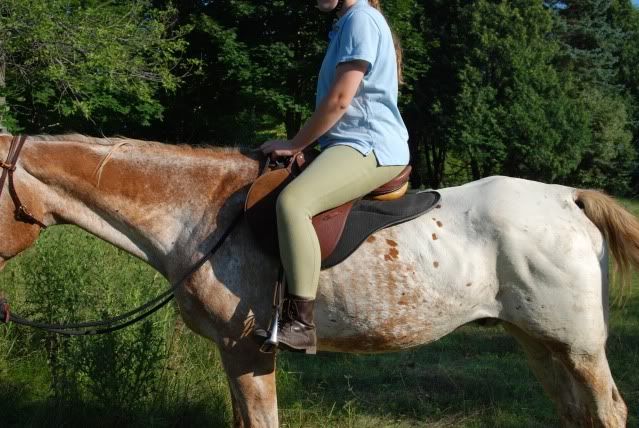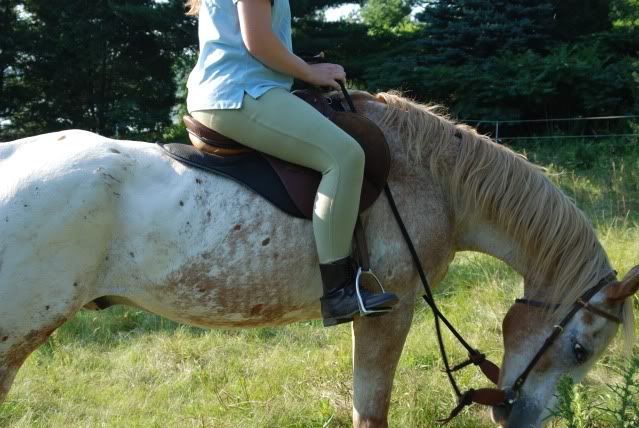 As you can see, I am in a chair position. Are my knees supposed to be closer to the knee rolls? Maybe my stirrups are too short as well? Would a saddle with a seat one inch larger (18") make that much of a difference? Do they even make saddles with seats larger than 18 inches?
---
| Kubie, Appaloosa (RIP) | Patches, Pinto Arabian Pony | Scotch, Paint Quarterhorse |
I had the same problem, and don't worry it's not just your "butt" size, it also has to do with the length of your thigh bone. Advice that was given to me that REALLY worked well was to take a soft measuring tape and sit in a chair. Then measure from the crease behind your knee to the back of your butt and this should be the size you need. I measured 19" and I bought an 18.5 " saddle which ends up to be about an inch small so it pretty much works. Hope this helps.

But now that I look at your picture it appears to be a bit of a positioning on the horse, your cantle seems a bit low which is allowing you to slide back into the "chair" position. A lollypop pad or pad designed to raise your cantle may help your position.

And your area sounds a LOT like where I live...everyone rides western, consignment shop but mostly 16" and smaller.....hmmmmmm Is there really only one English stable there too?????
---
Last edited by Cinnys Whinny; 08-01-2010 at

12:09 PM

.
23" is a 17.5. Your the same as me. I have about 1" of flap in front of my leg.
---
You just have to see your distance...you don't have to like it.
Oops, I just looked at the pics. You're built way different than me. What seems to be happening in those pics it that the center of balance in the saddle is putting you behind where you need to be. You have plenty of flap in that one. If you go sit in saddles, look for ones where the deepest part on the saddle where you sit is closer to the eyelets on the side. That ratio determines where the center of balance in the saddle will be. I forget which it is, but I think the longer that dimension, the closer to the front of the saddle you sit, which is what I think you need. Hopefully you'll actually find a knowledgable salesperson to show you what I'm trying to describe.
---
You just have to see your distance...you don't have to like it.