Do these stirrups have a name?
---
I fell in love with these stirrups when I first saw them in a movie called Dans Avec Lui in 2007, have been looking for them every since.. I've tried all sorts of keywords to google them (iberial stirrups, baroque, classic french stirrups, etc) but my search never yields their exact shape.. the closest i got is this: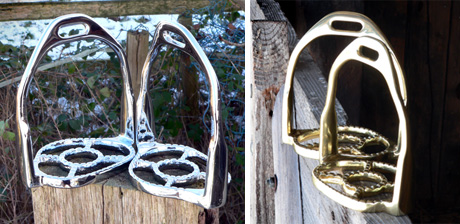 Do they have a specific name?
Also, I just got back from Saumur where I visited
Le Cadre Noir
, & saw a lady who had those stirrups, gorgeous <3[/color]
---
I'm not arguing with you, I'm just explaining why I'm right.

Nothing sucks more than that moment during an argument when you realize you're wrong.

It's not always what you say but what they hear.

---
Last edited by iridehorses; 03-08-2009 at

08:14 AM

.
very helpful! Thanks =)

I haven't been able to find the gold ones tho, still searching x
Look at Iberian tack sites. I know I have seen them there before. The sites that have traditional Andalusian and Freisian tack.