Does anyone here ride on an Abetta
---
If so which one and do you like it? I am in the market for a new saddle because my rear has out grown mine but i don't want to spend tons for a leather one and there isnt anything decent used in my neck of the woods lately for sale
It's a decent saddle for the price (and it's synthetic so easy in maintenance). I'd definitely prefer it over Wintec. Another to look into are Big Horn and Fabtron (I think both come in synthetic as well).
---
"Life isn't about waiting for the storm to pass: it's about learning to dance in the rain..."

"When we are no longer able to change a situation - we are challenged to change ourselves."

"How people treat you is their karma; how you react is yours."

I ride on an old Abetta. For me, it's great except it's at least an inch to big for me I figure. Unfortunately, I haven't been able to buy a brand new saddle, so have to take what I can get. This saddle has been very good to me and I have gone on 5+ hour rides with it. It looks very similar to this one:
abetta%20sample.jpg
Abettas are very good saddles for the price and will last you for years, plus they are light weight and are very easy to clean.
Personally I prefer a Fabtron or Big Horn leather/cordura though. I am currently riding my TWH mare in a Fabtron leather/cordura trail saddle and really like it. She seems to as well. And no she is not preggo. Just fat LOL!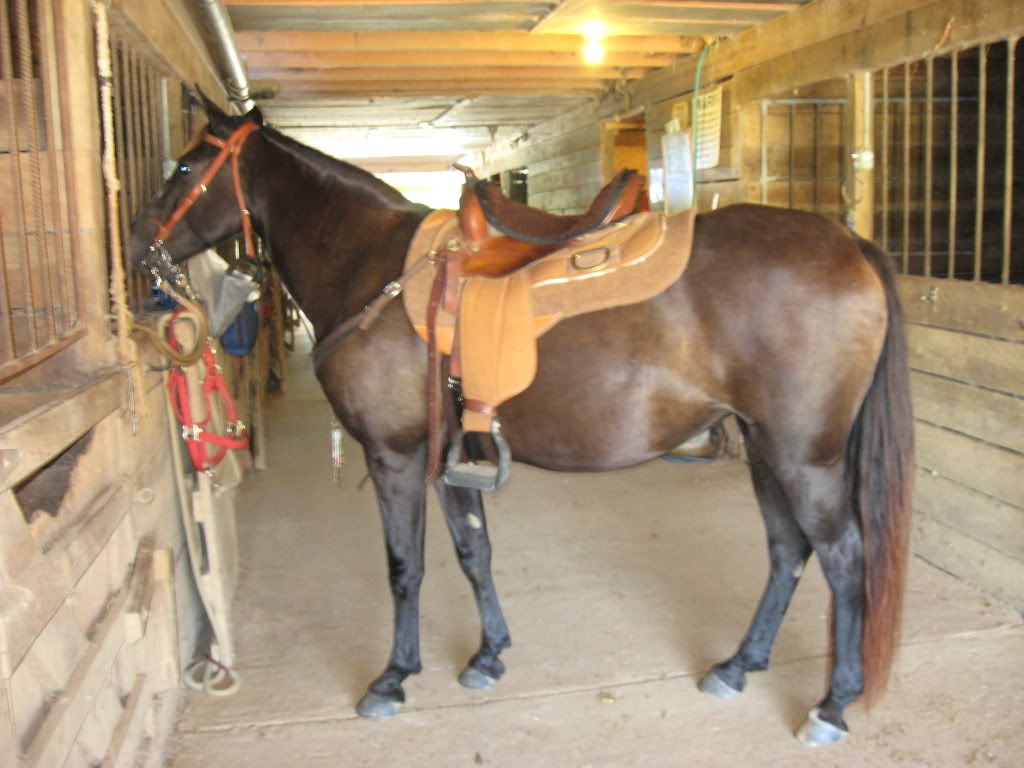 Lol. I have a paint that looks just like her lol
Posted via Mobile Device
Really? LOL! She does have a big white blaze on her face
She's quite stocky for a TWH :)
I'm talking more of the belly size. If you were to look in our pastuer you would see a very oviouse pregger paint horse but if you look closely you will see that she is a he.
Posted via Mobile Device
Oh hahahaha!!! Too much Summer grass LOL!!!! We're both on a weight reduction program
The camp that I worked at hat about 30 Abetta saddles. They were of varying styles but were all comfortable, even though they were 10+ years old. I had no problem spending 5-8 hours a day in the one I used.