Draft horse, saddles roll - need advice!
---
Hi everyone,

My horse is a perch mix, very wide and flat, no withers - all the saddles I've tried have not stayed on while mounting, they roll towards me! I've tried different FQHB western saddles, but they all have this problem, even if you tighten the girth to kingdom come - which I don't want to have to do. I also have a library of saddle pads now, none have solved the problem.

I see videos on youtube of people riding clydesdales and shire's in western saddles, so it must be possible to get one that will stay on my boy's back - has anyone got any experience with actual draft saddles? Is this really gong to make a difference or should I save my money?

Thanks everyone!
Started
Join Date: Nov 2010
Location: Lethbridge, Alberta, Canada
Posts: 1,634
• Horses:
2
Is Clyde the horse you are talking about? He isn't as bad as some horses I've seen. Could you take a picture of the saddle on him without a pad on underneath?
Yes it is Clyde :) and sorry, I should've taken pictures - I also just saw the thread explaining how to use wire to 'trace' withers. The FQHB saddles just seem to float on top like a sail boat, they look silly.

Some people have told me to go treeless, but I don't see how less structure is going to make mounting more stable! I was also looking at trying an aussie saddle from down under since they can adjust the tree for your specific horse. Then there are the people who tell me that's the worst saddle I could choose for a draft XD. Ahhh what to do.
Look into a saddle made specifically for a draft. If you look around online, you can find some decent ones used. I would also use a breastcollar to help a bit with the sliding.
If you are not opposed to english-style saddles, Duett may be your best bet.

They specialize in fitting horses like yours.
is that so? Even though I'm not looking to get an english saddle, that' very encouraging to me because the trees in english & australians are very similar! So Maybe a custom fit australian WOULD work for him... hm! I mean, if a wide english didn't slip around, then I wouldn't think an aussie would either... thanks for that little bit!
One more thing, if you do try a Duett, I'd recommend trying one of their dressage saddles.

They are the most similar to australian stock saddles in design, with deeper seats and straighter flaps. You might feel a little more secure in one of them if all you are used to are western saddles, compared to a jumping or all purpose english saddle.

I have ridden in a Duett Fidelio and all I will say is I wish I had the cash for one and that their smallest width would fit my horse.

One word regarding seat sizing. You will ride in a longer seat size (usually 1 to 1.5 in longer) on an english saddle compared to western. It's not that the saddle is longer, is just the difference in where the measurements are taken.
The cinch you use can be a hindrance. If you have a string/cord type cinch try that. It is a little more grippy. You might consider using a mounting block. It's easier on you and the horse.
I went treeless for my Clyde... MUCH better.
The reason your saddle is rolling is it is probably too narrow... So it isn't sitting on the horse, just on a few pressure points (which will irritate the horse too..l even if he doesn't "say" so)
There are Draft Trees for Western Saddles, the Duett English have been mentioned too... Watch the shape of the saddle matches the shape of the horse though. My girl is just too wide through the shoulder and then all the way back, with a huge ribcage... Not even the Duetts sat well on her.
For us, the treeless solved our problems... And there is NO rolling on her... She is too broad. It has been an ideal solution for her.
(Mine is a Nicker's Saddlery Sensation, early generation English Trail model... They have others and there are other makes too, this one least "offended" my sense of tradition and bank account LOL )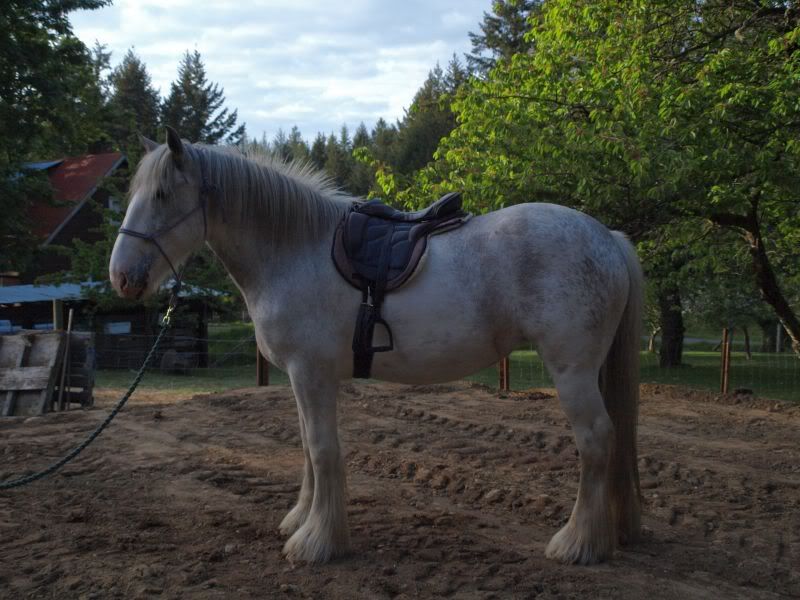 and with a rider (I love how light the saddle is, and with or without a seat bolster it fits a great many different people)