my budget is around 150-250. my parents are paying for half, i need it by this summer, and i don't have a job. i'm looking for really cheap. i always thought kincade was good. i might consider a wintec, but i can't find the right color. black might look good, but i'm not sure. this is my horse: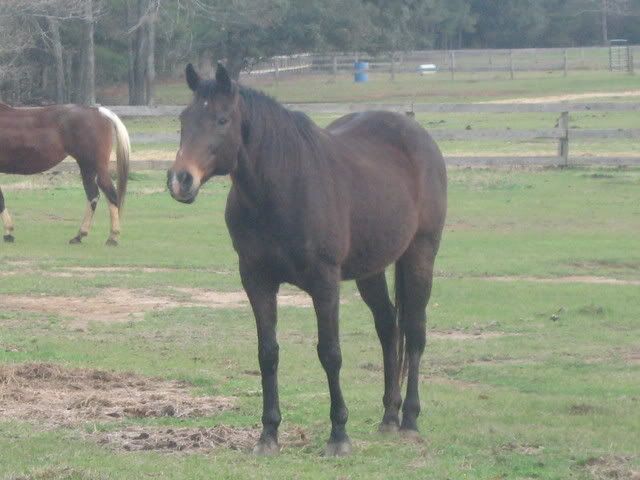 I wanted a dark brown, which wintec doesn't come in from what i've seen.
I'm not sure. I'm not even sure I'm buying the horse, but I want everything set out before so I can impress my parents. LOL
http://www.statelinetack.com/itemdy0...733846%201650R
what about that kincade?
The wintec 500 with the CAIR panels is a good first time saddle for what you are looking for and would be much better than the crudy ones you initially posted.
Hey, I don't like Wintecs (or any synthetics) either! Don't let these guys bully you into getting a Wintec!
hehe
If you truly need/want an adjustable gullet, Collegiate, Bates, and Pessoa all make them in leather saddles (maybe other brands too?)
Anyways,
Do listen when everyone says "THAT'S CRAP!" about all those "Brand New" $150 saddle sets. Because, they are crap. They won't last long, the color will flake off, they'll be painful for your horse, and probably painful for you too!
And anything Made in India...don't even go there! More crap!
As suggested, check out used saddles and try for something Made in England, France, Germany...basically anywhere in Europe. Check out
http://www.craigslist.org
for people selling locally. Then you can actually go feel the saddle and sit in it.
If needed, you can put off buying stirrup leathers and irons and put the money into a quality saddle. You'll get a strong seat and good balance and can always buy those pieces later when you have the cash.
If you have no other choice, go with the second one.
that's the one i was thinking about because my horse needs a wide tree. and no, i don't have any other choices. my sister's graduating this year and they have to pay for college and my horse. i don't have the money to get a $700 saddle.
No worries. I remember way back when I got my first horse. My parents were on a tight budget and I also had to get a less expensive saddle for a few years.

We all had to start there.
what type of saddle did you have?
To tell you the truth I dont even remember. It probably was something close to the first saddle you posted.
Glad you have decided :)
I was going to say this is what my instructor told when i bought a saddle:
1. Dont buy saddles off ebay
2. Don't get a black one (for showing reasons)
3. Good quality leather
4. 2nd hand & good is better than new and cheap
so I ended up getting a 2nd hand one for about 250 or 350 quid and have had no problems
...yet lol