Not sure, but I know the last 18.5" I put on my longest horse was sitting the rider too far back on her back... An 18" was do-able but close?
The seat of an ENglish saddle is measured in inches from the front of the pommel to the tip of the cantle. A typical size would be 17.5 inches

A man with a big butt and a floppy belly might want 18 inches even 18.5 - if ever you could find such a saddle. I've never seen one.

A slim lythe female might be able to get away with a 16" - but I 've never seen many.

A man's height has nothing to do with the size of the saddle - it is the size of his butt that counts.

In fact a saddle is something not to be measured - the size of the saddle is determined by the width of the horses back and whether the man feels comfortable in the saddle chosen to fit the width of the horse's back.
The correct fit for the horse is paramount, the comfort for the rider is secondary but also important.

A close coupled horse cannot support a high number saddle (say 17.5" plus)
neither can a horse which has a bowed spine.

I owned once a Pathfinder english saddle - which has a flat seat - any man or woman could sit on it and feel comfortable but there was little support so it was a saddle for an accomplished rider only.

Choosing the correct cut of saddle is very important in English riding.
A saddle which rises towards the pommel may prove uncomfortable for a male rider-especially a novice rider. The saddle's bump might meet up with the man's 'lump'.
Yearling
Join Date: Nov 2011
Location: Beautiful Pacific Northwest
Posts: 1,275
• Horses: 0
I've found this one to be a good starting point.
Saddle Sizing Info - English Saddles
19" sounds abolutely HUGE. My dad was 6'4" and used an 18", but he had relatively short legs, and the seat was fairly flat and not deep. I can't imagine what kind of horse would have a back that would accommodate a 19" without discomfort to the horse.
Maybe consider an 18" saddle with a flatter seat and longer flaps?
Barry ... In North America 18" seats are not uncommon, but I know that pretty much all over the UK (and rest of Europe) they are considered unacceptable. I wonder if this has to do with how many riding horses over there tend to be shorter coupled than what seems common over here?
I actually had a coach from the UK tell a female rider who was rather heavy set that if she could not ride in a 17.5 she was quite simply too big to ride... That sentiment seems widely accepted in Europe, but over here is not... (and I feel bad for many of the horses subjected to ill fitted tack because of it)

The man in question may fit into a 17 1/2 he is very lean, just has long legs (really long... My long leathers are nearly not long enough!) which tend to try to sneak ahead of the saddle flap. I have decided to pick up one of each size and see... Staying with a more open seat. He is very new to riding still and his ability to keep his leg under him is still a work in progress... Doesn't help that I have been squishing him into a 17" either though, because that's what I have on hand! (otherwise I put him in a Western... He can do a 16" western with few issues, but finds the Westerns seem to put more strain on his knees)

and freia... Yes, That was my thinking... 19" is really long. The horses I usually use for taller or heavier riders can accomadate an 18" provided the shape is right... But there would be no way they'd even go 18.5... 19" is out of the question.

I sat myself in the 17.5" and there is tons of room (at least 6" maybe 8" on the make I was trying). It will be a near thing... So we will see what we can do between the two sizes and fitting the horses.
Freia, just checked the guide you posted... And the measurements seem to go along with the calculator posted earlier... For me anyhow. I fit on the cusp of a 17"-17.5" which seems about right for most saddle makes.
Unicorn, In view of your comments, may I suggest you get one 17.5 which fits the horse to a tee and then you tell all your clients, that a little discomfort in the groin area is all par for the course of learning

As for the bigger ladies, make sure you have a broad, long backed Shire to hand -a breed of horse remarkably compliant, very strong and a bit slow - in the head sometimes.

Enjoy
Good advice really, generally if I have a rider which does not fit my tack I suggest other horse activities we can do to help them get fit... Some have stuck it out with some healthy results, others have gone to other coaches more willing to put their horse second. This one fellow has been the odd ball, being that his is NOT that heavy but still doesn't fit most of my skinny britches tack. (but such a good sport anyhow! So I wanted to try to make him a bit more comfortable this year as business is allowing me a bit of freedom to invest in some new gear)
My "big person" horse is actually a Clydesdale... And nothing really slow anywhere about her, but she is gentle, broad and not terribly tall (17.1 or so).
This is her when she was being started about three years ago... With a very newly post baby me (pretty sure my first daughter was only about 4 months old about this time... I think weigh in was making me cringe a little at 165lbs ) ... I am peanuts to her even so (half the time I get the impression that if I sat very still she'd forget I was up there at all). She is so broad we went treeless to accomodate her HUGE shoulders and wide rib cage... I can get mentioned student into this saddle, but need new leathers for it or he looks like a jockey (I bought it used and the previous owner was short legged, so cut the excess length of leather... The rigging system for these saddles means that regular leathers don't work)
I also have a very stocky, strong, large pony who weighs in at about 1500lbs (fit weight... We won't embarass him by sharing his off season weight publicly...) for shorter "big boned" ladies.
And a lovely 15.2hh, 1500lb Standardbred mare who can do fitter riders up to 200lbs.
The majority of my students are still on lungeline, so the horses aren't being asked to do tremendously challenging things... But I still keep an eye on weights and generally have a "not over 200lb" rule... The exception being the odd very very fit person, provided their balance is good and strong.
Unicorn, there's you riding along, sitting pert and pretty and there's that big girl striding out without a bit in her mouth.

That photo must be a good advert for the Cydesdale breed, if ever there was one.

Just make sure nobody upsets her.
Barry, I have upset her... A couple times, it shaved years off my life! I have sat out some bug buckers, and her tantrum was not "grand" but the sheer power of her, and the feeling of having absolutely no say in the matter was very unnerving. The argument started over me getting too much of her face with my hands, too often, one could say she educated me. LOL
She goes better without a bit for those with less than steady hands, so she actually goes around in a side pull now (because when your horse is THIS big, picking a fight becomes stupidity!). She takes a bit for very soft handed people, or driving, but for lessons I keep her on the lunge and bitless... Some things just aren't worth the fight.
Same mare... This was actually her first day "under saddle" during a clinic with a lady who wanted a demo horse for her "stress free colt starting" methods as a means to demonstrate that backing day need not be a nail biting experience for anyone... The youngster up there in this photo watched the whole process and said to his mom "It has ALWAYS been my dream to ride a big draft horse...", his mom started to deny him when the clinician said that he would be just fine up there (I had already been up...) so up he went... Not sure if he or the horse had the bigger smirk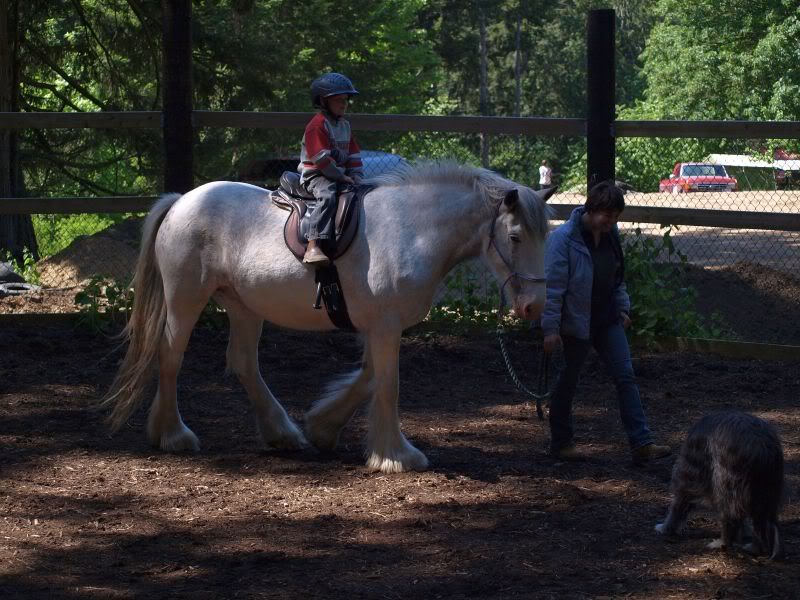 My daughter at about 18 months old (daddy is driving "in hand" style... If you can see him) LOL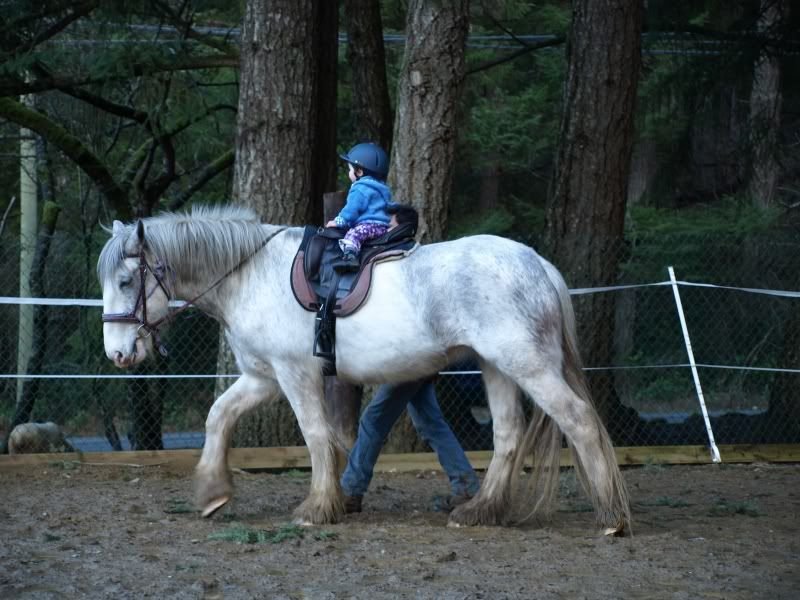 She is an amazing horse, being both a lot of horse but not, all at the same time. Unlike a lot of drafts she is not at all thick skinned, and she can be offended if someone tries to bully her into something... But she is tolerant of those learning as long as it doesn't hurt her.
I have a few hard copy photos of her at a 4H clinic when one youth found herself without a mount... Another spectator took them for me... The coach that day said she had rarely met a horse she liked better as a lesson "pony", it isn't often you get a temperment like hers, and there were certainly some dropped jaws over her HUGE canter stride (250 foot long side of the ring being used was turned into 11 canter strides...Without effort, Where the average horse was getting 20-27).
Yearling
Join Date: Nov 2011
Location: Beautiful Pacific Northwest
Posts: 1,275
• Horses: 0
Quote:
The seat of an ENglish saddle is measured in inches from the front of the pommel to the tip of the cantle. .
I've always been taught that it's from the center of the cantle to the center of the nailhead/button at the side of the pommel (so it's measured slightly diagonally). That typically measures about 1 inch longer than the canlte - front of pommel.