Figure Eight or Cavesson??
---
I'm doing hunter/jumper with my horse and was wondering which bridle would be better? I'm planning to use it mostly in shows so he can't get away from me in 1 mile+ long patterns. I don't really need it in arena flatwork or jumping, but I think that they look more sophisticated in the ring... maybe I'm just being foolish about that? Tell me your opinion, or if you have any other bridle or bridle/bit combonations to try. Thanks in advanced!
Honestly... rely on your training, not a noseband.
I always suggest to students to school in exactly the equipment they are going to show in; first, it allows for consistency, so your horse doesn't get confused as to the change, and second, then both you and the horse are comfortable in the equipment that you use the most.
First and foremost though, a noseband SHOULDN'T give you control, unless you're misusing it.
I have a figure-8 because I like the look, but I keep it very loose (without it being sloppy) and it really doens't do anything.
---
The lovely images above provided by CVLC Photography cvlphotography.com
Okay thank you! I was atcually looking into a figure eight just because I like the look of it too haha...
You can see how loose I kept mine: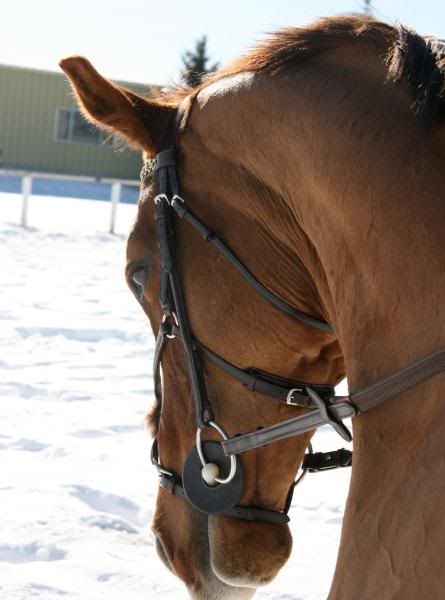 I do not think ANY noseband should be used to crank a horse's mouth closed, heck Denny could still open his mouth quite wide when he had this set-up on!
---
The lovely images above provided by CVLC Photography cvlphotography.com
Yea, that's why I'm not even looking into a flash band, but I think those bridles just look nicer than a regular bridle. Thanks for the picture, that helps a lot! :)
First and foremost, a noseband won't keep your horse from running away from you. Good training will though!

H/J shows consist of 2 very different worlds: hunters and jumpers. If you're showing a hunter, anything but a regular noseband is prohibited. Jumpers allow pretty much any noseband.
Okay thanks. I said hunter/jumper because I might do a little of both, mostly hunter but maybe a few pacers for fun. Do you think low port kimberwicks are good for hunters? That's what I used at the beginning of the summer, and have now switched to a slow twist snaffle, but he hates it! he doesn't throw his head or anything, but it's hard to get him to take it, and with the kimberwick he's great taking it. So, maybe a low port D-ring?
If you are going to be showing anything above schooling level, you might get funny looks for using a kimberwicke; generally, you see more pelhams in the ring - for good reason too.. if you go to Tack & Equipment, the top post has some information on the difference between the two.
---
The lovely images above provided by CVLC Photography cvlphotography.com
Okay, that helps a ton. I probably wouldn't be able to handle all the reins of a pelham, haha. I think I'll go with a low port or myler Dee ring