fly boots for a donkey?
---
The flies LOVE my donkey's legs and since he has an itty bitty tail he has nothing to get them off and i was thinking about getting him fly boots, he's only about idk 9-10HH maybe 11HH at the most. I was looking at these since they are cheap and have good reviews
Soft Micro Mesh Fitted Fly Boots in Fly Sheets / Sun Protection at Schneider Saddlery
but I have no idea what size to get.
here is a pic of him, i'm going to try to measure his legs tomorrow, but he can be skittish so i don't know if he will let me, hopefully i'll be able to get the boots on lol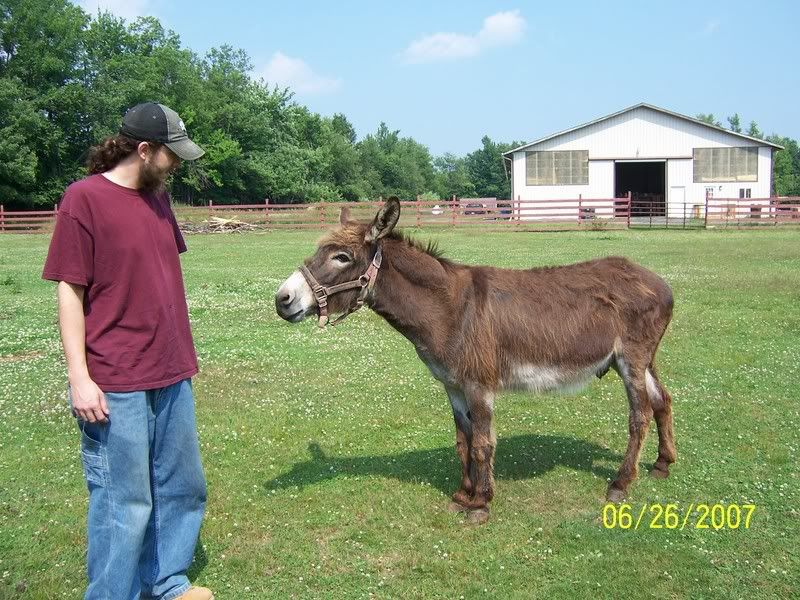 my friend has a horse that , in the summer because of flies and things , gets eaten up and irritable , and when we went to the tack store she saw fly boots lke those and decided to try them out and they worked wonders ! sara always came in from the pasture with new welts and the boots kept the flies off her legs and she was a lot happier (:
Similar Threads
Thread
Thread Starter
Forum
Replies
Last Post
Miniature Donkey

Liberty Valance

Miniature Horses

8

07-10-2010

07:55 PM

Boots, boots, & more boots. Ariat lacers, cowboy boots, rubber boots; Mens/kids/women

Seattle

Tack and Equipment Classifieds

1

12-09-2009

07:32 PM

Help with Splint boots, sport boots, bell boots, etc.

southerncowgirl93

Horse Tack and Equipment

8

11-25-2009

10:38 AM

splint boots, open front boots, or no boots?

CiscoKidd

Horse Tack and Equipment

12

12-29-2008

09:23 AM

OK, any Donkey people out there?

QuantrillRaider

Horse Breeds

1

08-04-2008

06:26 PM