Weanling
Join Date: Apr 2011
Location: Thunder Bay, Ontario Canada
Posts: 492
• Horses:
4
Fly Mask while riding??
---
The flies are so bad in my area this year I am thinking of riding with a fly mask. I use those little crochet fly veils but it seems to make my horse very itchy and the flies still buzz around his face making him shake or nod his head almost continually. Would a horse have a problem seeing well on a trail with a fly mask? What kind should I buy? Should it have ears or no ears?
I know many people who ride with fly masks, and don't seem to have any problems at all. Personally, I just douse the face/ear area in flyspray (I just spray it on my hand and rub it around) right before the ride, and it seems to work just fine.
I trail ride in one and I never have any issues. They sell ones that's go all the way down to the horses shoulders.
Posted via Mobile Device
Cashel makes a fly mask that is a very fine mesh and one that comes down over the face and muzzle. It also covers the ears.
If you Google it I'm sure you will find several retailers.
---
If you ever find yourself in a fair fight, it's because your tactics suck. ~ Marine 1SGT J. Reifinger
Weanling
Join Date: Apr 2011
Location: Thunder Bay, Ontario Canada
Posts: 492
• Horses:
4
thanks I will take a look for the cashel ones. Slidestop O have never seen a flymask that goes to the shoulders do you have a link for something like this?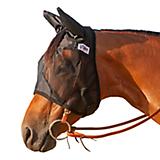 Cashel Quiet ride with ears.
I have a Cashel Quiet Ride with ears. It goes down to her nose. When Clem and our old horse Levi were stabled together and we'd go on trail rides we'd stick the fly mask on them. They didn't even seem to notice.... Until they would look at each other! Then they would stop and just stare at one another like "Hey... You um... You got something on your face.." "Oh, so do you!" ....STARE.....

It was quite funny, really, and it was wonderful with keeping flies off. Quick, easy, no need to use up my fly spray.
Super Moderator
Join Date: May 2012
Location: CT USA an English transplant
Posts: 24,942
• Horses:
3
I've only used them in the field but I'm going to buy them for riding this year, the bugs are so bad.
My poor old Flo managed to get her mask off yesterday and was bitten just above her eye by something, she'd then rubbed at it on something because it must have been itching and when I brought her in her whole eye was so swollen it was fixed shut and she was really distressed
Fortunately this morning after some antihistamine cream and anti-inflammatories its looking almost normal again but I think I'd rather prefer to try to avoid it happening again
Foal
Join Date: Nov 2011
Location: Edge of Fla/Everglades(sw side)
Posts: 229
• Horses:
3
Use-em riding on occasion, been known to put one over my own head as well !
Boone
I used to ride a warmblood that would toss his head up as if you just bopped him hard on the nose, with every midge that flew into his face. So, I had one of those quiet ride's on his upper face, and totally over his muzzle another type of fly thingy. From a distance, he looked like some kind of mechanical mule (the big ears and the boxy muzzle) But it made a difference like night and day.