Foal
Join Date: Feb 2012
Location: in a mystical, magical place called Pennsylvania, USA
Posts: 137
• Horses:
2
French Link or Single Jointed Snaffle?
---
Right now I ride my mare in an Eggbutt and a D-ring single jointed snaffle (Eggbutt on her English bridle, D-ring on her western one). But I met a girl this summer and we went cross country schooling with her last month, and as we were walking through the barn, I noticed that nearly all of the horses had some variation of a French Link snaffle, instead of a "regular" single jointed one like I used. I didn't get to ask her about it, but when we got home I Googled it quickly, and found a compare-contrast picture that claimed French Links where the better bit because they provided even pressure on both sides of the mount, while in a regular snaffle, the pressure is uneven because one side is "ahead" of the others.
Here is the picture: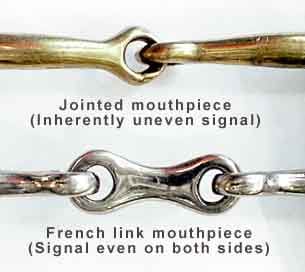 What do you think, or do you know anything more about this? I would like to try the gentlest bit possible on my mare, because she has a very soft mouth, but I have noticed that sometimes she does seem to not totally understand the turning cues, like they are being blurred, (and she isn't green or anything), which would make perfect sense if what this picture says is true.
Opinions?!
I prefer a french link to a single joint, primarily because of the 'nutcracker' action of a single jointed snaffle. If you pull back on the reins, the join lifts and can hit a horse in the roof of the mouth. It can also pinch the tongue.
The link, in a French Link, eliminates this action and prevent pinching of the tongue.

I am not convinced about the clearer signals to the horse, as some go just as well in a single joint, but my preference in a french link, and where possible, loose ring.
My mare prefers a single joint. Big time. My geldings don't care what you put in their mouths. A french link is not gentler than a single joint. It just depends on the horse and how you ride.
---
"Make the right thing easy and the wrong thing...well, ignore it mostly."
What do you mean one side is ahead of the other?

I know that quality snaffle bits will sometimes have one side longer than the other, minutely so, but always wondered why.

can you explain this better?
Uneven-length snaffle mouthpieces are common nowadays thanks to cheap foreign manufacture - the effect of the joint on length isn't taken into account. When they were cast by proper loriners who understood horses and bitting there were far fewer problems like this.

French links might be better for horses with bigger tongues or who don't like a centre joint for some reason but I don't see how anyone can say they provide even pressure both sides. There are just so many variables involved. It's a bit like saying both your shoes fit equally well, IMO - they never do :)
I've used both on a variety of horses. My 4 y/o and Percheron both go in single-jointed snaffles (colt in an eggbutt and Perch in a Myler Dee), but my Thoroughbreds both prefer a French link. Totally depends on the individual horse. Some hate the full-mouth feel of a French link, while others don't like the nutcracker action of the single joint.
Foal
Join Date: Feb 2012
Location: in a mystical, magical place called Pennsylvania, USA
Posts: 137
• Horses:
2
@tinyliny- I really don't know how to explain it better. I just saw the article and was wondering if any of you guys thought the same thing. Here's the article attached to the picture:
Treating Founder (Chronic Laminitis) without Horseshoes, 19--full
The part about bits is about a quarter down the page.
Thanks everyone! I guess I'll just see if I can try her in a french link, and see how she likes it. She is very specific about what she likes and doesn't, so it'll probably take about one ride. :)
Yearling
Join Date: Nov 2011
Location: Beautiful Pacific Northwest
Posts: 1,275
• Horses: 0
I've ridden horses in both. The reason I use both is that some horses hate the single-joint and love the french-link, and visa-versa. Both feel the same on my hands and both give me the same communication and response from the horse.

Horse 1: In a single-joint, he flips his head high every time the bit engages. He has a low palette, and I assumed he was trying to get away from the center-joint. I put him in a french-link and he's perfectly happy.
Horse 2: He had been in a TT for 17 years. I put him in a french-link to start him in the mildest possible and work from there. He hated it with a passion. chew-chew lick-lick fidget fidget nonstop - paying no attention to me. Busy busy boy. I gave him a single-joint, and he's been happy since. He has a nice, big mouth with lots of room.

They're both inexpensive, common bits. See if you can borrow one of each or get them used, then try both and see what your horse likes better.
If you are intune with your horse, they'll tell you pretty quick! My gelding doesn't like the single jointed snaffles and will lean on the bit, evade it, etc. Put him in a French link and he's a totally different horse! My mare doesn't give a hoot and tries her heart out for me no matter what bit I use, even if she is a diva and a half.