Full quarter bars?
---
I am clueless when it comes to western saddles. What are full quarter bars?
Here is one Manufactures version, most FQH Bars are going to be similar, another popular Manufacture has 7" Gullet and 14.25" Bar Spread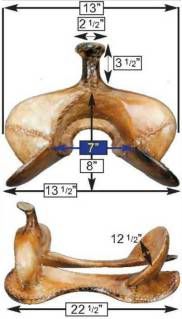 .
---
May all your Trails be happy and safe ones
Kevin
Does it mean that it's a wider tree? Like I said I know zero about western tack. The place I've adopted Cowboy from said he needs a saddle with full quarter bars and I'm like.. ummm what?
It's basically a wide tree.
---
"Be a best friend, tell the truth, and overuse I love you
Go to work, do your best, don't outsmart your common sense
Never let your prayin knees get lazy
And love like crazy"
Quarter bars means the saddle is built to fit a quarter horse, which is your "standard" Western saddle. Quarter horses are stockier and wider than a lot of other horses, so the bar spread is wider than a gaited saddle or Arab saddle (narrower horses).

If you are trying to find a saddle for your horse, it is always best to have an experienced saddler measure and fit your horse, even if you have to pay them for the time/service. It will be SO much better for you and your horse in the long run. People may tell you what they think the horse needs, but having a professional fit him can often give you a very different result. (A lot of people think that just because they throw the quarter saddle with a pad on the horse and it stays on, it therefore fits the horse just fine.)
Thank you for the advice.