Gaited Horse Saddles?
---
I had asked earlier about the Tucker Gen II saddles, but I thought I'd post this question separately.
I just got a Tennessee Walker. He's 4. Ain't he purdy?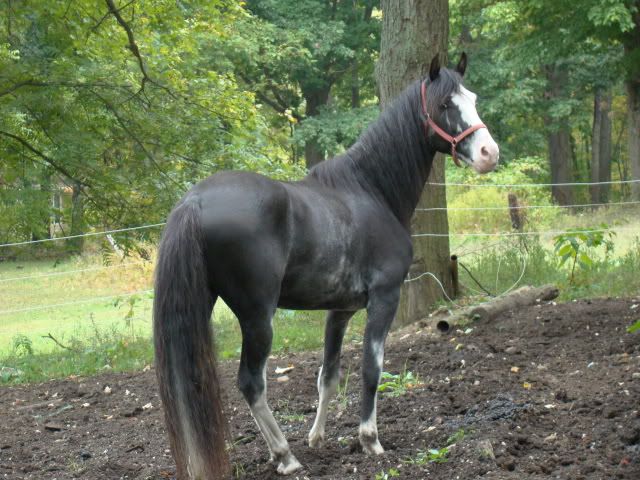 He needs a gaited horse saddle but I'm having trouble sifting through all the cheap garbage out there to find a quality brand that makes a decent saddle...and for once it's nice to say that price really isn't an issue (it's being bought on a uniform allowance). The saddle also has to be black and have a square skirt.
Any suggestions?
Really the only difference with a gaited horse saddle (at least the ones I'm familiar with) is that the bars are flared to allow the shoulders to move more freely. My Big Horn half leather half synthetic saddle has a gaited horse bar and my horse is a warmblood lol! We trail ride so I needed a western saddle for him. It' a good saddle, cheaper although it's the "higher end" of the Big Horn saddles. They come in a narrow and wide tree, I got the wide tree for my big boy lol.
Green Broke
Join Date: Jun 2009
Location: Brokenheartsville, just north of Styxtown :)
Posts: 2,577
• Horses:
1
What's wrong with your Aussie?
---
Most people are like Slinkies; they serve no real purpose, but they bring a smile to your face when you push them down the stairs.
When you come to the end of your rope, tie a knot and hang on for dear life.
Quote:
What's wrong with your Aussie?
Our uniform requires that we ride in black western saddles. The Aussie wouldn't fit, anyway. He needs a saddle with a shorter back, narrower bars, and higher gullet...MAN! It's amazing how much they just look the same as other horses until you try to put a saddle on them. His withers are so tall! lol