I removed several posts that fit under the the popcorn definition. Some of the posts referred to posting a thread regarding breyer horses. There are plenty of off-topic areas where things that are not horse related can be posted.

Please remember the conscientious ettiquette policy when posting on this forum.



*****


When I bought my first horse, I was 16 and made payments on him. ($500 total). I got him home with a halter and then I bought a $2 lead rope for him.

I went to an auction and bought an all purpose saddle that I used for years in schooling shows.

I rode in dressage events, cross country, and hunt shows all with that single saddle. If you are showing at a local level then an all purpose saddle will do you fine.

I'm not sure where you are located, I'm geussing VA. I have never been to Dover but I know they have a trial that you can do with saddles, you can also look in the horsetalkmagazine and the vaequestrian for used tack.

I don't know of any "cheap" places to buy tack but I know Nokesville used to have an auction (that's where I bought my first saddle) and I think Orange county still has one....

Just be sure the saddle fits your horse. If you can't have the horse with you, you can take a metal hanger and bend it around his withers and down to his shoulders to get the outline of his shape. I'm not a TB person so I don't know how hard or easy they are to fit for tack.

Hope that helps...
---
"Be a best friend, tell the truth, and overuse I love you
Go to work, do your best, don't outsmart your common sense
Never let your prayin knees get lazy
And love like crazy"
Quote:
Okay lets back up two steps.

Cross Country and "3 Day Eventing" are the same thing. And honestly if you want to get into doing horse trials(eventing) its going to be hard to do hunters because your horse is required to go in very different ways in his training unless you are just wanting to do some lower level stuff.

Regardless if you have any thoughts of doing eventing you are going to want a jump or all purpose saddle. A close contact is not going to give you a deep enough seat.

That said I suggest an all purpose(or general purpose) saddle with a cut more towards jumping. It will give you the ability to play in different things until you decide what you want to focus on.

If you have a higher withered TB I suggest looking at HDR, Thorowgood and Bates to start out. Get a tracing of your horse and take it in. You might have to get a correction pad such as a thinline to help the fit. I never suggest padding up but if your horse is a hard fit you might need to.

First start is deciding the style of english saddle, which as I said I think for you the best bet would be an all purpose with a cut more towards jumping. Then go from there.
This is VERY good advice. Ask your riding instructor what type of saddle you need first--do you need all purpose, jumping, etc.
Once you know what type of saddle you need, then find out what seat size you need. You can probably ask your riding instructor what size saddle you've been riding in and go from there.
Then determine what size tree your horse needs. Remember: A poorly-fitting saddle can seriously hurt your horse. I understand TBs are hard to fit. I have one. So I agree that a Thinline pad with shims could potentially be necessary.
Take this information to the tack shop, and ask them to help you. See if they will let you try a few saddles out and go from there.
Best of luck to you.
thanks that helped a lot
---
If a horse likes it I like it.
I'll offer some advice.
If you have a high withered TB, you might look for used Passier saddles. They have a cutback pommel that I have found very useful with horses like these. The All purpose saddle is very popular and will work fine for eventing. It is OK for lower level dressage, but will be limiting if used above novice, IMO.
It will not fit in as well in the hunter ring as it has a higher profile, but in local open shows, it should be fine. There are quite a few in the used market.
Note the cutback pommel for wither relief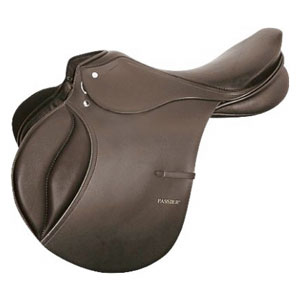 They are extremely well made saddles. I still have one I rode on in the late seventies!
*nudges Allison towards her own saddle thread for opinions*
---
BB ~ 2014 Trakehner Bratty Mare ~ 1993 CSHA Em ~ 2007 Standardbred

awesome that is really helpful
---
If a horse likes it I like it.
Like someone else said, go to Champions. I know the one in Midlothian has got really sweet, helpful people-never been to the Doswell one though. I'm also 99% sure they allow you to "test ride" the saddle
ya we go to the Midlothian one allot but when i went there where no cut back saddles but i will look again
---
If a horse likes it I like it.
Since you have such a high budget you may not be interested in a Wintec, but many of them have cutback pommels. It had great clearance on my high-withered horse.

I have one (Wintec 500 Jump, selling it right now) that I really liked. Unfortunately it doesn't fit my horse anymore because it was GREAT on the flat and over fences. It also put me in a great position.
Also got many compliments on it! (Promise I'm not trying to get you to buy it! LOL)

Also, you sound like you know better, but beware of cheap saddle packages. They are junk! Another thing that may help you with TB fitting, be careful on the shape and size of the panels. It seems like many, especially the gusseted ones, are too flat and wide for TB backs.

Here is my Wintec:
---
"There's nothing more humbling on the planet than horses." --Sean Crocker
---
Last edited by Sunny; 03-03-2013 at

10:23 PM

.
that is a very nice saddle how much did you get it for?
---
If a horse likes it I like it.
Similar Threads
Thread
Thread Starter
Forum
Replies
Last Post
WTB: Side saddle, or lessons in one; western saddle; broken stuff

RubaiyateBandit

Tack and Equipment Classifieds

13

12-25-2012

07:58 AM

Henri De Rivel, HDR Close Contact Pro Saddle, 17" Wide Tree Saddle for Sale or Trade!

petitepyromaniac

Tack and Equipment Classifieds

1

10-30-2012

08:48 PM

15' Western Saddle, Bronc Halters, SMB, Saddle Pad, Etc.(sale/trade)

CalypsoKaos

Tack and Equipment Classifieds

4

01-18-2012

02:22 PM

Pessoa,Paddock boots,breaking saddle,endurance saddle etc for sale/trade!!

ImLonelyInCrowds

Tack and Equipment Classifieds

6

01-25-2011

06:55 PM