Got my fathers day gift!
---
Ok, i got my fathers day gift yesterday! so I had to try it out last night.
Shaping my new 2 rein set up. He accidently sent me a 5/8 set up last week so I sent it back and got the 2 rein setup. he sent the small key chain bosal for the screw up. I thought it was pretty nice of him.
Me and katie going out for a little ride together. katie has the con.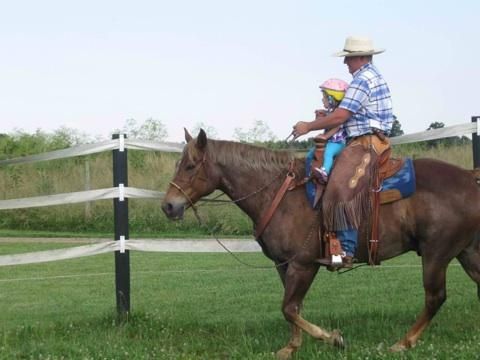 just putsing around in the round pen.
In the 2 rein set up after katie and I got back from our little trail ride.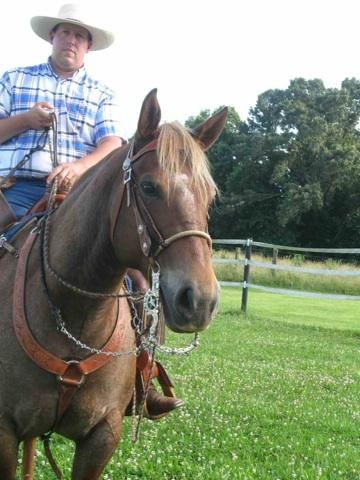 The Bosalito is from custom rawhide. The bit is a Les vogt performax bit with custom Fort Fireman rein chains.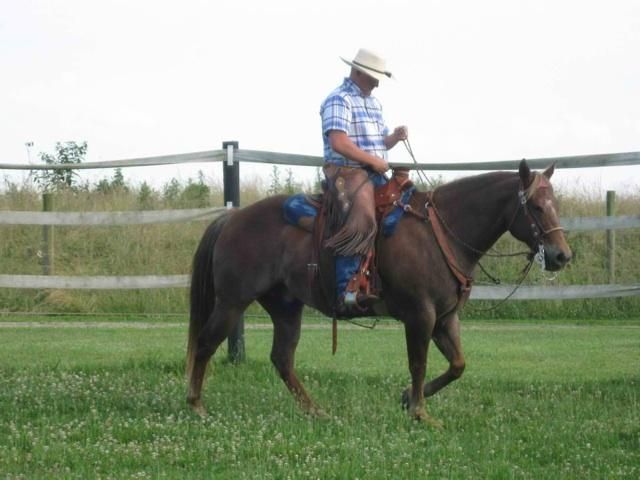 gathering up my Bridle reins for the first time.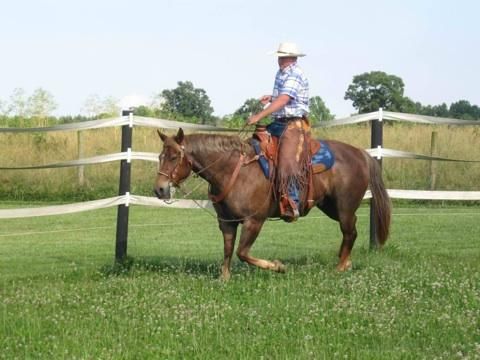 Just a little troting. Over all he did great. It took him a little bit to figure out how to crry the bit. He started out just rooting out a little bit but by the end he was carrying himself pretty decent. As for the bosal and mecate reins, very high quality for the price. I think. I will definately order from them again.
Welcome to Steve Guitron's Custom Rawhide website
Congratulations!

Anything from Mr. Guitron would be a good value. Horse looks good.

And you and your daughter are adorable.
cool!
What is the thing on the first photo, bottom left?

is this the first time your horse has carried a bit?
If I'm looking at the right thing it is the bosalito. I had to shape it and used a small coffee can. As far as him carrying a bit. He's had a snaffle in before and he had this bit in a hand full of times just to see how it fit and if he liked it. It is however the first time he's carried the bit while I was riding and had reins attached.
Quote:
Congratulations!

Anything from Mr. Guitron would be a good value. Horse looks good.

And you and your daughter are adorable.
Thanks boots. We have a good time going for rides together. I'm not sure how much longer its going to last , her in the saddle with me. It's starting to get a little uncomfortable for both of us. Either she's getting bigger or I am.
or maybe it's both of us.
Teen Forum Moderator
Join Date: Dec 2010
Location: South East Texas
Posts: 7,157
• Horses:
2
Beautiful new bosal and reins, and an equally beautiful trio you all make! What a pretty horse.
---
Everyone in your life is meant to
be in your journey, but not all of
them are meant to stay till the end.
thank you. he's a tad fat but hell so is his rider. We're working on correcting that together.
Very cool!!!
At first when I read the thread title I thought your other Fathers Day gift came a couple weeks early!
---
I DON'T LEAD 'EM AND FEED 'EM, I RIDE 'EM AND SLIDE 'EM.
That would have been in a whooooole other section.
that and it probably wouldn't have come for a couple days. I have a feelin things are fixin to get real hectic around the house.