Guess the quality
---
With no more info, than we have here, just the pics, tell me what you think about the quality of this saddle.
Yearling
Join Date: Nov 2011
Location: Beautiful Pacific Northwest
Posts: 1,275
• Horses: 0
I need to get off of here. I'm literally watching paint dry today, and this is sooooo much more entertaining that sniffing paint in the barn...

I'm going to guess not-so-good.
At first look, it looks really nicely made and looks super comfortable.
However:
-1- In the second picture, it may just be the camera-angle, but the tree doesn't look straight and the panels don't look symmetrical. It looks like someone grabbed the cantle when mounting, but the saddle's new, so that's not it.
-2- The thin leather attaching the D-rings at the front of the saddle look too whimpy to be from a high-end saddle
-3- Where the flap leather is cut away to make room for the stirrup-bar, it looks a little unfinished.
-4- The leather seems really thin and soft - not the sturdy leather I like to see.

And now Golden is going to tell me it's a $3000 Devoucoux or something.
Quote:
And now Golden is going to tell me it's a $3000 Devoucoux or something.
Golden is telling you nothing yet, but I would be interested in peoples guess of a price point.
Oh and don't worry about feeling silly, this is not a big name brand, so not one that anyone should recognize straight up, which is why I thought it would be fun to play
It is interesting.
I hadn't noticed the asymmetry of the saddle, as shown in the second photo, before.

I does look a bit wonky.
Any other thoughts Allison?


Posted via Mobile Device
Other than what appears to be a twist (may just be the angle) it looks like a nicely balanced saddle. It has a strong dressage tendency, as seen by the less forward flaps. The leather on the seat and knee rolls seem to be like the "sella" leather that Stubben used on some of their saddles. I'm not saying that because of the color, but the "texture". Though I may be wrong. I loved the feel of the sella leather and it offered good grip.
Can you show photos of under the flaps?
I'll see if I can dig some out
Found them, here you go, more pics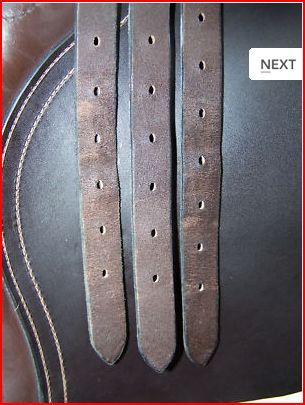 Definitely an all purpose design (with dressage tendency). It appears to have nice workmanship with nice stitching. However, I still see the twist in the seat. I don't know if the tree is warped, or not. If it is, that would be a deal breaker. I can't see how it would sit on a horse's back evenly. It might cause soreness.

Are there any saddle fitters who could give it the once over? It could be that it was used on a horse with uneven muscling and the flocking settled unevenly? How used is it?
Is it synthetic? It kind of looks like it in the photos. Might be my computer (screen), not all are equal.