Hackamore for Gaming?
---
I'm taking a horse to a gaming show, (it's a WSCA show) and I know he behaves well in a hack, I was just wondering if I could use it at the show. I've never had a horse that actually listens to a hack before, so I'm not sure. I've seen people use hacks but I'm never sure what the difference is, this is kind of what it looks like. Not exactly, but it's close. Thanks
Is this the same horse that you can't find a bit for?
What kind of barrel racing bit works?
If so, it's really not good that you just "ignore" the bit problem and slap on a hackamore. If you horse does not go well in a bit, the horse may be in pain. And if not, then the horse needs more training. You've still NEVER answered my question from before: Has that horse seen an equine dentist?
As far as a hackamore goes for gaming, the one you pictured I would never choose for gaming. The way that shank is hinged, it is not designed for any lateral or direct reining. Plus that shank is loooooong, which really puts a lot of leverage on the horse's nose.
A much better option would be a Little S hackamore for gaming. It comes in both a leather noseband and a rope noseband (shown here; has a little more "bite").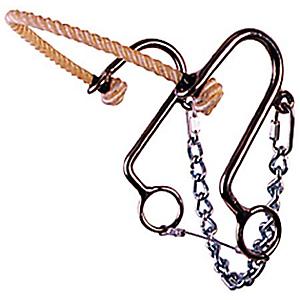 Brittany Pozzi does have a hackamore of her own, but look at the difference in how the shanks are attached. But again, very long shanks = lots of leverage.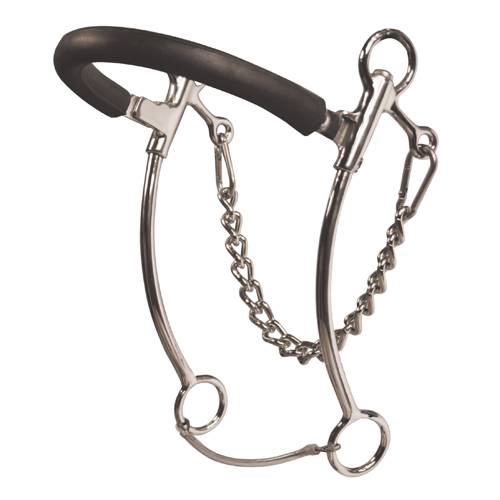 But please don't switch to a hackamore just because you want to ignore your horse's bit problem, if its the same horse.
---
∞•*˚ Βгįťţαňγ ˚*•∞
It is not enough to know how to ride; one must know how to fall.
No, this a completely different horse, he has no problems with anything and is really not that much a gamer, and is actually very slow, so I thought using a hackamore would be alright without it. I know that I shouldn't ignore his problem, and would never try to do that. Actually, I've been working with him everyday, and he's gotten a lot better. Thanks for the advice, and I think it was mostly that he is just green broke and needs more attention, so he is my main priority, (about the horse dentist, I don't think that's necessary, because he doesn't get mad about putting the bit in, fighting it or anything, so I think he just needs to get use to the bit more, and needs more time on him) but I didn't think he was ready for my show, and my real gaming horse is out with a stifle injury. So I just wanted to know if my trail guy could use his normal attire. Thanks, I'll use my wonderbit on him instead so that I can have more control! I really appreciate your help! Also, I will think about getting one of those in case I game him again!
---
Last edited by Thundersmyboy; 08-23-2013 at

03:36 PM

. Reason: I forgot something
Regarding the horse dentist: Horses are extremely tolerate of pain for the most part. But when it comes to the mouth, if they have an issue, and you shove a piece of metal in there and ask them to do something with it, it can cause some serious behavior problems.

Yes, it might just be that your horse is green and needs more training. But do you think it would be humane to force your horse to change its behavior, when they are acting out because they are in pain? Simply because you don't ***think*** it is necessary?

A lot of times too, the horse seems to go just fine in a bit. Yet the horse gets their teeth done, and WOW! There's a huge improvement in how the horse goes with the bit, even though there wasn't exactly a problem before.

Depending on who you talk to, horses should have their first dentist visit at age 2 or 3. And then every year after that. This is to ensure they have healthy functioning teeth all throughout life. Horse are grazers and horses are grinders. Often those teeth will develop points, sharp edges, and hooks from the way the mouth works, which is what causes the pain. And their teeth go so deep into their mouth, the only way you can look is with their mouth opened by a speculum. You can't try to "just look up there". You won't see what you need to see.

Sure, there are some people that don't believe in horse dental care. Fine. Don't go to the dentist yourself either.
---
∞•*˚ Βгįťţαňγ ˚*•∞
It is not enough to know how to ride; one must know how to fall.
I appreciate your advice, and will have our vet, who also does dental work, look at him when he comes out. But I am almost positive that it's not that, because he would also throw his head and not listen with the hackamore as well. So I appreciate it, and will have him look when we get our cows done this fall. Thank you. Also, I do think it's a matter of opinion and the horse on how often they should get there teeth done. We had a horse that had his teeth checked every year, and the vet didn't have to do anything to him until he got into his 20s.
Teeth doesn't cause behavior problems only in the mouth. (Although certainly going to be most common). A hackamore still puts pressure around the horses head. If he's used to pain from the bridle, he may still remember that when the hackamore is involved.

Also horses have bucked before because of teeth pain (for example ). Yes, a tooth problem is also going to have a bit problem, but it can cause other problems as well.

Exactly. The dentist may not have to do work every year. But the point is that they check.

I know i would feel awful if I disciplined my horse for months, only to find out he was in pain the whole time. If rather have him checked on a regular basis so I know for a fact he's fine.
Posted via Mobile Device
Ok, I'm not sure what kind of "gaming" you do but I really perfer a side pull on a horse that works better in a bit less. A hack doesn't give you nearly as much flex. Just personal preference. I had a foxtrot mare one time that was so soft mouthed that you couldn't use a bit on her, so I switched to a side pull and it worked wonders.
---
There is no sport like barrel racing. It requires more speed than a sprinter, more balance than a gymnast, more grace than a dancer, and a stronger team than football.