Half Pad
---
I'm looking for a new half pad and was wondering if anyone had any experiences with the ovation half pad... Or the thinline. I prefer rolled edges for the looks but I mainly am concerned about my mares withers.
Posted via Mobile Device
I can't vouch for their half pad, but I like Ovation products a lot. I have Ovation winter breeches and their breastplate, and they have both held up really well. Then again, Thinline is right up there with EcoGold and Mattes, so the quality is bound to be excellent.
Thanks! Does anyone know of the fit of these half pads? I've heard that the thinlines run a little big
Posted via Mobile Device
I love Thinline products. I don't have the sheepskin half pad, just the Thinline ultra, because I'm a poor college student but I would love to have one. They make quality products.
Posted via Mobile Device
Any thoughts on ovation half pads?
Posted via Mobile Device
What problem are you hoping to fix with the halfpad?
I already have a half pad, I'm just looking into a new one.
Posted via Mobile Device
probably a little late..
---
I have the ovation sheepskin half pad with rolled edges in white on white and I LOVE it. It has stood up to years of riding and I bought it used for next to nothing! It is probably way late- but I can defiantly vouch for the ovation pad. I love the look of the rolled edges!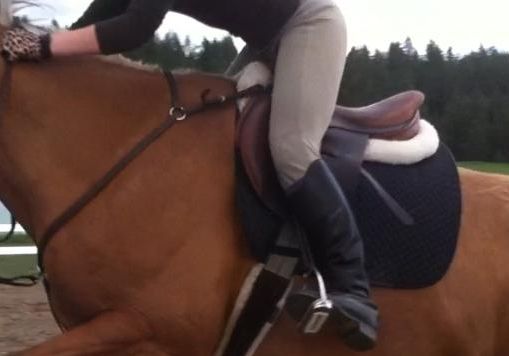 (excuse the EQ it was a bad fence and that was the only shot I had that showed the half pad like that)
Kinda old thread but... I have standard countour Thinline. I love it as well as my horses (been using for several years). Adds stability AND protects the backs of the horse and my own. Plus doesn't interfere with the saddle fit!
---
"Life isn't about waiting for the storm to pass: it's about learning to dance in the rain..."

"When we are no longer able to change a situation - we are challenged to change ourselves."

"How people treat you is their karma; how you react is yours."