HDR--Opinions?!
---
---
You can never take a Thoroughbred away from a horse crazy girl.
I have an HDR, its a pretty nice saddle (really comfy.. or at least compared to my old one!!) My horse has a crazy high wither, and I have had to use a wither pad before. I think overall they are a pretty good brand.
Thank you Unreal! How do they look in the show ring? I will be doing "B" circuit at the highest, besides that I will be doing open shows and such.... I *MIGHT* try to go to an "A" show in a year or two that Bear has been to before, but that just depends on how things start going jumping wise... ;]
---
You can never take a Thoroughbred away from a horse crazy girl.
I personally have always liked the HDR saddles. I haven't owned one, as I don't have the money to buy a new saddle, but when I can, I'm definately going to be looking for one. I think that they are quite comfortable, and I know a couple of people who own TBs, and ride in an HDR, and they seem to fit pretty well.
From what I have heard the lower models are kind of junky, but the higher end ones are nice. However, I was told that a HDR on a TB was a no-no same with a collegiate as both have very straight trees and may bridge unless your horse has high withers and then a flat back, but either way I don't think either brand offers much cutback or wither clearance. You may be better off looking at a used stubben, or their "knock-off" brand CTD, I had huge success fitting a CTD to my TB as a CTD costs about the same and a HDR does new I believe.
---
RH Queen O Anywhere "Sydney"
2009 Sugarbush draft
CTD? What does that stand for? I might just keep my current dressage saddle and just get a new jumping saddle....
---
You can never take a Thoroughbred away from a horse crazy girl.
I actually have one I just ordered and I'm waiting for it to come in! I got the Hdr Rivella show jumper and from what I heard they are great...thats why I bought one
---
<3<3 It's just us together as one <3<3
STUBBEN LE PARCOURS ALL PURPOSE/ENGLISH /JUMP SADDLE - eBay (item 110484231983 end time Jan-27-10 15:03:44 PST)
Here is one that is similar to what I had. They are sometimes hard to find because people usually just call them stubbens, but they are made by stubben using the same tree and leather, but are priced a little more reasonably.
And here is the one that I had. It fit my TB who had high withers like a glove, and I loved how the way it is built it just kind of cradles the rider. Everybody who rode in it loved it.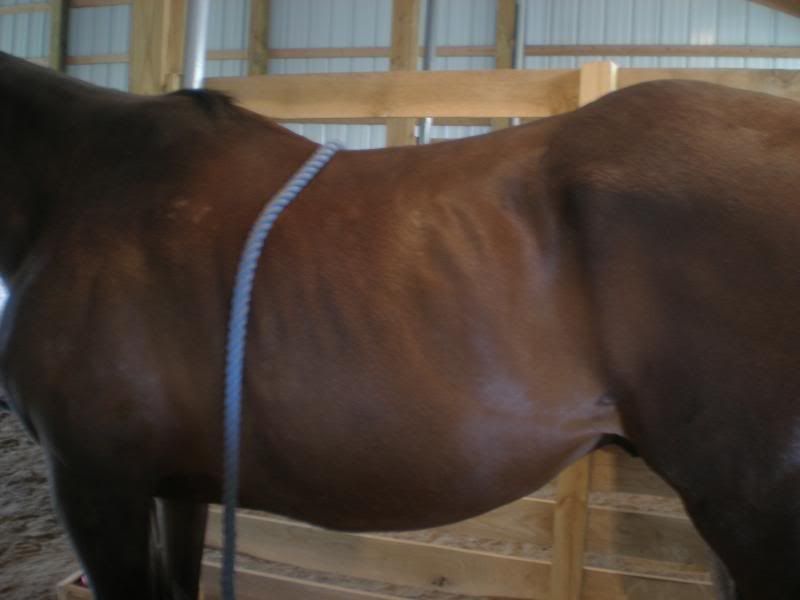 Here is a picture of Rocket's back. If your horse looks anything like this I would stay away from HDRs and Collegiates, not because they aren't nice saddles, but because I fear that you would be setting yourself up for an ouchy horse. And forgive the ribby-ness this picture is from several months ago and Rocket is very fat now.
And there is my two-cents.
---
RH Queen O Anywhere "Sydney"
2009 Sugarbush draft
HDR_Pro_CC_165W_XL pictures by saddles4sale_2009 - Photobucket
That is the Pro CC XL that I used to own, if you want to see what the leather and tree shape looks like. That's the hazelnut color. The lighter color in those pics was just the seller's camera. IRL, it looked like the darker color pics in that album. The tree is flatter/straighter not banana-backed.
That site has a fantastic price on the Pro CC. The one I had was wide tree. The twist was wide, and the seat was shallow and I didn't think it had a well-defined sweet spot. The leather was good quality but has a painted finish that rubs off ,like they all do. HDR is not the only company that uses "corrected" (painted) finishes.
The HDR Pro Jump and the especially the Rivellas are highly regarded. The Stubbens are nice saddles but not "hawt" in the h/j ring now. The older ccs have the panels too close together at the rear but you can have a saddles split them and swing them out. The newer ones with that big disgusting Stubben oval nameplate on the cantle have the panels spaced wider.
Since Stubbens are slow selling now, there are some deals out there. I bought a brand new Edelweiss CS 16.5 32cm for $700 + shipping without fittings. I love it. The seat is padded, the twist is perfect for me, the stirrup bars are recessed enough, and 16.5" is all the seat I'll ever need. I have a monger thigh and short calf, so the CS flap with the forward swing and it's also short, is perfect. 31cm Stubben seems to fit many TBs unless they are very narrow.
$700 was the best "friend" price that my tack store owner friend could get me on a Rivella leas year. For $700, I'd take any Stubben over any HDR/Rivella.
I sold that HDR Pro XL cc for $500 + shipping with top quality fittings on it and it took a long time to find a buyer for it. Most people offered me $450 or so, so getting a new Pro CC @ $440 is a good deal if it's the saddle you really want. A uses Stubben, if you don't overpay, might be a better value. HDR just isn't the same league.
---
Last edited by Tack Collector; 01-27-2010 at

12:25 PM

.
Similar Threads
Thread
Thread Starter
Forum
Replies
Last Post
opinions please

rottenweiler

Horse Riding Critique

10

12-22-2009

03:49 PM

Opinions

Alycat

Horse Talk

1

08-18-2009

03:01 PM

Possible Buy.....Opinions??

Appy Luvr

Horse Riding Critique

17

04-14-2009

12:49 PM

Need some Opinions

Fellen

Horse Training

5

11-24-2008

03:27 PM

Opinions..

Gingerrrrr

Horse Riding Critique

11

09-20-2008

11:08 PM