I found a couple of black Circle Y Park & Trails. A client of mine once got a Circle Y Park & Trail and I LOVED it (of course, I think it was the super expensive "softee flex" saddle).

All the black ones I'm finding are either sold or the dang seller won't respond (Horseclicks).
Quote:
Originally Posted by
deserthorsewoman
View Post
Now that's great
But to confuse you even more
Handcrafted Saddles by Dakota - Page 1
These can be dyed in black.
Handmade Saddles by Reinsman
Had a friend buy one in chocolate, came preoiled, supersoft and almost black. Excellent quality
Roping saddles at value prices from Cultured Cowboy
Economic and also available in black
And they have all Bighorn on there too, Cordura and leather.
Like I said, the saddle my friend got through them (to Italy), was everything she wanted. Great people to work with.
DEFINITELY going to contact them. I found a couple on there that are absolutely drool worthy. Thanks!
My pleasure
I found they have tons of info on their site, a lot to learn about saddles.
My friend got the Arizona....I was about ready to throw away my Big Horn....suuuuuuper nice saddle! She had a black warmblood, btw.
They had oiled the saddle and she got the matching tack too. Not a squeak ever. Really really good quality.
Well....Xmas is coming soon.....
Well, I found a black Circle Y, looks to be in great shape, with matching bridle and breastcollar, all within my budget.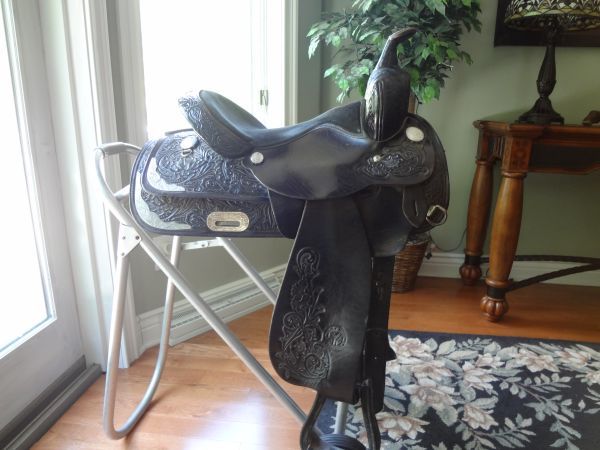 The only question is whether my fat American butt is going to fit into a 15"... but if it doesn't I'll sell it and try again. My retired QH has the widest, most mutton withered back ever, so I'm no stranger to trial and error with saddles.
Yearling
Join Date: Sep 2012
Location: Central Western NSW, Australia
Posts: 1,120
• Horses:
4
That saddle looks heavenly!
Quote:
That saddle looks heavenly!
I think so, too! It was a bit of an epic quest to get it. I did a google search for "black Circle Y" and looked through about a zillion hits and found this one on a few shopping sites. I noted the location and pulled up the Craigslist for that area, and lo and behold there it was. Emailed the seller, didn't hear back, called the seller, and she said she just really didn't want to ship. Pulled up FB and looked at the friends I have in that state. Mapquested the directions and found out one of them was close enough for a pick up. Posted on my FB page for volunteers in that area who would be willing to do me a favor. The FB friend immediately responded that she was in the area, so I PMed her the info. Called the saddle lady back, Paypalled the $$$ to my FB friend, and as soon as the funds are available she's going to go pick up the saddle (seller wants cash) and ship it to me.
Whew.
Oh, and for anyone worrying about me Paypalling $$$ to a random FB friend, I've known her for YEARS and trust her completely.
Nice
Now let's hope it fits both of you
Have you heard from the folks at CC?
Just interested in what they had to say.....