help me find a saddle that fits! :)
---
So Chloe has a funky back, and part of her spine is slightly raised and is causing her current saddle to put a pressure point there. So, she's very sore there. Her current saddle would fit her nicely if her spine wasn't raised. Anybody have any ideas of what size/fit saddle I should get? I want to get a dressage saddle.
My plan is to get a nice dressage saddle that fits impeccably. Then, I'll sell my current saddle and buy a nice jumping saddle that fits impeccably. Price is not an issue, but the more expensive, the longer it's going to take me to get it.
I have been thinking about getting a custom fit, but I wanna try used/new saddles first.
Her current saddle is the ever popular circuit elite 17" regular tree.
Here's some photo's of her back so you know what I'm talking about: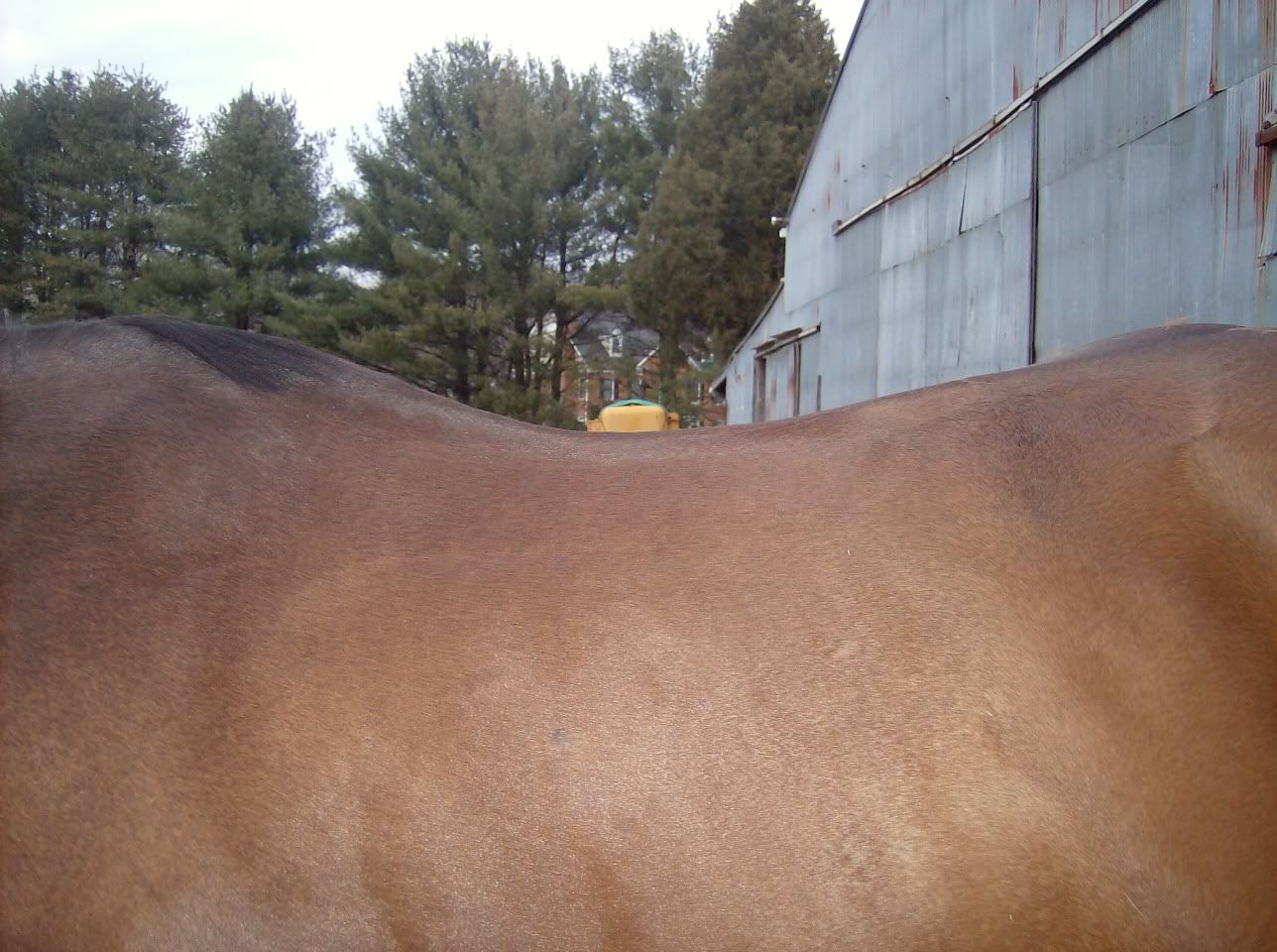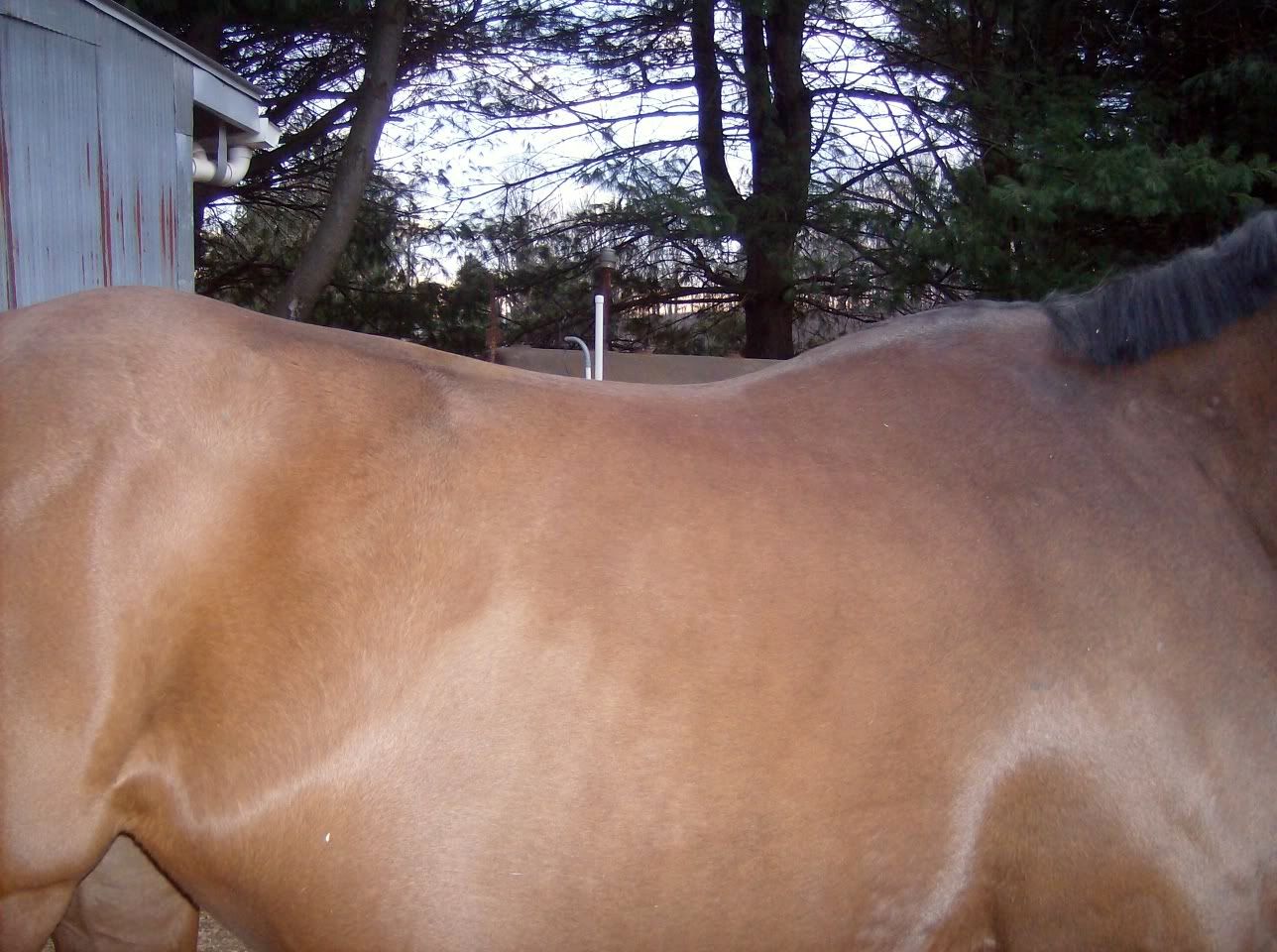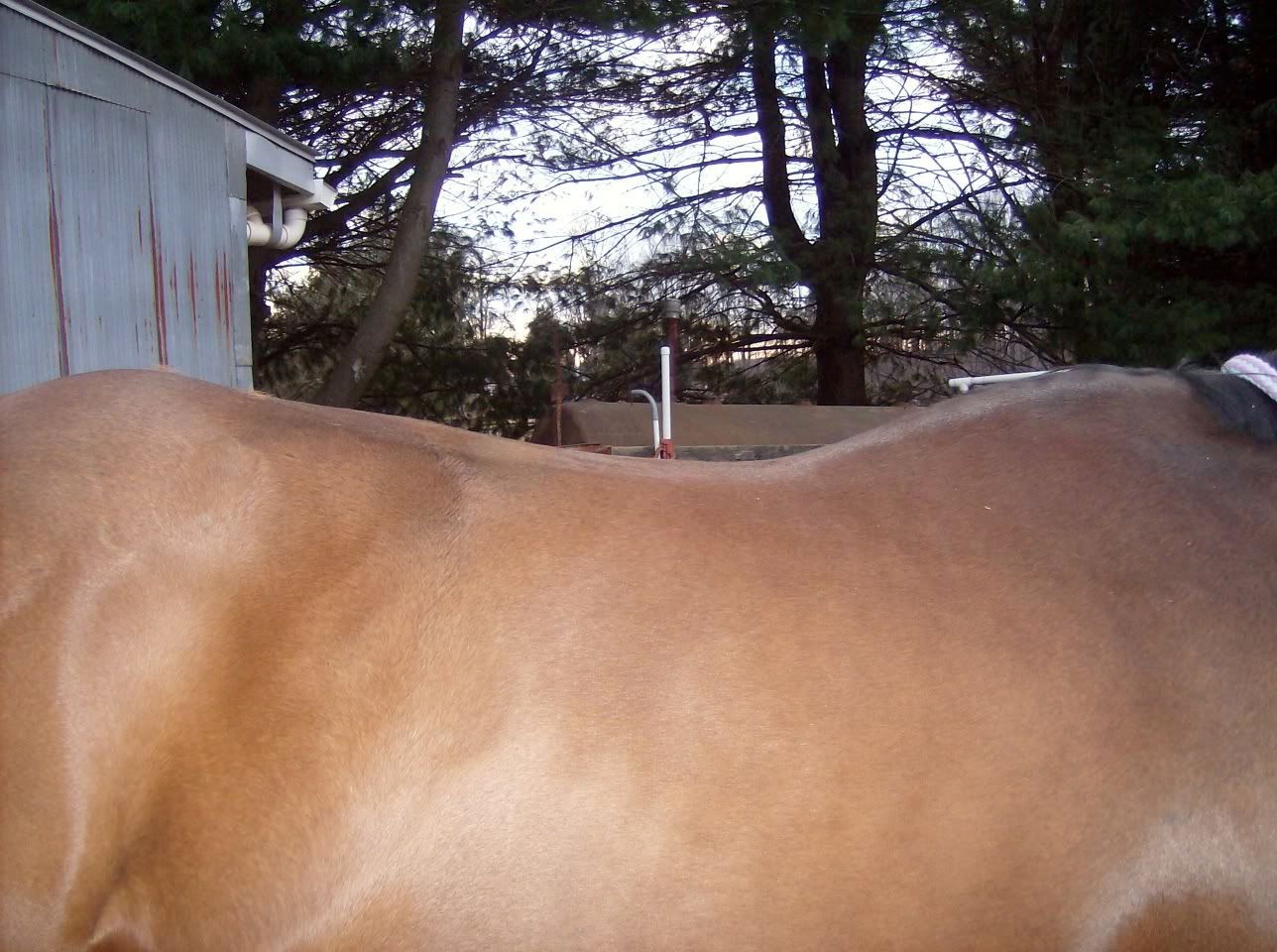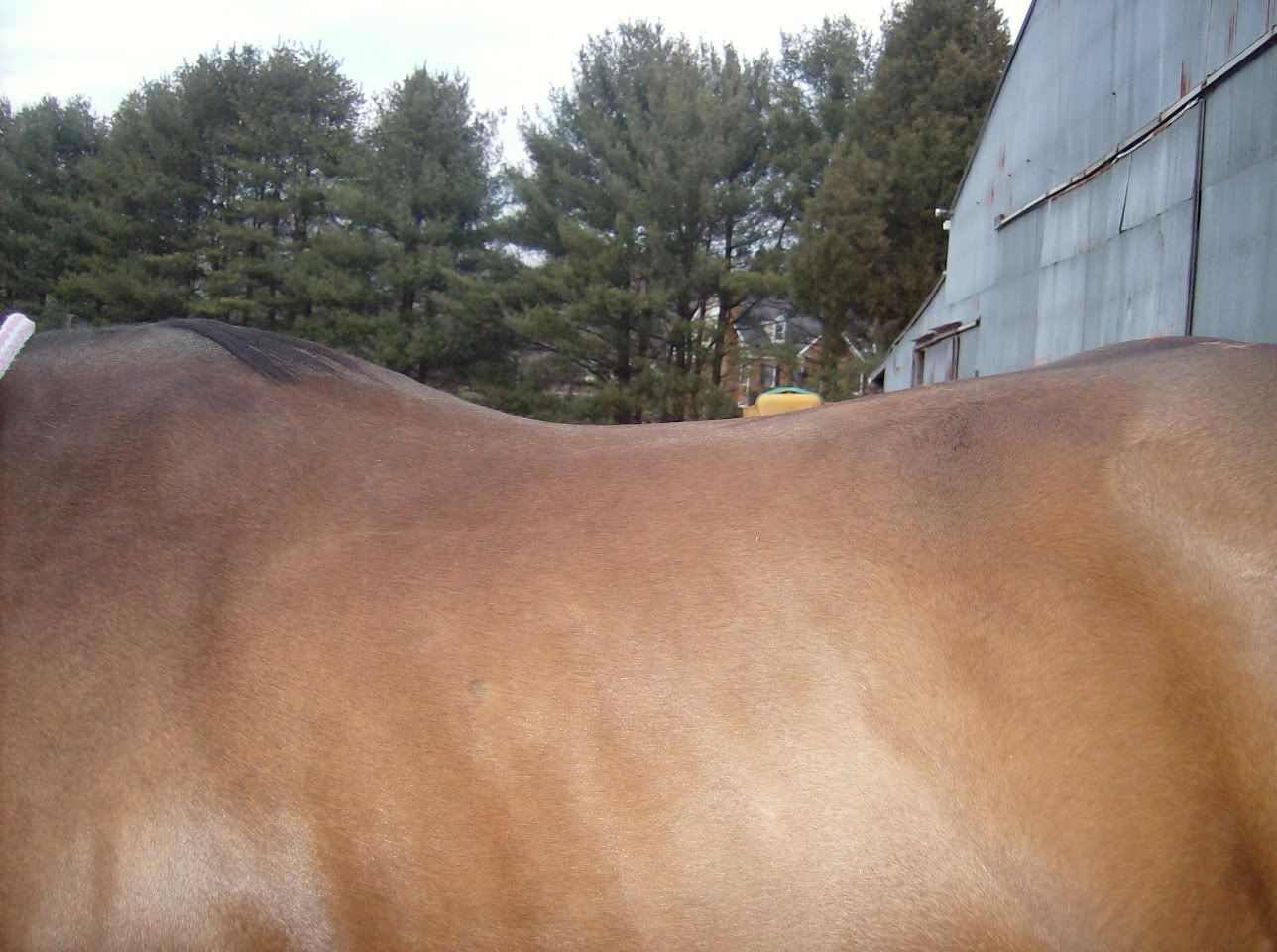 For those of you who are scratching their heads, Red is the raised spine, purple is where she hurts because of her saddle, and green is the general area where her saddle goes:
---
Jumping a horse = Getting wings!
Why live on the edge when you can jump off?- Greenwood Horse Trials Tee-Shirt
We have a TB with that same issue, my Wife uses a Wintec Isabella Dressage with the wide Gullet Plates, he is a little wider than many TB we have run into.

When she rides him Western we had to be a little selective also in the saddle we got him.
---
May all your Trails be happy and safe ones
Kevin
I might try an adjustable tree saddle. There are several companies that make them. You might try bucks county saddlery or pelham saddlery. They both have a fair number of used dressage saddles. I know that bucks county also will allow you to do a trail.
My TB has the same A symetrical back shape.

What you are going to need to do is

1) Find a Professional Saddle Maker/Fitter to come out and assess your horses back, your saddles and you. They will usually come out with a truck full of saddles and equipment to aid you in your search.

2) Find a saddle that is wide enough between the pannels. You want your horses spine cleared. You also want nice wide pannels.


You should beable to fit all 4 of your fingers inbetween the pannels in the saddle...aka wide gullet. The more fingers you can fit between the pannels, the better. This means that your horses spine is not only being cleared...but the muscles surrounding the spine is as well.

You want a saddle that rests on your horses ribs, not your horses spine.

Many manufactured saddles on the market today, have that issue. Most you can only fit 2 fingers between the pannels aka gullet....


A Professional will beable to come and see in person, with their trianed eye and experience/knowledge.
What you need is a good pad to help fill in for her lack of muscle. Keep using your current saddle while her muscle
builds and fills in, then revisit the fit and consider a new saddle once she's in good shape.
I like Skito pads for this kind of problem. The foam is very forgiving and shock absorbing, and works well to fill in for
lack of muscle. You can go with the
Interpad
or
Correction Pad
, depending on if you need any shims or lift. Use either
pad over a thin square pad or blanket.
I LOVE my Skito pads and have had good luck using different shims. They can help you pick out just the right pad and
shims with pictures of your horse with and without the saddle. The shims are removable too, which makes the pad
very versatile.
---
Last edited by luvs2ride1979; 02-16-2009 at

12:06 PM

.
Thanks guys!
I already have a very nice pad, a Traumatech pad.

Her spine is slightly higher than it's supposed to be, so I think that's why you see lack of muscle. I don't think it would be very fair or beneficial to make her lift and use her back with a saddle that causes her so much pain.

I'm going to go pick up and try a thorogood or a wintec today and see how it fits. They both have adjustable trees. I have a lesson with my dressage trainer tomorrow and I'll have him take a look at it if I think it fits nice. If he approves, I'll have a saddle fitter look at it.

I'll keep you guys posted!
The traumatech pad doesn't provide any spinal relief, and is a slightly stiff closed cell foam pad. It would be fine to
prevent soreness, for a horse with a normal/flat back, but it's doing more harm than good for your mare. It's
causing MORE spinal pressure with it's flat design and no spinal channel. The panels of your saddle pull it down
on the spine.

The Skito pads have foam panels on either side of the spine, filling in for the muscle and lifting the saddle up
off the back and spine. It is the PERFECT pad for your situation. My TBxArab gelding had muscle wastage like
that and the Skito pad was the only thing that made him comfortable enough to be ridden (and his saddles
all fit perfect). With any other pad he'd buck like a bronc until you came off...

They have demo pads, just email them and try one out! You'll only be out shipping if it doesn't work.

I'd also recommend giving her some time off and some massage work, so her back is 100% sound when you
do try a new pad and/or saddle. You won't really know what works unless her back is good before you start.
---
Last edited by luvs2ride1979; 02-16-2009 at

03:55 PM

.
Wow, I never realized that. I might just have to try it out!

I went out and bought a thorowgood dressage saddle today. Not sure if I like it or not, it's all synthetic. I'm having my trainer come out and look at it tomorrow. It seems to fit okay. I don't think I'm going to keep it, but its a good place to start, right?

I REALLY like Anky. Anybody have any input on this brand of saddle?
What about Stubben?
I dont really want to spend much more than 15 hundred on a saddle, so does anybody have any suggestions on a nice brand?
With her withers and back shape, I'd look at a used Passier. They have cut
back pommels and a more rounded shape to the pannels. Whatever you get,
be sure it's wool flocked, so you can have it customized if need be.