Help Me Pick a Tack Set!!
---
So I am buying this saddle but I need help to decide which set I want. Here is my saddle: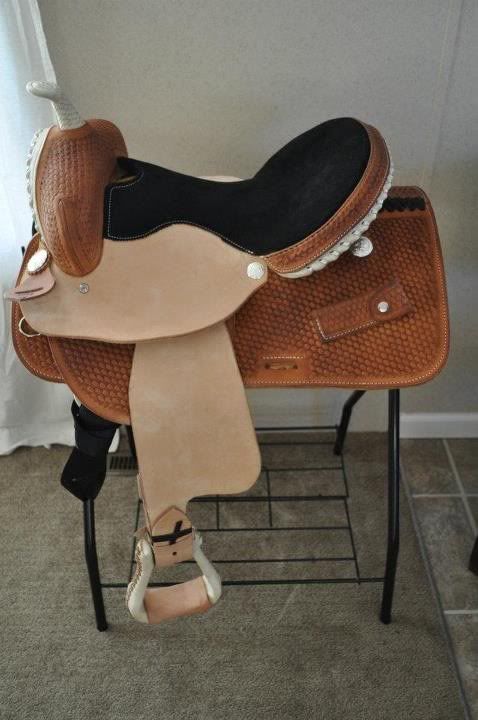 Set #1: Headstall & Chest Plate
OR:
Set #2: Headstall, Reins & Chestplate (in white)
Posted via Mobile Device
Green Broke
Join Date: Jan 2010
Location: south of nowhere, north of nothing
Posts: 4,643
• Horses:
6
i would go with the first one. you have a nice mix of the lighter colers that would go with your fenders and stirrups and darker for the rest of the saddle
I like the first one also.
First one also.
Posted via Mobile Device
First :) The second one is pretty, but would clash horridly with your saddle ;) If you had a Zebra Seat, it would be a different story. The first looks like it maches perfectly :)
---
~ When I Die, Remember Me By My Horses ~
* Because They Are Responsible *
.: For Letting Me Live :. (c) xJumperx
Yearling
Join Date: Nov 2009
Location: I was born in Germany, raised in Texas.
Posts: 824
• Horses:
5
Definitely the first set. Love the horse shoes. And the lighter cream colors compliment the fenders while the darker tan spots are brought out by your skirt. And the turquoise stones are just enough color to make it fun. Show us a pic of it all on your horse when you have it all complete. :)
Agree first set, would look much better with the saddle
enjoy all your new tack
Oh, I just love the first set
I agree with everyone on the 1st set. It mayched the colors of your saddle much better!
---
The love for a horse is just as complicated as the love for another human being...If you never love a horse, you will never understand.