help picking an english saddle.
---
so im getting a new horse. first one& hes a quarter horse. i already have a western saddle, but ive been thinking about it, & i really like riding in english. they help me alot more with posture & position more than with a western saddle. you cant just hide behind the big heavy thing.
you actually have to concentrate on your balance.
ive been looking through alot, & reading reviews but im totaly new to this.
i want to save up for one . but its not going to be anytime like really soon.
i dont really like the synthetic ones. & im thinking used.
keep in mind that at the moment i dont event or do competitions yet.
i might like to in the future.
so it doesnt have to be a 3,000 dollar one haha (:
soooo, after this long book, what do you think will be an affordable(not cheap peice of junk, but a reasonable price) first english saddle?
thankyou (:
Look for well made, used leather saddles if you're not interested in a synthetic.

You also need to figure out which discipline you want to ride, since English saddles come in a variety of types. If you're just looking for an all around saddle, an AP may fit the bill. They have a deeper seat than a CC, but not as deep as a dressage saddle.

You can get some really good deals on used leather saddles. Good luck!

Posted via Mobile Device
Honestly, a Wintec 250 is surprisingly well balanced and easy to fit most horses.

They can be found used for dirt cheap. I got mine from a fellow boarded for $150 minus girth, leathers, and stirrups.

That reminds me, english saddles do not include the girth (cinch), stirrup leathers (straps), nor the stirrups themselves. So unless you buy a used one and the seller includes those items, make room in your budget for them.
I just bought some Tekna saddles... Which ARE synthetic, but very well made and, I think a bit better to "feel" than Wintec's material. (I don't mind the new Wintecs either)
What I love about synthetic is they are easy care (no oiling or conditioning) and they won't mold (as in mildew) like leather (for those who don't use them all the time)
I bought my Teknas on clearance from the UK (I am guessing they are making room for the new generation of Tekna... Which has a gullet system like Wintec)... They are wool flocked (like a traditional, quality leather) and adjustable through a fitter. After currency conversion and shipping they cost me about half the regular price, and I am very happy.
Their Jumping Model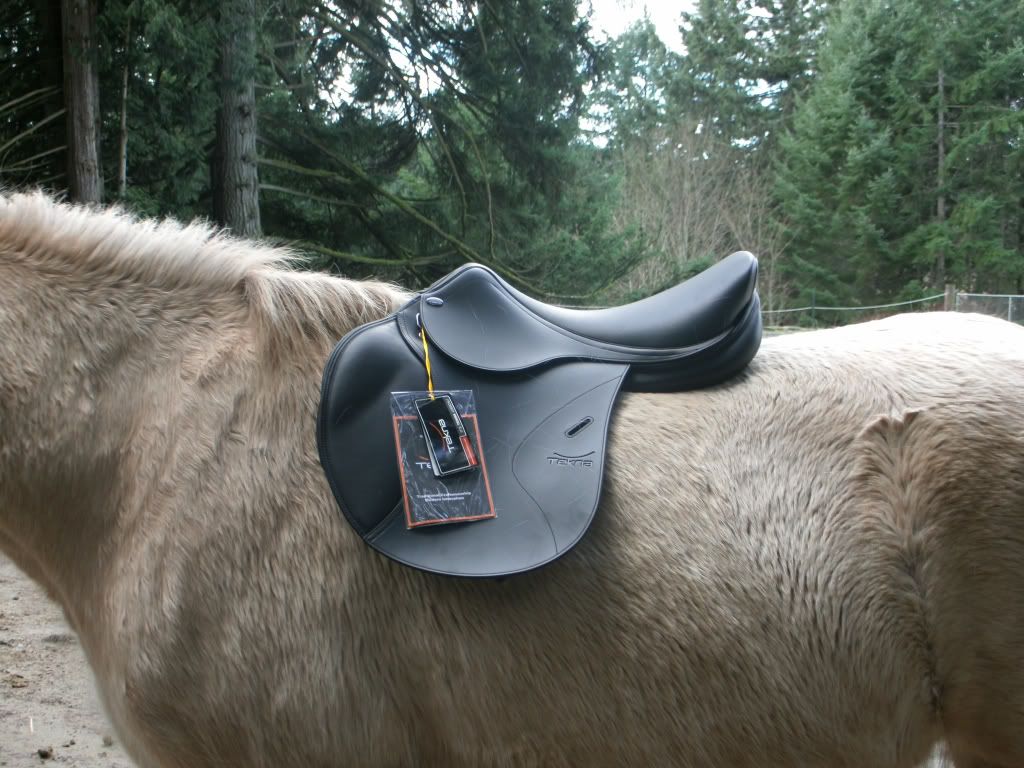 The GP (all purpose)
is that wintec 250 synthetic ?
both of those look really nice. i wish they came in dark brown though! but i can settle for black if thats whats made. i think black is a lot more common.
ALL wintecs are synthetic.

The saddles in the photos are Tekna though, not Wintec. (I do have a newer Wintec dressage pro too, though, I WOULD say the Tekna is better made). And yes, both are Synthetic too... The black saddle looks and feels more leather like, but the brown isn't bad either.
Just so you know, the second photo IS a brown, very dark brown.
Here is the brown GP again, on a different horse, in brighter light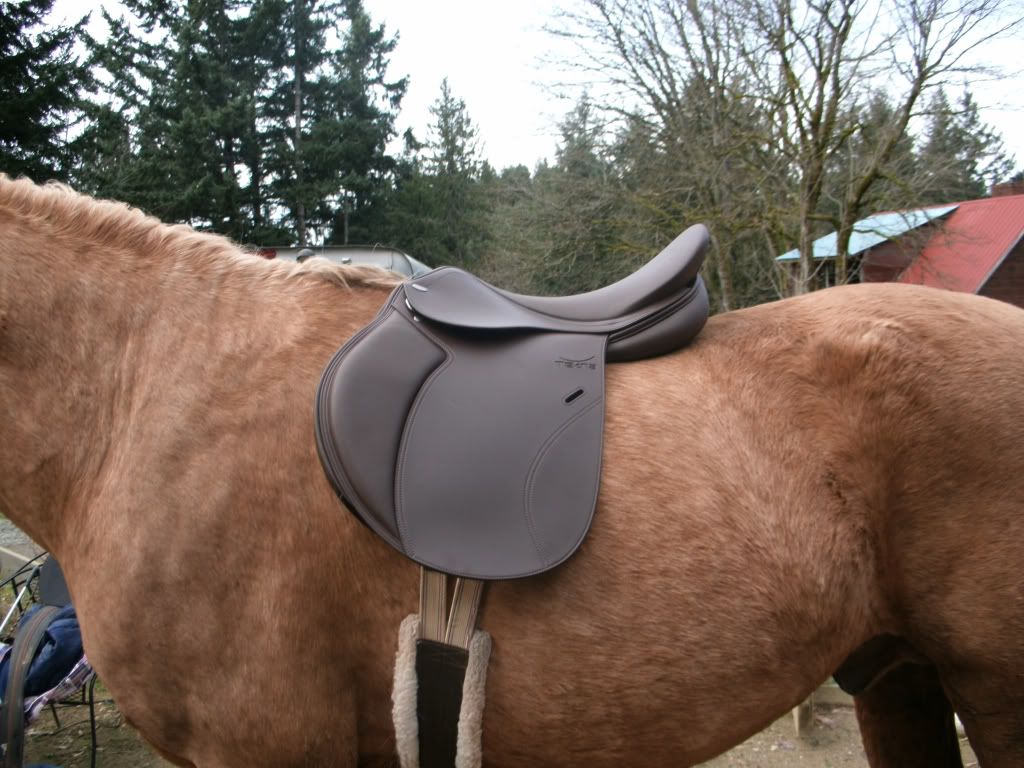 I don't seem to have any close ups of the Wintec Pro Dressage, but it is also a nice saddle, but more obviously synthetic.
Quote:
is that wintec 250 synthetic ?
All Wintecs are synthetic. The Wintec 250 is available only in black. I bought it because I got it from a barn friend for dirt cheap. Some Wintec all purpose saddles and all Wintec jumping saddles are available in brown.
Black is not the most common color for english saddles in the US. Various shades of brown are. The selection of black girths for all purpose and jumping saddles is pretty limited, ask me how I know. Dressage girths are easy to find in black but you need a pair of billet extenders to use them with jumping and A/P saddles.
Black english tack is seen mostly in dressage and a little in jumpers. Show hunters are hung up on brown
Teknas do appear to be a cut above, and I have a Tekna dressage bridle and set of reins on their way.