Help with saddle brand ID
---
Hi all!! I'm hoping some of you western folks can help me out with identifying the brand of saddle I just bought. The shop I bought it from replaced the latigo keeper with the brand of saddles they sell, but it had this design on the nail heads (at the base of the pommel) and on the one keeper (the other was missing). I appreciate any help anyone can give!! Thanks so much!
PB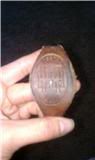 That picture is way too small, is there any way you can blow it up and make it bigger?
Here's a little better pic: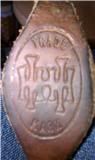 Just wanted to bump up since I got a better photo up! Thanks!