hunter bridle reviews
---
Hi,
A little while ago I did a lot of research on hunter bridles -- getting ready to make a big purchase. Thought I'd share my findings on moderately priced to high-end bridles. Results are here:
http://behindthebit.blogspot.com/200...nter-ring.html
My personal favorite is one of the Dover bridles, the USHJA bridle. What are your favorites???
Stacey
i LOVE the USHJA bridles.... im getting it!
go hunter
---
Hi, Makes me want to ride hunter again!
I personally am not that fond of it. As for suggestions, I have a lovely Edgewood for showing and a collegiate fancy stitch raised bridle for schooling which I highly recommend as it is certainly good enough for showing and is durable.
---
~Claire, the frog in the desert
I purchased a Bobby's English Tack Hunt bridle from Tackzone. This is a beautiful and durable bridle. I highly recommend this bridle. A little bit more expensive than the Dover Bridle, but much higher quality and cheaper than other hunt bridles. Great color and stitching and edging. Very classy looking. Also the Service at Tackzone was fantastic. Very fast service, my bridle shipped the same day and my shipping was free. This is a heavy duty buffalo leather bridle, dark brown, I got to choose my reins from three options. Absolutely fantastic bridle, great quality, great price and amazing service from Tackzone. Also, one other note, once I put it on my horse it made my horse look very pretty. That was nice to see. Here is a direct link to the bridle I purchased.
TACKZONE - Hunt Bridles
Happy Riding
The Hunter bridle or Hunt Cavesson is the most popular bridle which customers order from me. Individually made to measure from the finest English bridle-hide, (hand-made and hand-stitched) with buckle and rein options, (and an option to personalise with an initial or small logo hand-stitched on the headpiece) mine are $140 including shipping.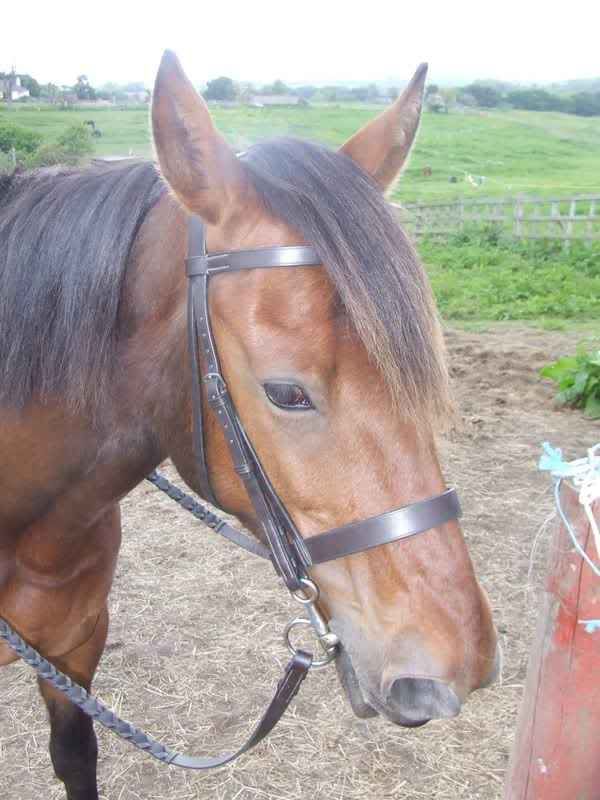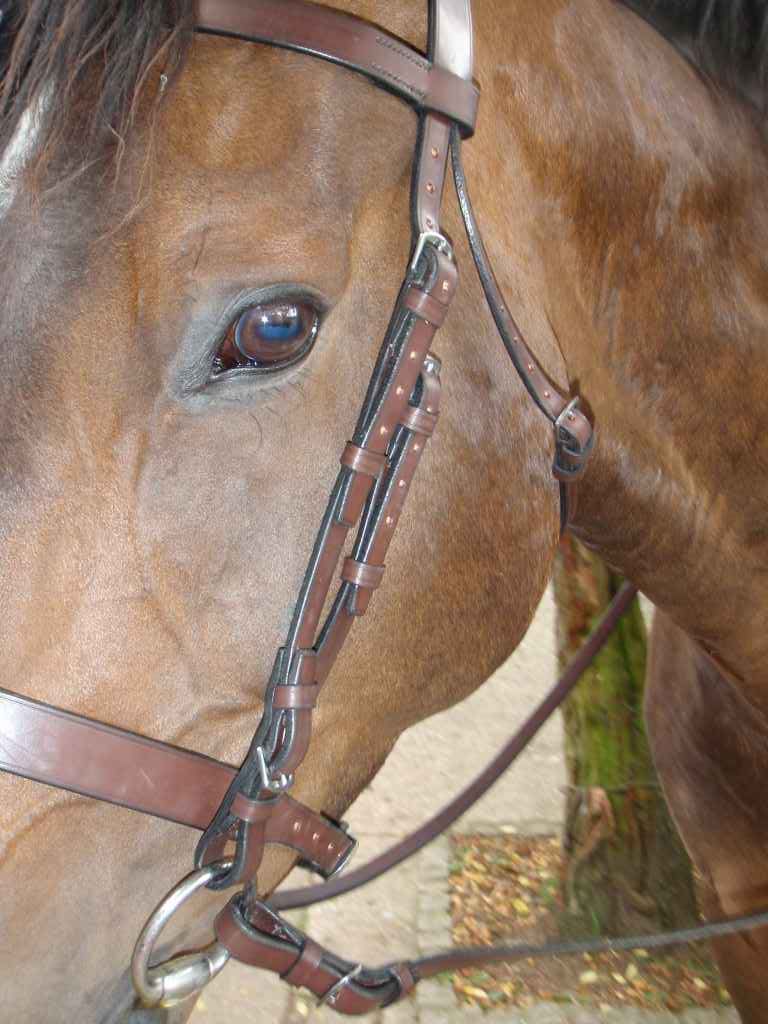 (on a little girl's bridle for her tiny pony)
I love my Beval bridle, and i have a raised and padded Circuit that looks really nice