I am going to sound like a complete idiot........
---
Here's the deal, I grew up riding western - I have taken apart, cleaned, and reassembled saddles before --- BUT --- it was MANY years ago. Apparently, it doesn't all come back to you.
We got DD a saddle for Christmas. When it arrived, we went and purchased a girth for it, but I am sitting here staring at it with NO idea how the heck I am supposed to attach the darn thing to the saddle. Try as I might, I cannot remember. I can find all sorts of articles on how to cinch it up, but nothing on how to actually get the darn thing on there in the first place.
It is a synthetic and came with some nylon/web straps on either side - I have always had all leather saddles and can't help but wonder if my first move needs to be to replace the nylon straps with leather, they just don't seem that substantial.
If anyone can break this down "barney-style" for me, I would most appreciate it.
So the billet straps (nylon) are already attached to the saddle right?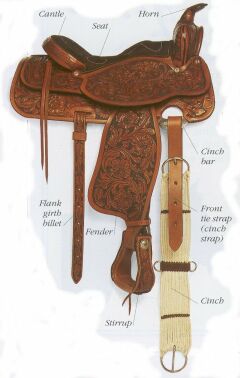 ---

"Until one has loved an animal, part of one's soul remains unawakened..."
- Anatole France
---
Last edited by Vidaloco; 01-31-2010 at

11:39 AM

.
I don't ride western, so I went to YOUTUBE and typed in "Attaching girth to western saddle" and you know, not one video could I find on the very subject.

They have vids on how to saddle your horse and how to tighten your cinch, but now how to attach.

I think someone, needs to make a video - step by step and put it on youtube.

Hey you western guru's out there! *hint hint*
---
---

"Until one has loved an animal, part of one's soul remains unawakened..."
- Anatole France
The 2 nylon straps on each side... the one that would be on your right if you're sitting in the saddle should be the shorter of the two, probably by a lot. The buckles on your girth probably are different on each end. Most have a flat-ended buckle, maybe with a roller, on the side that attaches to the left-side (longer) strap when you tighten the cinch, and a rounded buckle that buckles onto the off billet. I don't know if that makes sense or not; hopefully it did. If you have a picture of your girth, I can probably say exactly which end goes to the short (off-billet) strap.
As far as nylon vs. leather straps, I've ridden both, and have never had a problem with the nylon wearing out. However, I don't use the buckle-holes. I tie the cinch off, even on the off-billet side, to tidy up the excess strap (my mohair cinch doesn't have a keeper). I find that the nylon is easier to tighten with my SmartCinch roller, but I've never had it slip loose.
Don't feel bad about forgetting. I mostly ride English now, but every now and again I toss the old western saddle on my boy if I plan on needing a little more stability during the ride, and sometimes I need to take a minute to remember how to knot the tie strap.
I agree with MIE: Someone with a videocamera needs to make a YouTube!!
---
A stubborn horse walks behind you, an impatient one in front of you, but a noble companion walks beside you ~ Unknown
Yes, the billet straps are already attached. Thanks for all the great info, all! I just sat there and stared at it, put it away for a couple of weeks (too nasty out to ride anyway) and brought it back out today in the hopes I had somehow remembered it all, lol -- no such luck.
Here are a couple of good links.
For off side:
Off Billet
For near side:
How To Tie A Western Cinch
The "off side" can also be attached the same as the near side. Maybe that's what your saddle has.....two long straps on either side?
Some nylon ones may not have the holes in the right places. I use a wood burning tool to melt holes where I need them. You can also use any metal pick, punch or awl thats the right size and can be heated up. Just use a burner on the stove to heat it up.
---

"Until one has loved an animal, part of one's soul remains unawakened..."
- Anatole France
OK, that particular girth shouldn't matter which side buckles to the off billet; both buckles are the same, at least as far as I can see, and you have a dee ring on each side. You should be able to just buckle one end to the off billet and tighten.
---
A stubborn horse walks behind you, an impatient one in front of you, but a noble companion walks beside you ~ Unknown