I hate it when I do that!
---
Well, now that Nelson is back to being Nelson. And now that he is on full turn out with a Round Bale infront of him all day - I've been given the ok to start riding him on Monday.
As you know, my Wintec All Purpose is not a good fit for him, especially now that he's lost all that muscle mass from being on stall rest. I am trying to sell it, but in the mean time, looking for another saddle that would work well for him.
One saddle inpartiuclar. It used to be Nelson's previous owners saddle, that she used on him. And the saddle went wherever Nelson went - and my stupid ass, sold it. At that time, I had my Wintec and had no clue about saddle fit, without realizing my Wintec was not the right shape for his back.
So, yeah....I sold it. I HATE IT WHEN I DO THAT! Now, now I am kicking myself for selling it. I've been scowering high and low for that saddle, with no luck.
As Homer Simpson would say "DOH!"
Here is the saddle that I wish I could locate!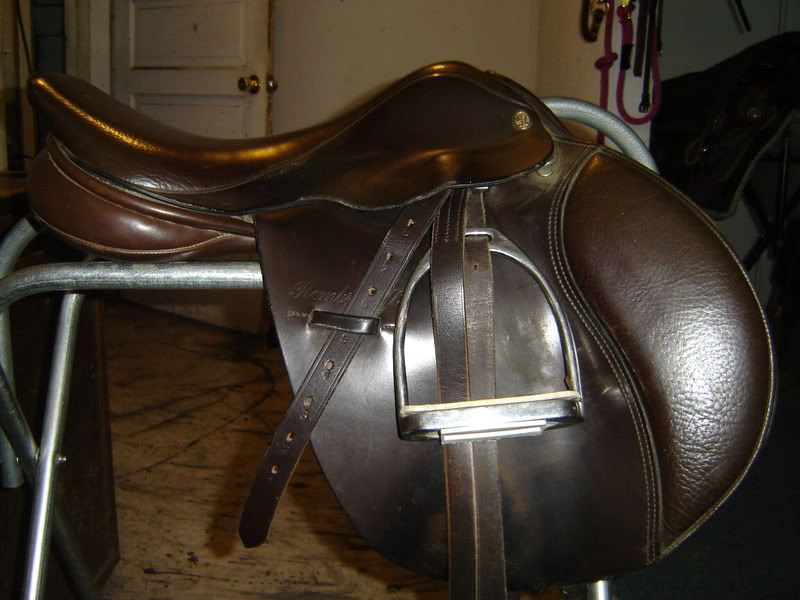 I HATE IT WHEN I DO THAT!
---
Ya, I've done the same thing! :) My reccomendation is Stubbens...they are beautifully crafted, hold up really well, and you can get a PERFECT fit for both your horse and you. They put a really high priority on fit.
www.stubbennorthamerica.com
Thanks hrsrdr, I appreciate that.
---
I found some for sale but there in to the higher $1,000 - $3,000s.
Yeah, MIE, we are in the process of getting a new saddle too. The Stubben we tried was to wide for Geof's narrow back. So I have to get a narrow tree. Just a thought ;)
---
Jumping a horse = Getting wings!
Why live on the edge when you can jump off?- Greenwood Horse Trials Tee-Shirt
Meh. I get so angry when I look at the saddle. Angry at myself for not keeping it in my possession.

If I had to of known then, I would of sold the Wintec instead and kept that one.

I have to keep trying to find it. I know it is out there somewhere! I sold it to a Hunter/Jumper barn in Hickory Corners in my area, and when I called the owner and asked him about it, he had no idea what had happened to the saddle, since it was bought by one of his students.

I need to trace it down! I WANT IT BACK! lol.
---
hahahaha!

I just want one saddle that fits Geof, and I'll keep it forever and ever
---
Jumping a horse = Getting wings!
Why live on the edge when you can jump off?- Greenwood Horse Trials Tee-Shirt
I understand, that's all that I want. That Rembrandt Fit Nelson wonderfully, but nooOOOOooOoooo, my dumb ass had to sell it.
---
Well I hope you sold it for a lot at least. =)

It looks like a really nice saddle. What brand is it?
It is a Rembrandt Close Contact. 17.5" seat and a Wide Tree.

*sniffles* I's misses it.
---