Dangit, GH... Dangit. The leather one with a nameplate I think I need. Just in case I forget her name, you know.

On another note, I just had Dairy Queen. =]
Posted via Mobile Device
She wears a halter when she needs too, for farrier, vet, catching her usually with big fluffy fuzzys (they rub too). Just not extended periods of time because I think the rough edges of nylon and cheaper leather are what rubs her the wrong way. My good leather bridle doesn't bother her, but I can't really afford a $100 dollar plus halter at the moment. She has a weird head, she's suppose to be a 15.2 hh quarter horse cross, but she's got closer to a cob in the nose size and horse over the poll. Makes all of them kind of funny.

Would love to have a nice leather halter with name plate for showing next year. Oh well guess I just have to stick to collecting saddle pads, and a few other items.
---
Last edited by Cruiser; 09-02-2012 at

08:51 AM

.
A girl can never have too many shoes, so it must figure that a horse can never have too many halters!
---
I think you may have something there, DA! I like the way you think.

I will post pictures of Gracie in her new halter when I get it. =P
---
"Great spirits have always encountered violent opposition from mediocre minds."

Mitch has 4 halters, and DJ has 3 (DJ is only on trial haha!!)

Mitch has:
1 red rope halter
1 rainbow nylon halter
1 blue chevalier nylon halter with black foam padding and brass buckles
1 faded red nylon halter

DJ has:
1 Red MINT nylon halter with black padding
1 navy nylon halter
1 purple rope halter


-I'm addicted to halters and saddle blankets... sigh, not enough money to buy all the stuff my horses *cough* need
---
R.I.P ~ Bubbles - 25yo tb mare - 13.04.2011 ~ 8:30am ~ passed away naturally and peacefully in my arms
I hear you guys on the halters...a few weeks ago, I bought a leather halter for a horse I don't even own!! He's my schoolie and I simply could not have him borrowing a halter from another horse...that had the other horse's name on it!! Turns out he is always breaking his halters, and he broke the one I bought him too. He has a wild vengeance against throat clips, apparently.
I am trying to convince myself not to buy him another one with a throat buckle instead of a clip!!!
I really love this one...but alas, it has a throat clip.
Curvon Baker Halter W/leather Crown | HAH0001 | Greenhawk
Quote:
I am glad I am not alone in the Halter Addiction club.
I also really like this one.

Oh My Gosh - I am a GIANT Zebra fan :3 I actually have this halter, but in Blue for Cowboy!!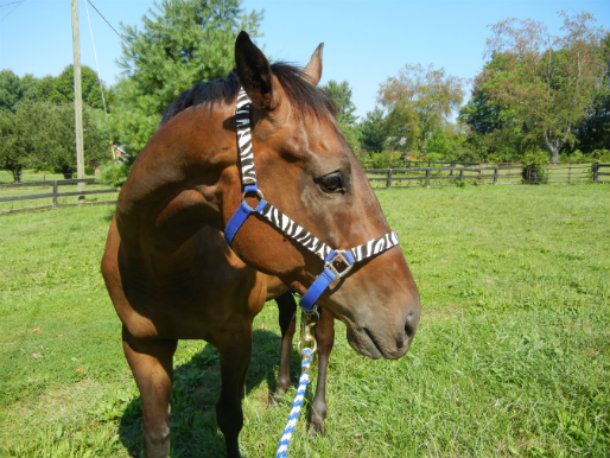 I love it :p He also has a matching blanket & boots...
---
~ When I Die, Remember Me By My Horses ~
* Because They Are Responsible *
.: For Letting Me Live :. (c) xJumperx