I love this saddle, it fits me, will it work for Willow?
---
As the title says, I love this saddle for me, I'm not sure it works for Willow, I want it to though. I think it maybe a fraction wide, so can I pad a little to help her out.
Pics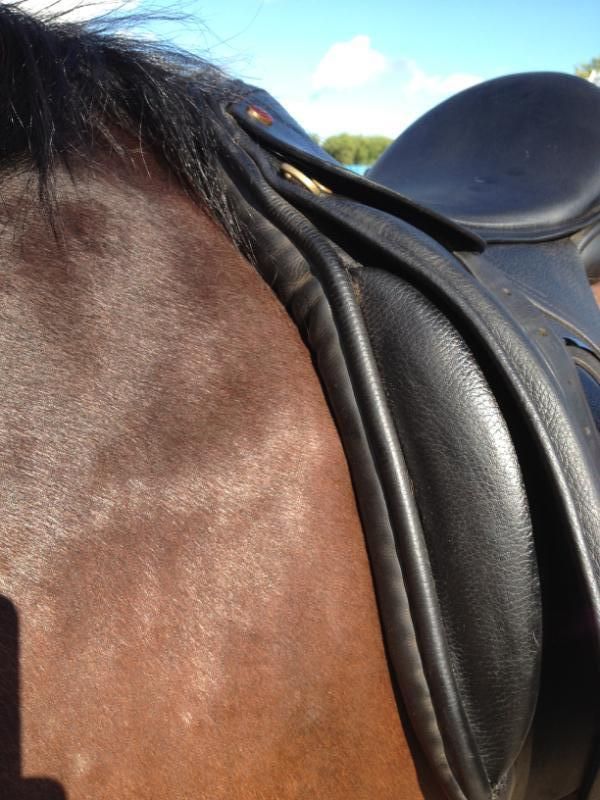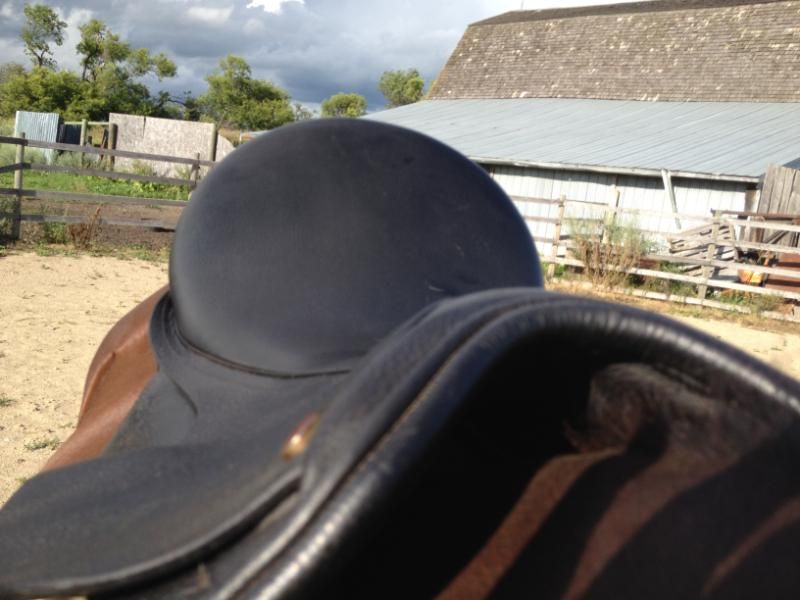 Excuse the filthy hands, I had been putting oil in her mane and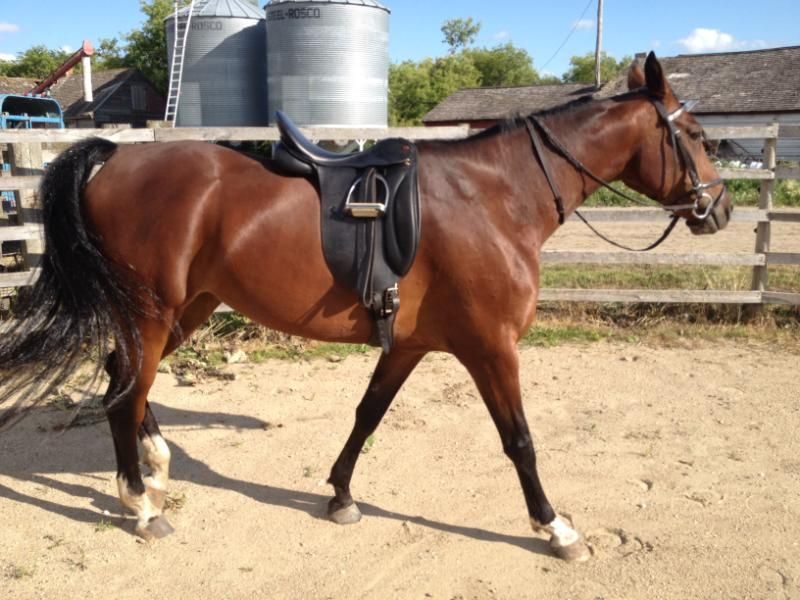 Showing
Join Date: Jun 2011
Location: Cariboo, British Columbia
Posts: 11,940
• Horses:
3
Looks to me as if it's too wide. The gullet is sitting too low down on her shoulders.
This saddle will not work for your horse. It's too wide and sitting down right on her withers. Padding will not help make anything better either. Sorry.
If only it had an adjustable gullet! what kind is it?
If you have your heart set on the brand and model there's a few things you can do. You can contact the company and see if you can get ahold of a local representative. They can help you find a better fitting saddle for your horse.
Green Broke
Join Date: Oct 2010
Location: Some times Llanelian - North wales, sometimes Hull in East Yorkshire (UK)
Posts: 3,679
• Horses:
5
For me it looks quite wrong,
It is sitting too low, it actualy looks a tad too long for her as well and the balance looks wrong.
---
RIDE your horse FORWARDS and keep him STRAIGHT


Difficult to tell width-wise because it's close, but it probably is a little too wide. Check it with a wire template - if the angles match those of the tree points it just needs extra flocking (or a pad, temporarily).

Take a look at pic 6. Your horse looks fairly level (withers/croup) but the saddle looks tipped forward, so that's what it will do to your balance. The seat's low point is slightly forward of where it needs to be, but not by much.

If tree and horse angles match, try folding a hand towel into a pad around 18" long and 6" wide. Lay it over the horse behind the shoulder, then fit the saddle and check for level. It'll just give you an idea of how a flock adjustment will affect the fit.

Good luck :)
GH, it looks very low on front.
---
"Life isn't about waiting for the storm to pass: it's about learning to dance in the rain..."

"When we are no longer able to change a situation - we are challenged to change ourselves."

"How people treat you is their karma; how you react is yours."

The saddle is a Thornhill Vienna, and I love it, and my trainer is delighted that at last I have a saddle that puts me in a great position.

I was hoping, rather than believing that the saddle would fit her, it was actually bought for Ben, but **** IT, now I need to go shopping again. Think I may just look for the same only a touch slimmer for her.

Faye, why do you say the saddle is to long, it in no way interferes with her, and if I put a western saddle on her, and she has been ridden western a lot in her life, it would certainly be longer than that.
Green Broke
Join Date: Oct 2010
Location: Some times Llanelian - North wales, sometimes Hull in East Yorkshire (UK)
Posts: 3,679
• Horses:
5
English saddles fit differently to a western saddle and should NOT go past the last rib otherwise it will put pressure over the kidney area and the weakest part of the back. this causes all sorts of issues.

Now I only think it may be too long as i cant get my habds on her and find the last rib myself
---
RIDE your horse FORWARDS and keep him STRAIGHT