I Made An English Saddle Pad
---
When I was cleaning out the storage tunnels in my room, I found some Hawaiian fabric that I thought would look great as an english saddle pad. With the help of an old white sheet, some batting and a bit of casing, I now have a completed pad! I didn't add any of the loops for the girth or anything, as many people end up cutting them off anyway. I figure it wouldn't be that hard to add them on if I decide I want them in the future.
I hope I did the shaping and everything right--does it look okay? I didn't have a pad to trace around, so I just took the measurements of the finished pad size and added some shaping. I hope it will work!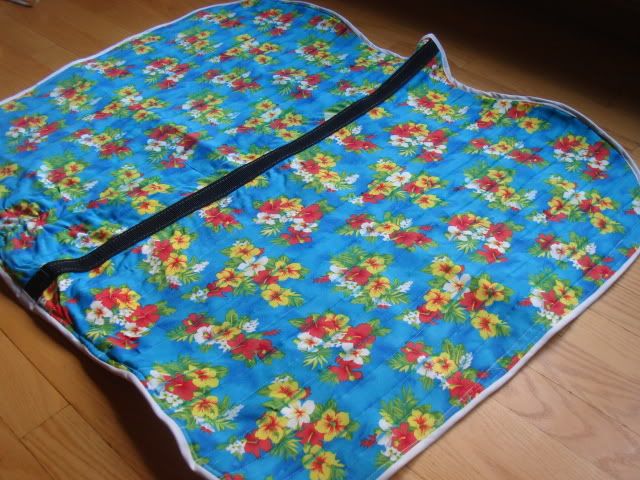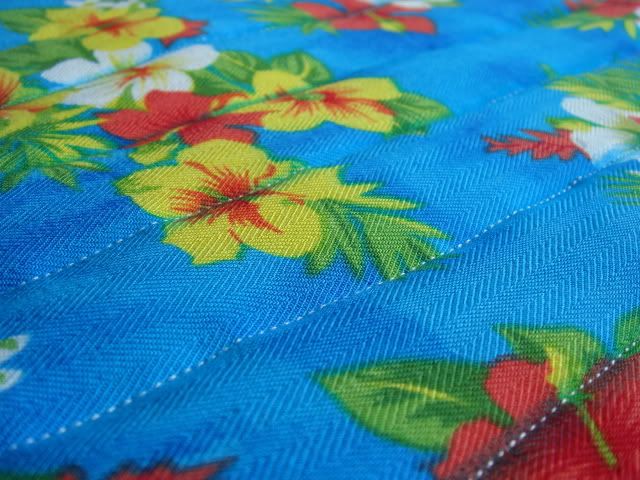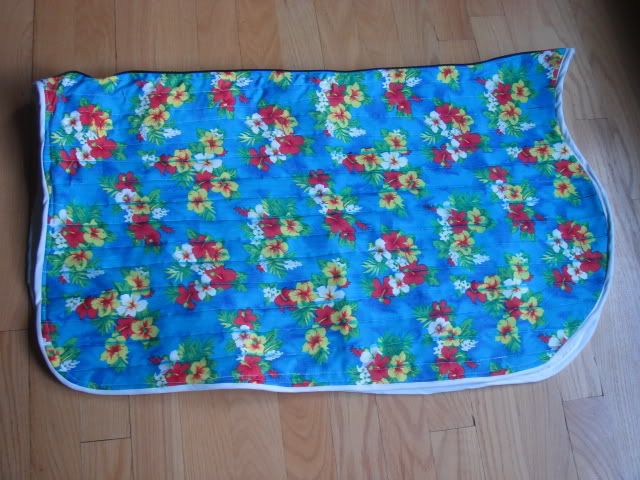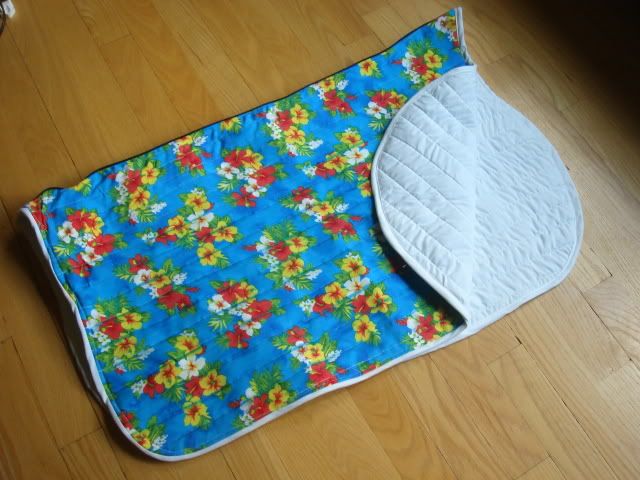 So I have been checking out Craigslist for a used, cheaper english saddle. I think I may have found one...hopefully I will be able to use my pad soon!
---
| Kubie, Appaloosa (RIP) | Patches, Pinto Arabian Pony | Scotch, Paint Quarterhorse |
cute! I love it
That is awesome! You should make em and sell them!
I need to buy special ones for my horse. She can't have your usual english saddle pad..she has a sensitive back and with cusion she doesn't get sore...I get theraputic ones
OMGosh! It looks great! I might have to make a Western pad for gracie. How think did it it up being?
Thanks!
It is a pretty thin pad--maybe about 1/6" thick? It is more to keep a padded and shaped english pad clean than offer protection to a horse's back. I don't see why you couldn't throw it over a western pad to jazz it up a bit though!
---
| Kubie, Appaloosa (RIP) | Patches, Pinto Arabian Pony | Scotch, Paint Quarterhorse |
Very cute. We ride with a pad like that and a fleece pad on top, I love to see the girls who have cute pads, makes me smile.
Posted via Mobile Device
Yeah, that would work great. Gracie's saddle pad is, well, ugly and old to say the least :) It isn't anything fancy. Until the Horsefest this October when we get a new, pretty saddle pad, I could throw this over the old one. Thanks for the idea!!!
That is really cute : ) good job!
---
Horses and children, I often think, have a lot of the good sense there is in the world.
Josephine Demott Robinson
Feed, muck, groom, ride. Repeat daily!
I've been planning on doing something like that as well! I have my own sewing machine and I figured I could make and sell them at shows or something. Now that I see it CAN be done I think I'm going to go looking for fabrics and get started!!!