Icelandic Endurance Saddle?
---
I have been offered an Icelandic Endurance Saddle in a trade. I do not know anything about this type of saddle, and was looking for some input. The trader does not know what tree size it has, so I was hoping to get some ideas for that as well (online I can only find draft tree saddles that look like this).
18" icelandic endurance saddle
Pictures from the ad: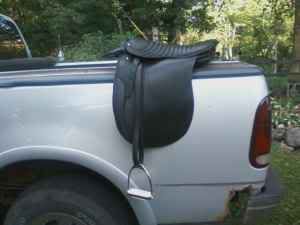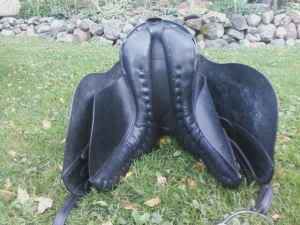 A picture the owner of the saddle emailed me...can you guess at the tree width?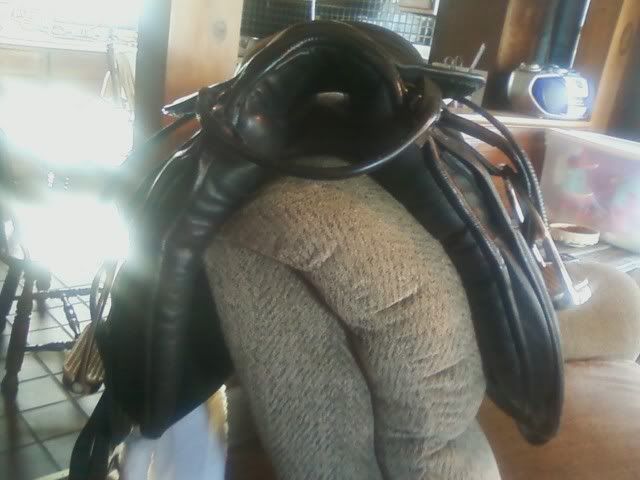 It looks like the stirrup bars are placed really far forward...would it force me into a chair seat again? What would this type of saddle be worth in your opinion?
---
| Kubie, Appaloosa (RIP) | Patches, Pinto Arabian Pony | Scotch, Paint Quarterhorse |
I forgot to add that I do not have an Icelandic pony (and at this point am not intending on owning one). This saddle would be used on either my appaloosa or paint gelding if I decided to get it.
---
| Kubie, Appaloosa (RIP) | Patches, Pinto Arabian Pony | Scotch, Paint Quarterhorse |
Traditional Icelandic saddles like that one are known for being made narrow and pinching at the withers. Many Icelandic breeders are not using them anymore and I doubt they would fit other breeds any better. They just aren't made with the horse's comfort in mind. Here's an article on them:
Saddle Fitting and Icelandic Saddles
Charligirl,

The Icelandic saddle has a totally different balance than any saddle I bet you have ever put butt cheeks to. You will notice that the stirrup comes down from a point that is WAY far forward on the tree. This type of saddle is closest to the saddleseat saddle in that it makes the ride sit in a huge chair seat and way back on the horse's loins (much to their discomfort) and you cannot post well in them, if at all.
Steer clear of it, that's my advice.
Okay, I will definitely be passing on this saddle. Thanks so much for the information ponyboy and tinyliny--I had no idea!
---
| Kubie, Appaloosa (RIP) | Patches, Pinto Arabian Pony | Scotch, Paint Quarterhorse |