Just bought an Aussie Saddle and have questions!
---
Okay so I just bough this Aussie saddle at a Pawn Shop today, kind of on a whim. They were asking $259, I got it for $200. I have until tomorrow afternoon to bring it back if I doesn't fit my horse or I just decide that I don't like it for whatever reason.
So anyway, I need your help because I know basically nothing about Aussie saddles. I've already sat in this saddle and it's super comfy, but I can't try it on Joe until tomorrow morning.
I'm attaching some pictures. Please just let me know if you notice anything I should be worried about or if you know anything about the brand. I'm having a difficult time deciding if it's a good quality saddle - I just don't know enough about Australian saddles.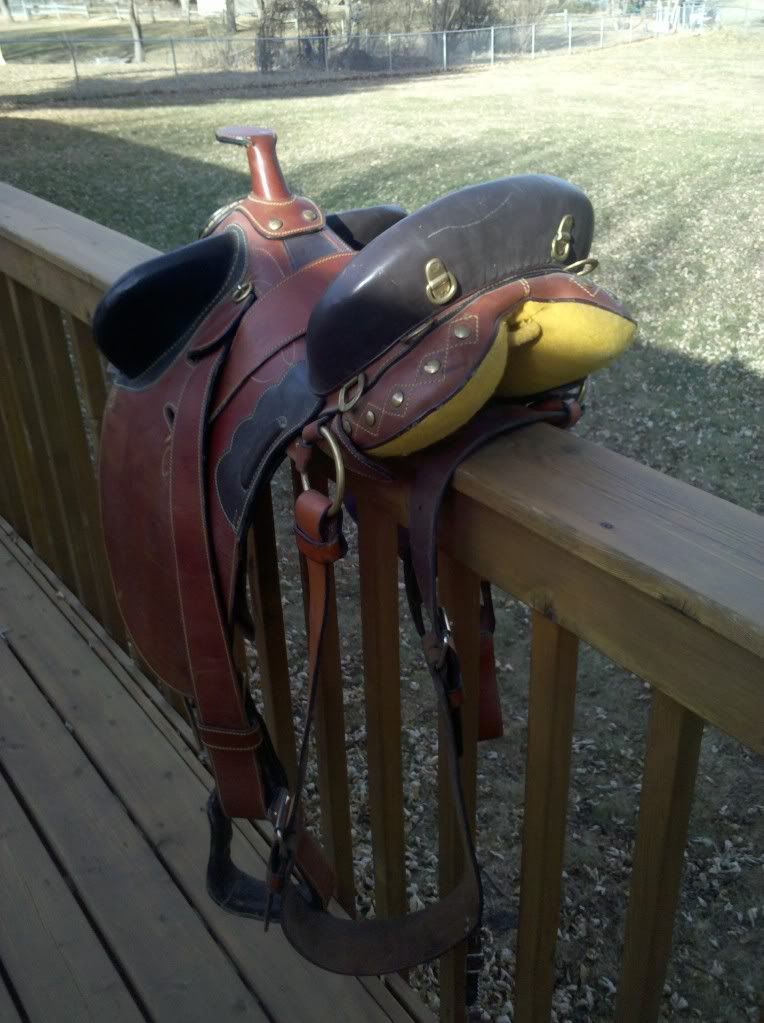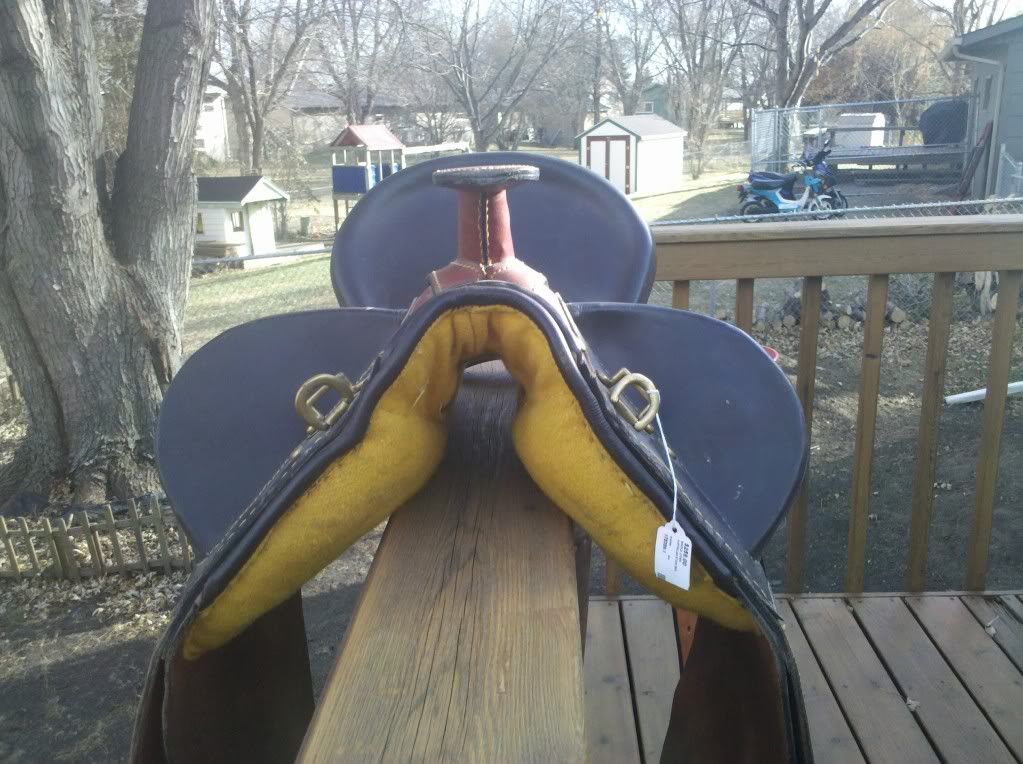 Alright I wish I could type a bit more, but I have to go to work. Any input would be great!
PS. What kind of saddle pad, girth, etc. are typically used with these?
Thanks!
Jeezzz I hope your horse's withers are skinny enough to fit that tree!

They usually will sell australian saddle pads, and depending on the latigo, or if it has straps will determine which kind of girth...if it has a latigo, use a cinch, if it has the straps then use a girth.. Good luck, and it's really nice looking! Sorry I can't help with anything else :/
Posted via Mobile Device
I would be mostly concerned that it fits your horse properly- it looks decent quality to me, nothing 'screams' junk.
Good luck!
---
...you will be more disappointed by the things you didn't do than by the ones you did do. ... Explore. Dream. Discover."
–Mark Twain
It looks like a knock-off of this company:
Notice it is missing the "Co." at the end. I do not KNOW it is a knock-off, but suspect it. Most of the saddles from the place with the "Co." at the end are more expensive.
The AUSTRALIAN STOCK SADDLE Co
Take a good look at the leather & stitching. It might be an OK saddle for the price. It looks about the same width as the one I use on my gelding.
The link above has videos on checking fitting.
It's an OK saddle-I've seen many like it & you paid the "going" rate on it. Actually w/the lowered price you paid, it's a fairly good deal. But it's not the top quality leather that feels super soft, but strong, after decades of use. I've had mine for over 30 years, & I bought it used. I'm riding it in the pic to the left after putting new leather straps on it-that was pricey! But worth it. The shorter saddle length is great on smaller horses, like my little mare.
Weanling
Join Date: Oct 2011
Location: Illinois www.saddleonline.com
Posts: 509
• Horses:
1
---
"Riding: the art of keeping the horse between you and the ground."
~Author Unknown
Thank you everyone for your input! I'm still a little overwhelmed for some reason, but at least now I have an idea of what I have. Of course, the most important thing is how it fits my horse. He has a fairly wide back but high withers, so I guess we'll just have to see. :)

Having only paid $200 for it, I knew that I might not be getting the best quality saddle out there, but the leather at least seems pretty decent. As long as it's comfortable for my horse and for me, I'll be happy!
As far as girths, there are special Aussie girths with one buckle for the overgirth (the one that is over the seat and comes out under the flaps), and another strap that's attached to the saddle from under the flap. They are generally not the same as English -- I tried that but the English buckles are narrower than the Aussie leathers. There are also Aussie-to-Western converters that buckle on to the Aussie straps and have a ring at the end so that you can attach latigos and use a Western girth.
Girth Converter for Aussie or English Saddles
just get the propper length Aussi girth. There are several differnt styles available and they work well, to use those converters, you end up with way to amny attachments, saddle to the billet and over girth, then a special over girth without the d ring, then the two convertors, then an off billet and a tie strap, then the girth. Too many doodads.
Okay, good news - the saddle fits! Now I'm a bit confused about the girth. The way that the saddle is rigged, I would need a girth like this one:
Aussie (Air-Flow) PVC Nyloprene Girth gi004
As Ladytrails stated, my English girth buckles are too narrow. However, when I buy an Aussie girth, am I going to want it to be the same length as my English girth, or shorter?