Looking for saddle recommendations (jumping/event saddle) for high withered TB
---
Hello!

I'd like to hear from you other TB owners out there in regards to what brand of saddle fits your horse well. I've got a 16.2+ TB gelding that's narrow and high withered. I've got a Bates Caprelli for jumping & a Bates Isabell for dressage both with the changeable gullet system. Because of the cut of the dressage saddle it fits him really well but my jumping saddle isn't great; no matter how narrow of a gullet I use I just can't get it high enough for his withers. It fits ok with an Ogilvy half pad but over time I'm worried it could cause an issue so I'm looking for a couple brands of saddles that have worked for other owners of withery horses. I'm looking for recommendations on jumping or event saddles.

I do have a saddle fitter coming out to fit him but she can't come for another 2 weeks because she's busy at the Masters in Calgary, Alberta, Canada and then she's got a back log of appts. I wanted to do a bit of research on my own in preparation for the appt.

Thanks in advance for all your information and assistance, my horse & I greatly apreciate it! :-D

JennyRae
Posted via Mobile Device
Passier saddles do well with high withers due to the cutback pommel. There are several other brands that have cutback pommels, too. When looking at different models, look for that feature. It helps.
Here you can see the cutback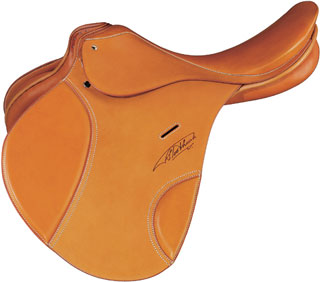 ---
Last edited by Allison Finch; 09-10-2011 at

07:21 PM

.
Thanks Allison!
Posted via Mobile Device
I totally agree
---
That cut backed pommel makes all the difference.
and Passier is a brand that has worked well for me.
also check out the
thorowgood makes a high withered saddle that's on the cheaper end
and thornhills sre good cheaper saddles
I had really good luck with a CTD St. Martin fitting my high withered thoroughbred as well as Toulouse saddles fitting him really well. CTD is made by Stubben but is their off-brand. IMO the leather is the same quality and its built on the same tree as a normal stubben. They are wonderful saddles. Toulouse saddles are good, not sure how I feel about the doubled leather but the regular leather ones seemed really nice.
---
RH Queen O Anywhere "Sydney"
2009 Sugarbush draft
Thank you to you all for your input!
Posted via Mobile Device