Lynn Mckenzie bit
---
I have had my gelding under training for a while now & just yesterday I had about enough with stopping & backing issues with my horse. So I decided to visit the tack store.
Now a brief. I try to keep my gelding very, very soft in the mouth as our goal is to ride without a bridle or headstall someday. We have been hard at work for 2 years to achieve this goal.
We sit deep in the saddle, ask for the WHOA, use medium rein pressure & I still get 5-8 steps or i use the arena wall for quicker response. Just wont work without the wall or direct rein action.
So I went and bought the bit to do the job!
This is a complete upgrade & went i went shopping I had a bit specialist to help with my decisions. My boy went from a teardrop snaffle style bit with a medium shank & swivel sides. It was wonderful, for his starter bit. but the bit specialist said its time for a upgrade, hes graduated from that a while ago!
YIKES!!! lol
I had picked out three bits for the bit specialist to rate & review & I briefed her on my horse and she picked out the Lynn Mckenzie Signature series bit.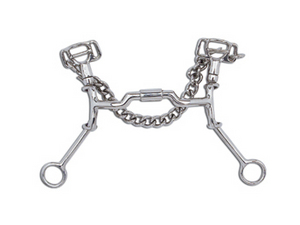 "Medium Shank MMB with an 06 Mouth We call this bit our "Dash For Cash". Good for horses that are light in the face, but still need a lot of help maintaining collection in the turns. Working without the resentment of pressure, it will encourage a horse to engage his hindquarters, which causes him to break over at the poll and allows greater control of the shoulders. The rider's hands are important with this bit. The inside rein must stay close to the horse's shoulder in the turns in order to work properly. Called an indirect rein, pull toward your belt buckle to finish the turn. 89-L52065"
Sticker shock, I almost hit the floor. Buying a Myler was a scary decision. I just couldn't return it. But I trust my bit specialist and so I bought it.
I rode that afternoon for about 4 hours, working him in large circles and serpentines to just feeling him out in the face & body, we picked up the shoulder with little movement & got a perfect flying lead change. That was enough for the day & he was done.
Today... Oh boy today...
I took him out & repeated everything for yesterday, only with a different feel.
after about a hour with with workouts I came to the center of the ring to try and work on his stopping & backing. As before he would toss his head, resist & fight me from all of this.
We stood still for a minute to relax & I gathered the reins, as I barely had any contact to his face. I put all my weight in my seat and breathed out, wiggled both my legs softly on his sides. Then as he stepped forward we had contact with the bit, he broke at the poll & took a step back. I was speechless.
We then worked on walking forward, same little contact, dropping my weight into my seat, breathing out, wiggling my legs, breaking at the poll & stopping. I would continue wiggling my legs and he would head in reverse with little rein.
We ended our workout tonight trotting a few more circles & getting a nice well rounded stop with-in 2-4 steps and with just a drop in my deep seat, breathing out & wiggling my legs, without the reins my boy was backing up & squeezed him for the complete stop. then said Whoa. I scratched him EVERYWHERE, dismounted & headed for the barn. It was an amazing day, We love our new bit!
Smokie with his new bit :)
---
"If you have control of the hoof you move the mind."
---
Last edited by Smokum; 04-23-2013 at

10:59 PM

.