"Make an offer" - someone help.
---
Hey I've been looking for a jumping/ AP saddle for a while, and recently someone I board with gave me one to try out.
Here's some details about it:
-It's brown, I'm unsure about what she said the make was.
-It's got some slight wear and tear, but it's better than all the other ones I've tried out.
-It's got a 17inch seat and a medium tree.
-Comes with stirrup irons. [but not leathers]
I wish I could show you all what it looks like but here's a picture of a similar looking saddle I found [in make and condition]: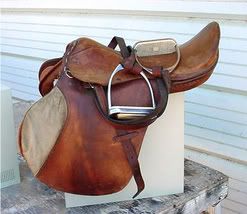 The leather on the saddle I tried is in better condition than this one, the knee rolls are similar though.
My mom has never bought a saddle for a fair price and she's going to be the one to put an offer to this girl. The last saddle we bought was used and she got it for an absurd price. So I'm asking, what's a good price range to offer from for a used saddle. Any tips?
Oh, it also comes with a girth!
The price really depends on the brand name. You need to ask the seller what make and model the saddle is.
Agreed, reeeally depends on the brand. I sold a similar looking one for under $50 (aussie dollars) recently but say it was a Stubben, it'd be worth $300-$500.
It is a stubben I found out today, unfortunately my BO thinks it looks low on his withers so it may not be my match :[
A good older Stubben in decent shape should go for $250-450, depending on it's condition. If the billets are in good shape, there are no cracks in the leather panels underneath, and the knee pads aren't all "crackly," then you're looking at $300-450. If any of those things are not in good shae, then I would be comfortable offering $300 or less.

I bought a good Stubben for a student of mine; it was an early 80s model. The only think wrong was billets that were at the end of their life. I paid $295 for it.
if the saddle is reasonable, in good shape, with an INTACT tree... you can always ride in a nice sheepskin half pad until you're ready to buy your "Investment" saddle. i ride a lot of different horses during the week and cannot afford a bunch of different saddles. so i have one saddle that i ride with a half pad so that every horse is comfortable.
A half pad only makes a horse comfortable if the saddle fits or is a tad wide. If the saddle is on the narrow side, adding a thick pad will actually cause the horse pain or discomfort.