Make Your Own Bridle (image heavy) *Instructions added!!*
---
I've had a request to explain the bridle in my avatar. It's a do-it-yourself bridle and I plan on explaining it. My trainer makes his own bridles so they are completely adjustable to fit all the different horses he rides. I've posted pictures of some of them, but the main one I don't have pictures of yet, but I'll do that soon.
Please don't make this into a controversey. I know browbands and everything are good, but we just don't use them, but if you want to know how, I can do that for you.
Well first of all here are pics of bridles we have around the barn with different bits.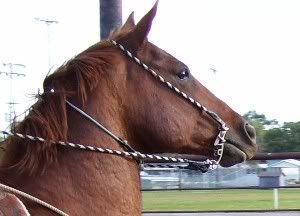 Roping bridle with Argentine snaffle
same bridle, but with tie-down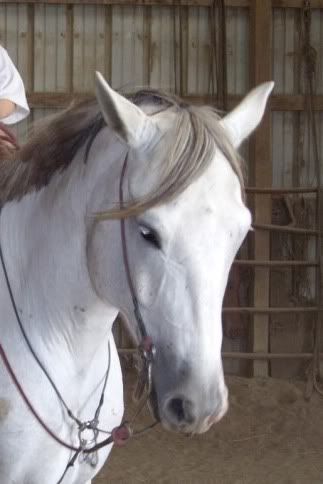 now with a curb
with a curb again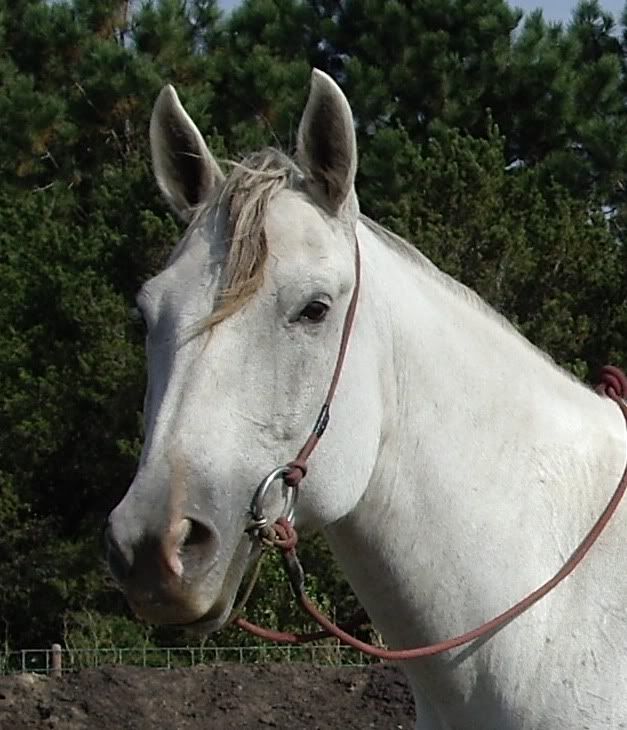 now with a snaffle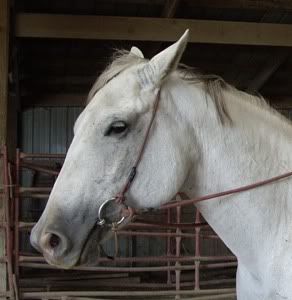 with a snaffle and a grumpy face
if you have comments or anything go ahead.... I plan on making one of my own soon, so i'll be posting step by step instructions for ya'll! i'll also get some pictures of the most used bridle.... it shows it's ability to be resized easily
thanks for looking!
Edit: Here are the step-by-step instructions!!
First: make sure you have all of your supplies...... 3/8 inch rope, bit, electric tape, knife, lighter, ruler, (trigger snaps, optional)
Step 2: cut your rope into one lenght of 5 feet, more if your horse has a large head, and then two reins..... these can be your choice of lenght, I used 8' split reins, but you can choose the length you prefer and can even use a single rein
Now what you have should look like this: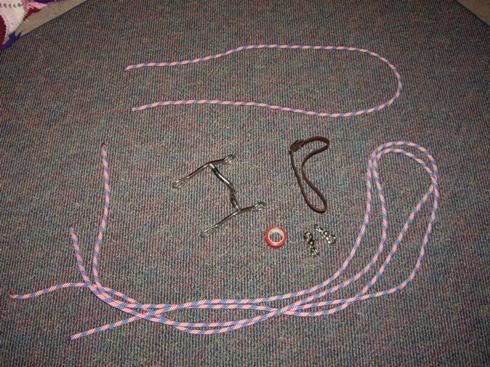 Step 3: tie the off-side of the headstall to your bit
start by going under, out and over, like so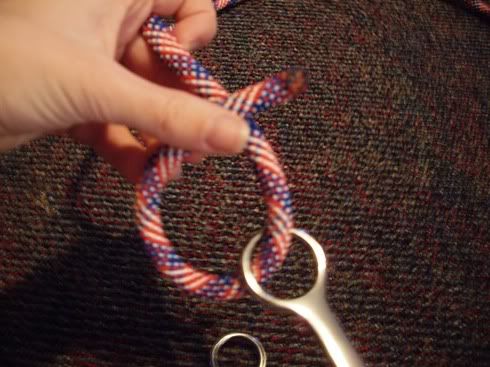 then go back in through the bit, and then under the loop you just made with the rope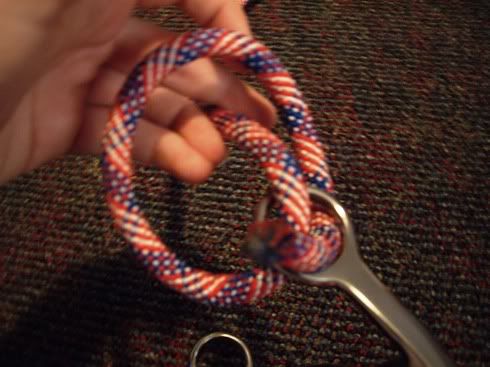 now your knot should look like this:
at first your knot might not want to cooperat too well.... the rope will get broken in though in no time, just make sure that the loop of the knot stays behind the bit like below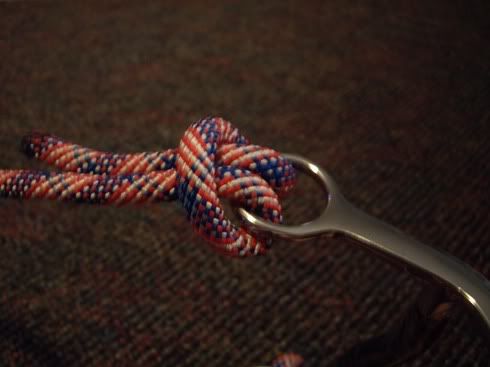 the offside should be taped with the electrical tape so that it won't adjust on it's own.... it also keeps the knot tidy
for the near-side you tie the knot in the same way.... the bridle will be snug at the horses poll, right behind the ears.... if you plan on using it on only one horse i recommend sizing it right and then taping that side aswell, but if you don't just keep the usual knot..... and if it is too big you can tie the knot below to keep the excess from flying around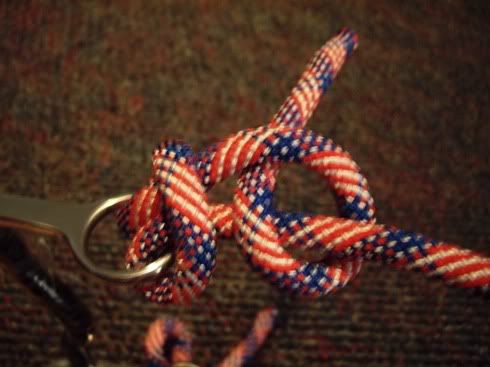 For the reins, you can either attatch them to trigger snaps or directly to the bit...... i used trigger snaps, the secret is to make sure that your reins are as close as you can get them to the same length when they are done....
you start by folding it over what you want it attatched to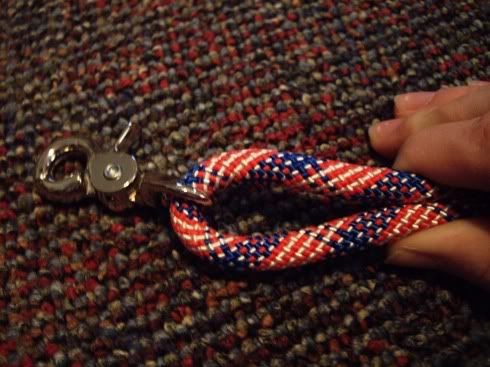 then tape it together with electric tape, i prefer using two layers, starting with the end of the rope and going toward the snap and then back, and make sure i go past where the rope ends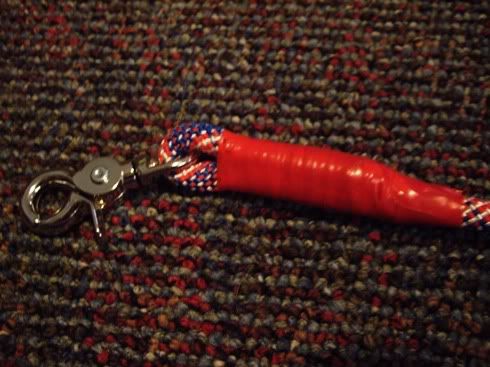 Here's what the reins look like finished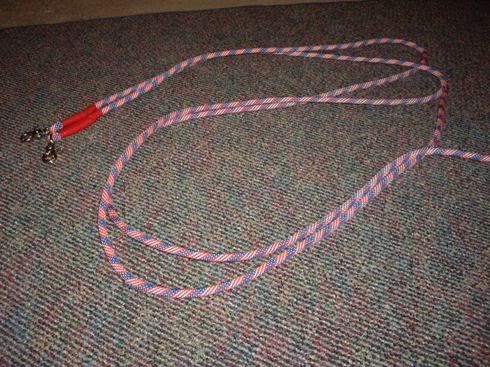 and here's everything together....the near side is going kinda crazy in that pic, but i've had it hanging up and the rope is breaking in VERY quickly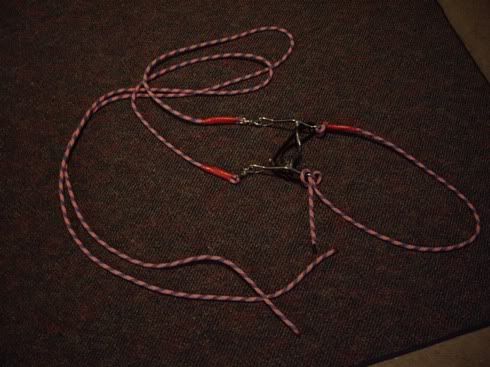 here's my homemade headstall next to one i bought
hope you enjoyed!!
that's really interesting! I'd love to make my own. I think it would be really cool!
I'm excited for mine.... I just have to get everything.... like a bit...... just noticed that I don't have a bit...... i'll get one..... hmm, i just noticed the horribly dirty background in that one pic.......sorry, but incase you want to know, those are things we don't use, except the halter
oh that's ok. I honestly didn't notice.
I can't wait to do this!
tell us what supplies we need so that we can be ready when you post the how to. this sounds do neat.
---
Tiffany
Soon to be the proud owner of her 1st horse in 10 years!
Yay! Thanks!! they look great, I can't wait to see the step-by-step instructions!!
---
The lovely images above provided by CVLC Photography cvlphotography.com
OH jeeze I want one of those! I'm totally into making my own tack. I've tied my own halters, bridles, made my own leads and reins, I've sewn my own cooler (that wasn't easy!) I've made my own saddle pads and I think thats it.

edit- and I made a bareback pad once.
Ok for supplies.....

3/8 inch rope...... (sorry JDI i don't know metric stuff)---prolly need no more than 25 ft... depending on how long you like your reins

a bit of your choice

a curb strap, optional.... if you really want you can make your own like in the snaffle pics

electric tape

something to cut the rope with (knife)

a lighter to burn the rope edges

a ruler

(optional) two trigger snaps to attach reins with.... you don't have to use these, but I'm going to for mine because I don't want to tape them to the bit I have
I added instructions now for everybody!! If you have questions, fire away!! Hope you enjoy, and have fun making your own!!