Mare is grabbing bit, pulling rein out of my hand
---
Been working with a stubborn mare. She is spoiled at her house and has learned to grab hold of her snaffle bit and jerk her head to pull the reins out of the riders hand so that she can stop, drop her head, and eat.

Since she came to me, I have been riding her in a 4 knot training rope halter and bumping her to keep her from pulling her head away from me. She had stopped pulling on me almost completely so I traded out the halter for a rope nose hackamore. She'e been doing great.

My problem lies in that her owners WANT to ride her in a snaffle bit. So I put her back in the bit and she almost immediately started testing the waters. Within an hour ride, she was back to grabbing the bit and ripping the reins out of my hands. The only way I can keep my rein is by bracing my legs and one hand on the horn and pulling with my whole body, did that ONE time... one time too many....She just managed to hurt my shoulder and keep her head pulled against me in a strength contest, obviously she won. So after I let her have her head, I bumped the bit, hard, until she brought her head back up to me and started walking again. I don't want to pull on her mouth that hard. Thats not what the owners want, they want her to be soft and responsive (obviously). Anyway, We make it about 15ft and she does it again. I have tried O-ring snaffle, jr cowhorse sweet iron snaffle, tom thumb... she grabs them all. She wont take a solid bit, like a grazing bit or a ported bit, she freaks out with a solid piece of metal in her mouth and her owners ask me not to use that.

Is there a bit suggestions for a horse that grabs hold and pulls??

Thanks
---
One is closer to God's heart on a horse than anywhere else on earth!
---
Last edited by heartprints62; 07-24-2011 at

11:49 PM

.
How is she grabbing? Like, with her teeth? If you put a noseband on her, would it prevent her from getting the mouthpiece so far back? I guess I'm confused about what's happening...
Bubba I'm not really sure, it doesnt' feel like she's biting, usually I can feel the horse playing with it to get to their teeth then the initial bite and pull....
She sort of tips her head (poll) to the right (which lifts her left bottom jaw upward where I can see her jaw muscles completely tense up) and then she rips her head downward to the right. It all happens in a split second. Its more like a head sling.... does that make sence?
---
One is closer to God's heart on a horse than anywhere else on earth!
BTW, I was hoping you would see my thread Bubba, thanks for your help.
---
One is closer to God's heart on a horse than anywhere else on earth!
So she's not really grabbing the bit, per se, but she's just learned that she can take the momentary pain in order to take advantage of the rider?

Can she still pull if you just hold with one hand, and bend her to the side when she tries her trick? But that's not exactly a feasible way to ride, even if it works. I mean, you could keep doing something "similar" to a one-rein stop every time she goes to yank...

You said she still does it in a jointed curb. OK, what about a chain snaffle? I'm not a big fan of that at all, but she may find it less fun to tug on.

Other than that, well, the most logical thing is what you did--using a hackamore...so odd that the owners are opposed.
Yes, I thought it was odd too. I put 30 days riding on her and took her back home, saddled her up and showed them how well she was doing and not pulling at all anymore. They were acctually mad! They said I "didn't fix anything" that I just made "short cut to aviod the real problem".... so I gave them another 30 days for free..............
The problem is that I am starting to feel it coming, so I try to tip her nose the opposite direction, but she just does the same thing on both sides. When I can finally get her up to a trot (she is SUPER lazy, vet checked out for pain, she's the picture of health) she wont pull and she does one rein stops beautifully, with only 2 fingers on the reins. That was on of the things they wanted me to teach her.
Hence the reason I am so stumped by her behavior. She is soft in the mouth and responsive at a trot and canter. Just at a walk, she is a ......... I was thinking about trying this type of chain bit (ball chain):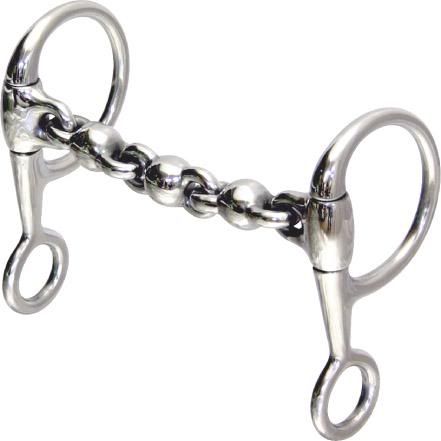 This one is an Abetta.
I also found that style of chain on a Jr Cowhorse and a Wonder Bit.
I was hoping maybe the weight of the chain would keep her from wanting to pull on it?? Maybe...
---
One is closer to God's heart on a horse than anywhere else on earth!
---
Last edited by Allison Finch; 07-25-2011 at

12:00 PM

.
That looks like a waterford mouthpiece Pelham bit, meant to be used with a snaffle rein and a curb rein, perhaps.

Instead of thinking of how to pull her out of this , is it possible to push her out of it? I mean the minute you even have an inkling that she is THINKING of doing this, you put your crop and ask for a big forward out of her. If she pulls the bit forward and you put your heels on and a crop to move her forward, will she buck?
the trick would be catching her right when she starts even thinking about this. So, never give her an opportunity to think about that, and if she strays, bump her out of that thought ASAP.
It's a Boucher Waterford snaffle in the picture, but it's upside down, for some odd reason....

Worth a try, but would the owners be cool with that? And she could still pull if she really wanted to, it just might hurt her mouth a little more.
This is the bit I posted... is it that same as the ones you have listed?
Abetta Half Cheek Ball Snaffle Bit - Stainless Steel - 5" Specialty and Other Bits Western HorseLoverZ.com
Tinyliny- I ride with 12ft split leather reins with heavy ends so that's my "spanker". I do kick her to drive her forward the second that she does this, but usually it's so fast by the time she is thinking it, she already doing it, that I don't have time to spank her too before her head is already down. I tried that already, she just steps on her face... or my rien.... after that I switches to a cotton braided rien.
I do catch her most of the time now, but if I bump her head in the opposite direction to stop it, she just slings it the other way. She does this to both sides.
Also, the owners said she bucks, but after 30 days of riding and a week of her head being down by her knees, she hasn't offered to buck with me yet....
Bubba- The owners are ok with me using different bits to get her to break the habbit "as long as [I] can get her back into a plain snaffle..."
The hackamore was great, I still don't get why they don't like it.... all they do is trail ride and pony grandkids around the yard...... grrrrrrr......
---
One is closer to God's heart on a horse than anywhere else on earth!
She sounds like a peach ;) What about a half breed side pull so you have the snaffle with the benefit of a noseband?
Posted via Mobile Device