More pics of the Wintec. Yay!
---
Here are some more pics of the Wintec All-Purpose Saddle I want to buy. Critique please!
THANKS!!!!!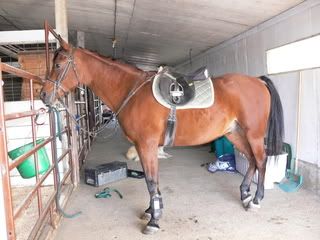 ---
WHATS REALITY?
It has Dressage billets on it... when I'm jumping I prefer the billets up underneath the saddle flap. But if you don't mind that, you like it, and it fits both you and your horse, I don't see any reason not to get it :)
---
The lovely images above provided by CVLC Photography cvlphotography.com
I am hoping it will fit correctly and I can have it for sure! Its so hard waiting. I can't wait to get back in the saddle...only this saddle will be much different and I won't start riding until Blu's respect comes back lol and I feel comfortable with him and the new tack. *faint* i don't know what to think.....

I expect so much out of Blu and myself. I am not positive whether we can do this or not.
---
WHATS REALITY?
no, you should buy my wintec all-purpose saddle! it even comes with a bridle & stirrups leathers & possibly a 46" leather girth from dover....haha, but really, i need to sell it! it's hardly been used, i've had it for a year, 17", black, comes with entire gullet set, & more!
I used a wintec saddle for years. I have to say I quite enjoyed them. I had and still keep it as an extra saddle the jumping pro Cair. Before that I had a dressage saddle -Syntack- I adored that saddle. Sold it when I went to Hunters.I really liked the lack of care required with those, the fact they are water safe (or at least mine was).

How are you enjoying it over all?
I've never been a fan of synthetic, most judges prefer real leather, at least in hunter classes and what not. But the most important thing is you like it and it fits you and your horse.