ALRIGHTY.
THIS IS KIND OF WHAT THIS WHOLE THREAD WAS LEADING UP TO LOL.
The wider gullet plate might be better than the one currently in there....?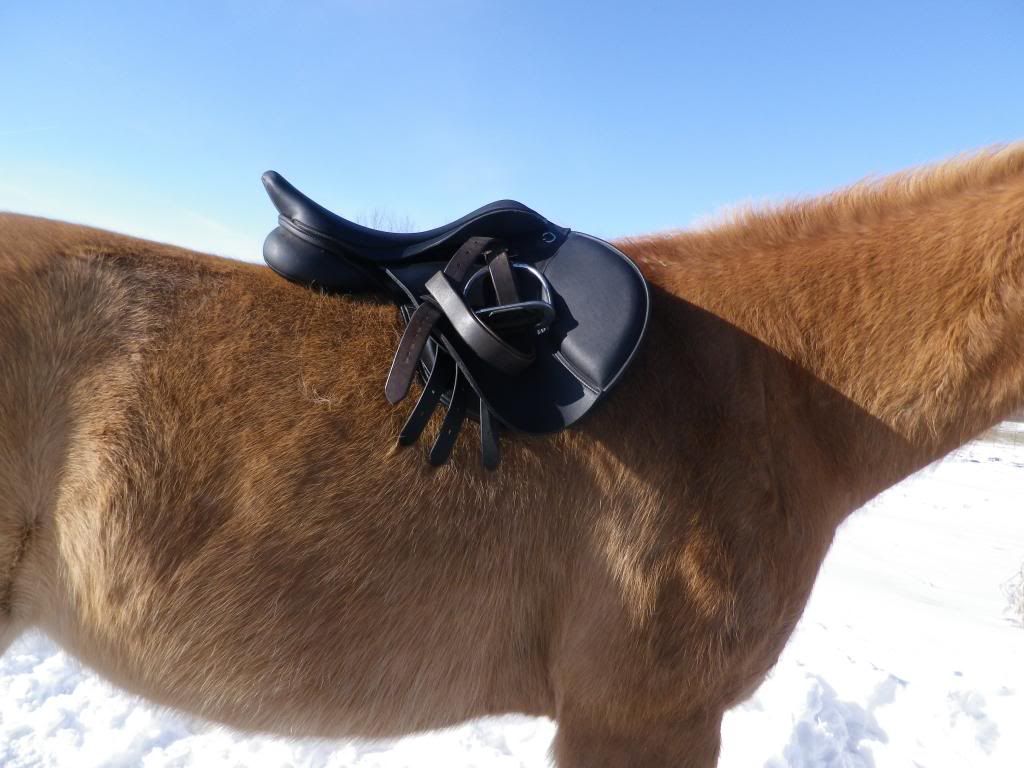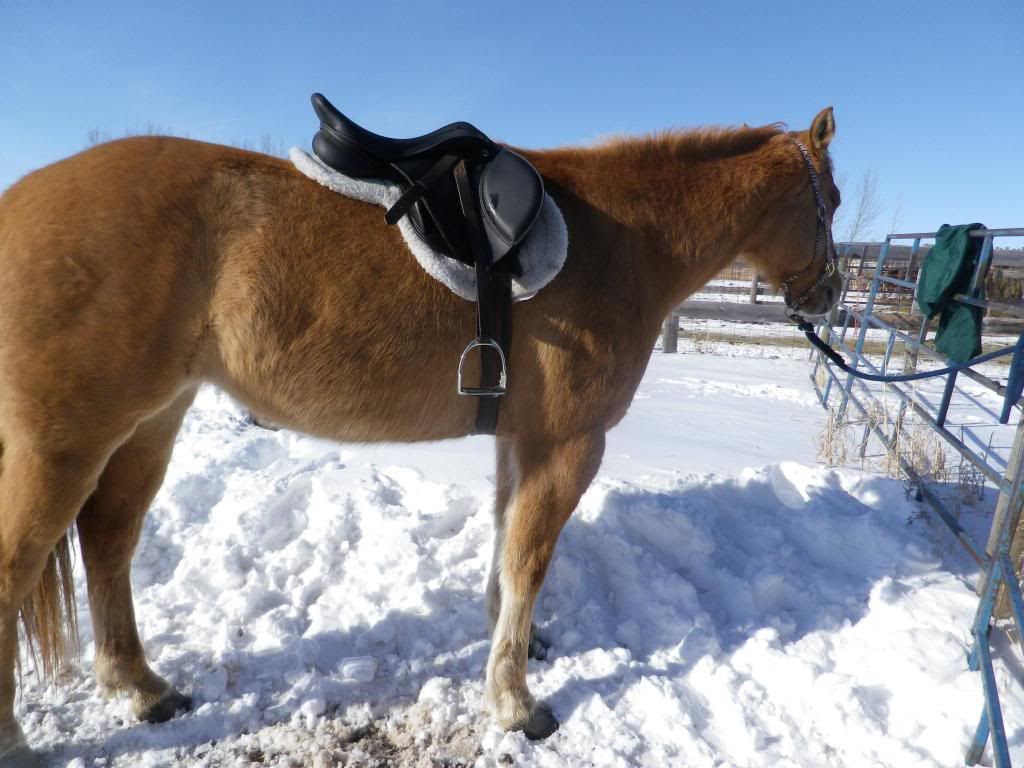 I know the pad is wonky... I got a little excited lol
---
Yearling
Join Date: Nov 2011
Location: Beautiful Pacific Northwest
Posts: 1,275
• Horses: 0
Congratulations!
Kind of hard to see just how it fits behind the shoulder with all that wool covering your mammoth
Unclearthur is your Thorowgood guy, but I'll give a shot at your question about whether you need the wider plate.
Are you asking because you have so much wither-clearance? I don't think the exact number of fingers clearance is that important, as long as there's clearance. Your pommel is nicely lower than your cantle. You look correct sitting in it. With a wider plate, the pommel will sit lower, which I'm afraid could really pitch you forward. Is there any bridging? If you have bridging, you might need the wider plate. If you don't, then things are sitting about where they should be. Can you see his shoulder-angle under all that wool? Can you lift the flap and find the tree-points and get a good visual on how the tree-angle lines up with his shoulder-angle? With the girth tight, have you run your hand under the tree points to see if you feel any pinching? If the tree-angle matches his shoulder-angle and there's no pinching, and no bridging, then you probably have the right gullet-plate in there.
It looks good on you!
Awesome thank you!

I'll check all of that next time I'm able to ride!
---
If you have gullet plates here's the way to tell.

Have both plates out of the saddle. Measure three finger widths (2") back from the back edge of the shoulder blade and drop each gullet over the withers at that point. The correct width should fit snugly, touching the horse along its whole length.

Basically, if there's a gap at the top between plate and spine it's too narrow. If it's in contact with the spine at the top but it 'rattles' side to side, ie. there's a gap between the 'legs' of the plate and the horse, it MAY be too wide. In the latter case if you press it against one side which raises the other to give a small gap you can hardly get your finger in then it's barely half a tree width too wide, which should be fine. That usually means the horse falls in a bit behind the shoulder and you'll need the extra width for shoulder clearance, but the saddle might need some extra flocking in front.

Within reason, you're usually best going for a wider rather than narrower gullet in most cases.

Once you've chosen the gullet and fitted it back in the saddle, just check the saddle level looks okay when it's girthed up tight enough to mount and put the flat of your hand between the front of the saddle and the horse's shoulder while lifting his leg forward (a bit awkward until you've got the knack) to check it's not tight, on both sides.

Hope I explained that okay :)
---
Last edited by unclearthur; 03-20-2013 at

06:51 AM

.
You did explain it good enough for me lo
Posted via Mobile Device
You don't want to go any wider. As it is the saddle is not balanced, wider will pitch it more forward.
A good video, there is 9 of them total you can watch
---
BB ~ 2014 Trakehner Bratty Mare ~ 1993 CSHA Em ~ 2007 Standardbred

Would a half pad or something help? Once Squiggy gets back into work she fills out a bit so thats gonna change stuff again
Posted via Mobile Device
I think a half pad would do the job, if you can get one with a bit of a lift in the front that would be perfect.
Something like this
Fleeceworks™ Perfect Balance Wool Half Pad | Dover Saddlery
You can find them cheaper though. I can hunt for you if you like
---
BB ~ 2014 Trakehner Bratty Mare ~ 1993 CSHA Em ~ 2007 Standardbred

---
BB ~ 2014 Trakehner Bratty Mare ~ 1993 CSHA Em ~ 2007 Standardbred

I will see what I can find around here
Posted via Mobile Device