Easy Stop
The Easy Stop is so named because it has the power to really rate a horse and enhance its brakes. It is rarely used in competition (with the exception of barrel racing, where it is sometimes seen) but is common in the training pen. It is one-of-a-kind type of hackamore, which puts pressure between the jawbones. The reins are attached to the odd-looking shanks. Pulling back applies pressure underneath the jaw, while the already-tight noseband tightens down further on the nasal bones. This is a very sensitive area, so horses are very responsive to the Easy Stop. They will back off of it quickly, so it can (in fact,
must
) be ridden with very soft hands so as not to cause the horse pain or even damage the nerves. Once a horse figures out what is going on, it will respond to even the lightest touch of the reins. I classify this as a very severe hackamore. A heavy-handed rider or a green horse would not match with the Easy Stop at all….the horse could easily get scared and rear as a result of its unique action.
The Easy Stop has tons of "whoa," but almost no turn. A horse must be well schooled in neck-reining, or respond to a sidepull-type action, in order to use this hackamore.
Bump 'n' Turn Hackamores
The bump 'n' turn (also called the stop and turn) is a funny little hackamore, used mainly in barrel racing.
The solid metal bar goes underneath the chin and is basically a very severe, strong curb that puts pressure on the jawbones. This hackamore has a lot of "whoa," but, despite the name, not much turn--it works rather like a sidepull in this department. You aren't meant to keep pulling and pulling on it--just pick up the reins and bump, then release pressure. It should only be used on certain horses because it's pretty harsh, and most horses don't like it. The bar underneath the chin can be covered with a bit-wrap-like material to cushion it, but steer clear of Vetrap, which compresses into a hard mass and can actually draw blood. The rope noseband is pretty harsh, and on poorly-made models, the knots that are intended to hold the bridle in place can slip, leading to a crooked fit. Only use this hackamore when correcting a problem, and even then only with the lightest hands possible.
Mechanical Hackamores
The mechanical hackamore is an often-used and often-misunderstood piece of equipment. Even though it is a hackamore, not a bit, this piece of equipment is quite harsh. The shanks are very long and usually straight, meaning that they magnify rein pressure and give a lot of leverage power to the curb chain underneath the jaw. A heavy-handed rider giving a strong, harsh jerk to the reins could easily damage the bone or even do nerve damage. Additionally, when the noseband is constructed of such materials as rope, rawhide, or bikechain, pressure across the nose can become quite severe. Gentler versions include chain encased in plastic tubing, fleece, or flat leather. The curb chain could theoretically be replaced with a leather curb strap, as well, greatly decreasing the harsh effect of this hackamore.
The mechanical hackamore should only be used on well-broke, neck-reined horses--never on colts or those in training. It has no direct pull action whatsoever--pulling on one rein causes the entire curb chain to be tightened, giving the horse a cue to stop, but not to turn, bend, or flex--hence causig confusion and frustration. It has a lot of "whoa" for the reasons detailed above, and works well when a good stop, but not turn, is necessary. It may be used on older, broke horses who are suffering mouth injuries and cannot use a bit with good results.
Never snatch the reins suddenly when using the hackamore. The effect is intense pain, and the horse's reaction is likely to be violent.
Little "S" Hackamore
I love to use the Little S on greenies who hate bits, horses who need to lighten up in the mouth, those who need noseband action but not a full-fledged combination bit, horses who are learning to neck-rein but are confused by shanked bits, those who know the basics of lateral movement but still need some work on it; in the training pen, while trail riding, and on some barrel horses. Needless to say, it's extremely versatile.
Pulling on the reins rotates the "S" shank that gives the hackamore its name. This tightens the curb chain and brings the noseband down slightly. I consider this to be a rather mild hackamore with an almost bit-like action.
It's good for both direct reining and neck reining (I actually try to teach neck reining in a snaffle bit, but the bit's action makes this rather difficult. As you put your rein across a colt's neck, the bit pulls on their mouth slighlty, confusing them and giving them a conflicting signal. So I switch to a hackamore or halter to test how much they know, and suddenly they get a lot more comfortable neck reining because there aren't two commands going on at once). And, for a hackamore, it has a suprisingly good amound of lift, bend, and flex.
It's not the best for collection. I recommend teaching collection in another bit, then switching to the hack. The knowledge should transfer over.
The short, curvy shanks make this a very gentle hackamore when compared to several others. You'll often see this hackamore sold with a leather noseband to replace the abrasive rope, and this increases its gentleness.
The Perfect Bit
"The Perfect Bit" is a misleading name. "The Kinda Cool Bit" might have been more appropriate. This was one of those fads that sounded great at the time but has largely fallen by the wayside once people realized it wasn't a magic fix-all. The design of this bit (which comes in a snaffle, short shank, and long shank version, with the option of "snaffle" mouth, twisted "snaffle" mouth, or lifesaver) is unique, and at first glance looks like the miracle fix. Rather than relying on fixed, gag, or draw action, the mouthpiece is connected via a ball-and-socket style joint. This allows the cheek piece to rotate 360 degrees and gives the shanks lots of freedom.
Unfortunately, this bit works better in theory than in practice. Don't get me wrong--the Perfect Bit is really neat. However, the rotating shanks don't engage the mouth fully, and every horse I've ever ridden the bit on ends up getting frustrated, then mad, and finally tries to run through the bit with its head stuck up in the air. Once the curb (on the shanked versions) is tightened, the mouthpiece just keeps pulling into the bars, which looks rather uncomfortable. I think this is because the Perfect Bit's patented joint makes it a little
too
gentle until it engages fully, then it practically chokes the horse.
I think it probably works best training green horses or riding soft-mouthed horses.
Here is the
website
so you can read for yourself.
The Whisper Bit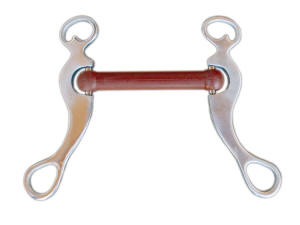 This is another fad curb bit, popular with reiners and advocated by some barrel racers. Here's the
website
.
The mouthpiece is a fairly soft plastic. The shanks are aluminum. I've used this bit on one of my horses and gotten a good response. The mouthpiece is forgiving with no pinch or harsh pressure. Light commands with the reins gently pull the mouthpiece onto the tongue almost immediately, so you really don't ever need to use a lot of force, though you can without injuring the bars. When the reins are loose, the bit is very quiet in the mouth--another clear positive.
However, the mouthpiece is incredibly thick, and a lot of horses (particularly those with low palates) will not appreciate the space it takes up. There is no room for tongue relief whatsoever, even when the reins are draped. The horse's lips are forever curled back and unable to close.
I certainly wouldn't spend $70 on one. I got mine used for $5, and paid the same for a comparable off-brand bit brand new.
Myler Bits
Myler is a brand of bits, not a specific type, which make dozens and dozens of different combinations of mouth and cheekpieces. Some of their designs are common and simple and can be purchased cheaper someplace else, but others are unique to Myler and well worth the money. You get what you pay for, after all, and the versatility of Myler bits makes them extremely popular. The most important feature, in my opinion, is that many of their mouthpieces have patented "Independent Side Movement," meaning that pulling on one shank only affects that side of the mouth, as the barrel of the mouthpiece swivels. Very interesting.
Myler also has incredible customer support--if you have any bitting questions, call or email the owners/inventers--they're always glad to help. I recommend checking out their
website
for more information.
Bubba,

You put a lot of work into that! I had no idea there were soooo many bits.
Very interesting.
Excellant thread Bubba, thanks for putting the time and effort into this!
---
Looks to me like that's meant to be used on what Western folks call a draw headstall and what English folks call a gag. The latter group would use it with two reins--one on the snaffle bit, and one on the sliding headstall.
Quote:
Looks to me like that's meant to be used on what Western folks call a draw headstall and what English folks call a gag. The latter group would use it with two reins--one on the snaffle bit, and one on the sliding headstall.
Thanks
in France I saw it one one pony, ridden english. he used to put all his weight on the bit and would pull his rider forewards. so it was used to pull him back up
You're welcome, and thanks for the "thanks" above. This thread has been several years in the making and perfecting, and I hope it's able to help some people out....
wow good thing i read this! i was actually going to buy a tom thumb bit but now i think i'll keep looking, thanks for posting this it was a great read!
While I appreciate your energy, is all of this work yours? If not, be sure you give credit to the original writers/ photographers.
---
Last edited by Allison Finch; 03-09-2011 at

10:41 PM

.