Need an eventing saddle to work towards
---
Okay, my goal is to do a lot more babysitting and other work I can do to earn money for my very expencive horse hobby, one thing I would like is a new English saddle for eventing. Just for kicks, say I have a price range of about $2000, or will maybe have that much in a few years and a lot of work
. My Collegiate is amazing, but it's a wide tree and my horses are all medium/narrow. I'll probably be buying the corrective pad to fit that one first, but just say I have $2000 to spend on an eventing saddle. What is a good one? At our local tack shop I found a M. Toulouse 4* event saddle, in the perfect color to match my bridle (in avatar for color referance), on sale for $850 new. BUT it's a 17.5" and I take a 16.5". Anyway, anyone have any eventing/jumping saddles they really like?
Here's the M. Toulouse at the tack store that's too big, btw: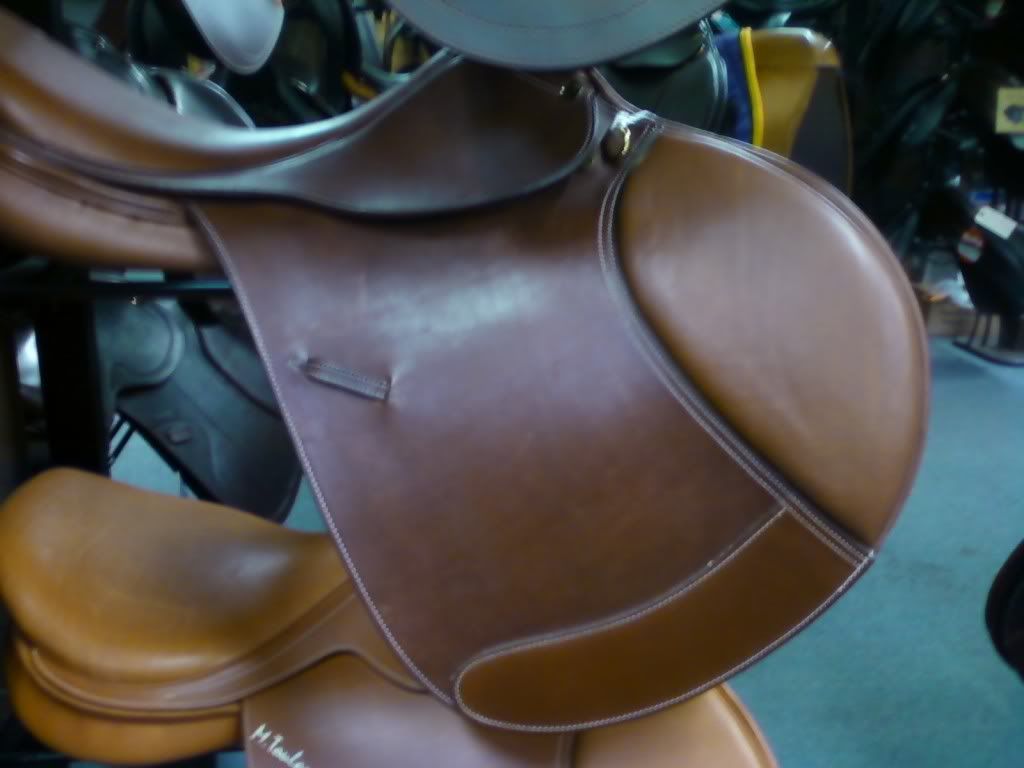 I love my Harry Dabbs, it is super comfortable and I fit snug as a bug in it.
There is a tack store here that sells M.T's -
www.classicsaddlery.com
She can help you.
I suggest you hire a Professional Saddle Maker/Fitter to come out and help you out with this process. A good one will come out with a truck/van full of saddles and their tools and will assess your horses back, try on saddles, watch you ride in them and go from there.
Most are around $75 - $100 depending on your area. What I may like and what may work for me, doesn't mean it will for you.
I also like the Collegiate Diploma Convertible. I've ridden in that saddle and it was very nice. I would of bought that if I didn't get the Harry Dabbs I currently have.
Good luck on your journey!
---
Thanks, MIE. Years ago we trailered the horss up to our local tack shop to get fitted because the saddler there is AWESOME, but lacking a trailer, I might have to see if they can make a trip here instead.
My friend has a Bates Momentum which is their eventing saddle. She love, love, loves it. I've ridden in it a few times and it is very nice to ride in, super comfortable. It comes with the changeable gullet system so you can use it for a variety of horses. I think new it is around $1500 but I know you can usually find used Bates on ebay in great condidtion and for pretty good prices. Happy Hunting!!!
Thanks, Jenny! Hmm, I don't really like the suede, my mom's old Courbette has suede knee rolls and I much prefer all leather, for the feel, look, and cleaning aspects of it. Thanks though!