Need Help Pricing My Saddle
---
Well, I need to sell my saddle so that I can put that money towards a saddle that fits my guys back.
As you know, my guy has an arched shaped back, and my Wintec 500 A/P is very strait in its' tree - which causes bridging and pockets while in use.
My Coach has given me a saddle to use for now until I can save up to buy one that is more accomodating on Nelson's back, and a few Barn Buddies have allowed me to use their very expensive saddles as well if need be.
So, I have no idea what to price my Wintec at. It is a year old, and in excellant condition - the only downfall is that a couple of billets on the left side cracked beacuse I wasn't intelligent enough to use a girth with rollers.
The cracks do not effect the safety of the billets due to how the Wintec is built, inside the thick neoprene covering, are thick nylon straps - so that the billets will not fall apart.
It just doesn't look or sound that appealing.
Other than that, there are no issues.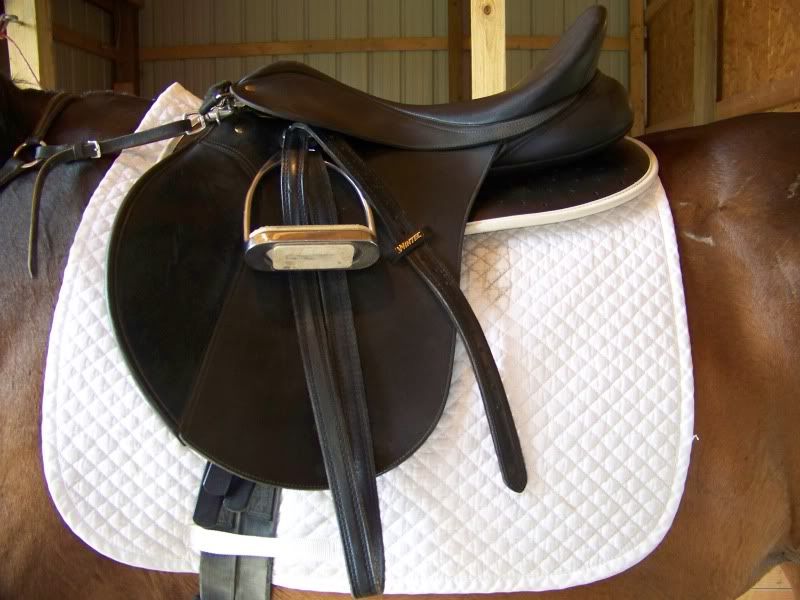 It has CAIR and you can use the Changeable Gullets with it.
I have no clue what to ask? If you were looking for a saddle, would you buy mine? If so, what would you pay?
---
Well, how much was it new? Are you selling it with the leathers/irons?
---
You can never take a Thoroughbred away from a horse crazy girl.
It was an xmas gift from Stateline Tack, my MIL bought it for me, and she paid $489.00.

And I can include the leathers and irons, but I was told that most people don't want a package deal? Not sure if that is true or not.

I just want it sold.
---
The Black AP saddles aren't as popular. Also, most tack web sites are selling the original Wintec models CHEAP right now, like under $300 for the "500" level APs and Dressage saddles. If you want it gone quickly, I would price it at $200 with leathers and irons.
Thanks Luvs2Ride I appreciate your input!

Would the cracked billets be a hinderance? I am quite emberassed to put it up for sale due to those - I was thinking I should just donate it to the local Theraputic Riding Center.
---
I have seen a few others go up with the same issue, but even worse. At $200, you still shouldn't have a problem selling.
Thank you so much!
---
I know I like it when saddles are sold with leathers/irons... It just makes it easier.

I think donating would be awesome! But, if you were hoping to put the money from selling it into a new saddle, I would just sell it.
---
You can never take a Thoroughbred away from a horse crazy girl.
If I was in the market for a saddle at the moment, I'd buy it off you MIE. But alas I'm not.

Goodluck and I don't think you'll have problem selling it. Especially if you sell it as a package, it could suit someone that is starting out.
---
Horses lend us the wings we lack;


If you go to Ebay and hit "sell".. there's a place that says "What's it worth". It brings up the average prices for your item.