opinions on treeless saddles
---
for a while now i have been thinking of getting a treeless synthetic saddle just want to know everyones opinions on this
here is the one i am looking at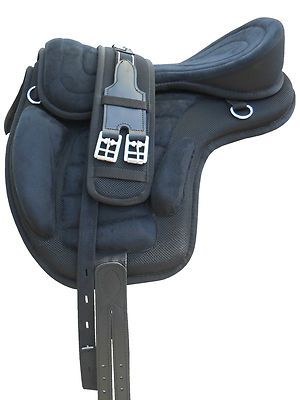 Can I borrow it?!!?

I don't personally own one, but a woman I know/have ridden with owns one

She said that you get a special pad to prevent spinal damage and that they're super awesome for having lots of horses to ride

I think that they're super interesting!
---
I live to ride and I ride to live
Horses are just angels without wings
11/01/09 <3 my horse left hoof prints on my heart
Started
Join Date: Nov 2010
Location: Lethbridge, Alberta, Canada
Posts: 1,634
• Horses:
2
Treeless saddles only work with certain horses. If you have a narrow and high-withered horse then they aren't very good for those types of horses. If you have a broad-backed horse then they work better. You also need a special pad to distribute weight properly and the saddle itself needs to be a good quality one. A good quality treeless can cost the same as a good quality treed saddle. You also can't compete in them at most competitions. I think some low level shows allow them, but don't count on that being correct.
the dressage saddle i have now is medium gullet width and doesnt fit him, but that might be because he got fat for the winter :P. do you have any idea about the pad
i have seen people ride bob Marshall treeless saddles and they can only ride for an hour or two at the most and then their horses start showing signs of soreness.
Posted via Mobile Device
i would personally steer away from that one. i have never heard of that brand but it honestly looks like it would degenerate after a few long rides.
Posted via Mobile Device
Started
Join Date: Nov 2010
Location: Lethbridge, Alberta, Canada
Posts: 1,634
• Horses:
2
It's too low of a price to last you a reasonable length of time. Less than $100 means it is made of the cheapest materials possible.
Not all treeless saddles need a special pad - it depends on the construction of the saddle. Some of them do need a special pad which basically raises the saddle up a bit to clear the spine. Hard to fit horses sometimes need customized padding (many treeless saddle pads have pockets so you can add extra padding as needed), which will take some experimenting to figure out.
Treeless saddles do need to be fitted. A bad fit can cause back soreness, just as with a treed saddle.
The Stallion Riders saddle is a knockoff of the Stateline tack saddle, so it may be okay in the short term. Here's the Stateline Tack saddle:
Down Under Kimberley Soft Saddle - Statelinetack.com
---
* I'm often reading and posting from mobile and Siri loves to make a mockery of the English language.
I have a Freemax treeless I use on a horse who gets VERY wide if he has any time off (I mean virtually horizontal withers) because no conventionally treed saddle will fit.

It's comfortable, but slides around so you can't mount from the ground unaided. Plus I'd not like to use it on a horse doing a lot of work because I'm not convinced anything without a tree won't give the horse a sore spot mid-back where the rider's weight is concentrated. Of course that all depends on horse, rider and workload and so far I've had no problems hacking out for a couple of hours at a time.