"Orthopedic" saddle pads?
---
So I'm finally in a position to actually get Lacey a new saddle pad (yay!) and I'm having a dilemma. I'm seeing all these pads that are saying they're "orthopedic" and I'm not really sure if I want that or not. They appeal to my sense of "make her back feel as nice as possible!" but 'm not sure if they're actually nicer for the horse or if it's the saddle pad people just making money off suckers like me who want to "baby" their horses.
So something like this:
Contoured Felt Saddle Pad With Suede Wear Leather: Saddles Tack Horse Supplies - ChickSaddlery.com
I like that it's contoured and a little cutback, it has wear leathers which I like, it's the thickness I need (anything thicker than 3/4in thick and I feel like I'm riding a barrel), but I'm not sure about those built up areas... They seem like they might be helpful since Lacey does have a bit of dippy back, but I'm not sure...Currently she's happy being ridden in some no name pad that I bought on ebay for 20 bucks, but she's basically the most stoic horse ever so I would really never know if she was having some pain from it...
So what do you think? Yay of "neigh"?
If not, what should I get? I drooled over 5 star pads but they are waaaay out of my price range... I think I just want a wool pad with wear leathers that is contoured for the back, but I'm not sure. Also, it's darn hard finding a 3/4 inch pad! Also, I think I like the idea of a little bit of neoprene since she is so round (and low withered) that her saddle wants to slip around all the time, so I end up compensating by over-cinching, which I hate.
I would go for a colored pad, but my saddle is veeeeery red and black, so it's a little too easy for colors to clash.
Thanks! :)
---
Fabio - 13 year old Arabian/Lipizzan gelding

~
Rest peacefully, Lacey.

I had this http://www.amazon.com/Reinsman-TackyToo-Ortho-Lite-Microsuede/dp/B003LVM5UI/ref=sr_1_11?ie=UTF8&s=sporting-goods&qid=1303013128&sr=1-11 one for my old gelding, I absolutely loved it! Blue would go lame in his one hind leg at times but once i started using that pad(and a lighter wintec saddle) he never went lame again, sadly both the pad and saddle got stolen when i was pregnant and not riding, Blue is now retired or i would get another in a second!
In general, if the saddle fits correctly, then you would not want a pad that is built up in some areas but not in either. That would make a well fitting saddle into one that is too tight in spots. If your saddel is a bit tight at the shoulder, you can get one that has adjustable shims wherein you can shim up the area behind the should, and all along the bar area, but NOT around the shoulder. That way, the shoulder gets relieve . If you add padding to all areas where the saddle bears weight , then you will not create LESS contact in any area that you may want it such as near the shoulders

If Lacey is a little bit swayed, and you are worried that your saddle is bridging a little (heaveier contact in front near shoulder and at back, nearer hip and less or no contact in the middle portion), then you would want a saddle pad that allowed you to pad out the middle portion only.
Thanks for the suggestions! I appreciate it!
That's the thing, Tinyliny, I'm not sure if the saddle is bridging or not. Her current saddle pad has an even layer of dirt/hair etc over her back, with perhaps the smallest increase in nasty in her wither area, but it's very very slight. To my eye, looking at the saddle and looking at her back, logically I say it should bridge since her back seems curvier than the saddle (which is very straight) but the saddle pad says it doesn't... I do know that she does round her back significantly as she moves, so perhaps she's filling in that space? I'm really not sure. And the tree of the saddle is forward enough in the saddle that to be placed correctly behind her shoulder, the saddle/saddlepad itself is not going to be on her shoulder really at all.
I don't really understand how that saddle does what it does, maybe it's because it's "old" (made in 1969)? But it really doesn't want to work like most of the saddles I've ever come into contact with...
Here's a picture of about where it wants to sit on her back (sans saddle pad, and probably half an inch too far forward still, imo, since the tree starts right at that first white leather "concho" thing):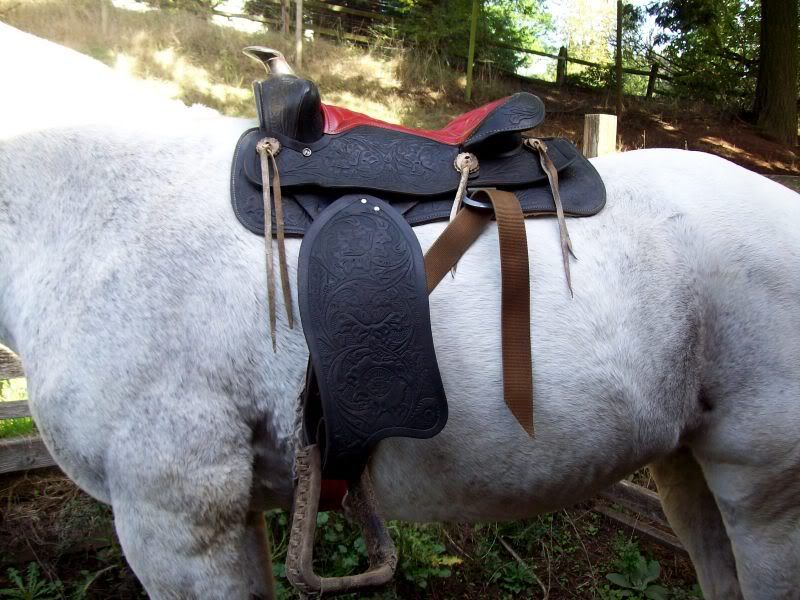 I do agree completely that if it is bridging, I need to pad more in the middle and not over her shoulders/withers. I'm just confused as to whether it really is bridging or not. And I really appreciate your input, I don't mean to sound like I'm full of excuses! :)
Also, I found the pad I have and apparently it is an inch thick, not 3/4, so that's a relief! It must be 1.5inches over her withers that makes me feel like I'm riding a barrel... At least the 1 inch pad, plus a saddle blanket is way too much padding. Lacey doesn't mind at all but there's no feel for her back, just roundness.
I found another pad that might fit the bill... It's not a swayback pad persay, but it is thinner in the front, enough that it looks like her shoulders will be in the thinner part, and then it goes to 1.5 inch thick in the middle. It also looks like the transition between the thin to thick part is tapered which adds even more to the freeing her shoulder part... And the back is contoured like the swayback pads I've seen, where the back end of the pad is shaped as well as the front... However, it only has three stars out of 5 but it won't let me see the reviews so that makes me feel a little goosey about it...
Weaver Contoured Western Saddle Pad - Horse.com
What do you think?
---
Fabio - 13 year old Arabian/Lipizzan gelding

~
Rest peacefully, Lacey.

---
Last edited by Wallaby; 04-17-2011 at

02:20 AM

.
Put the saddle on, lightly cinched, without any pad. Run your hand under the saddle from front to back. You should be able to feel any tight spots or "loose" spots on your own. If you feel even pressure, then great! You don't need a "specialty" pad. If you want something that just provides more cushion, look for a ThinLine Western Half pad, or one of their other thin shock pads, and use it with whatever saddle pad you chose. TL pads are only 1/4" thick, so they don't bulk up your pad, but they provide great protection for the back.
So now I'm stuck... I have two pads that I really like but I'm not sure which on is "the best".
I checked her saddle by running my hand under it like luvs2ride said and it felt pretty even to me... Maybe the tiniest bit tighter right as I got to her shoulder but it wasn't a really significant increase.
So, the first one I still really like is the pad I posted last night:
Weaver Contoured Western Saddle Pad - Horse.com
Looking at it more, I don't think it's actually a built up pad, I think it just has a gap in the middle of the padding like a lot of pads have (and I don't think that's bad?...?). I really like the blue one, that color is just gorgeous imo. I also like the price, $64 with free shipping makes my wallet smile. I also like how it says that it's layered wool inside to contour to the horse's back better. I've had luck with wool saddle pads before, so I feel comfortable with that idea. I also haven't had a wool based pad slip much with Lacey. My current pad is some weird non-wool, fleece covered thing and it has major slippage issues. The one downside to this pad is that it only comes in 32x32 and my current pad is 30x32 and seems big so I fear that 32x32 would be huge.
Then, the other contender is the ever popular TackyToo pad:
Reinsman TackyToo Microsuede Saddle Pad - Horse.com
I like the entire idea of this pad but I heartily dislike the colors they have. I would much prefer a darker color, but not black or brown. The color I would get (purple) is on back order, which is dumb. I'm also concerned about whether Lacey would like neoprene on her back. In my three years with her, I've never used neoprene on her. Actually, I take that back, once, last year we went on a ride where she wore a neoprene cinch. That was also the first and only time she's bucked with me on her back (I'm not sure if the two are connected, or what).
And, the price makes my bank account cry a little.
So I'm unsure. Which one to get? My mind keeps going back to the Weaver pad because I like it aesthetically but I'm not sure if the TackyToo pad is really the better thing.
And, in our world, a slipping saddle is bad stuff. We ride on really hilly terrain very regularly and I absolutely hate looking down and seeing that my saddle is half way up Lacey's neck because the darn saddle pad doesn't want to stay put.
---
Fabio - 13 year old Arabian/Lipizzan gelding

~
Rest peacefully, Lacey.

As you may or may not know, I've been trying to fit my horse for a saddle for quite a while now, and people (saddle fitters in particular) keep recommending Skito pads to me, because you can customize the parts you build up.
"Skito Custom Saddle Pads"
---
"My treasures do not clink together or glitter; They gleam in the sun and neigh in the night."
-Arabian Proverb
I like the first one that you posted. If you are worried about slippage and really don't want to go with neoprene, you might look at pads that are felt backed instead of fleece backed. I have noticed that felt pads do tend to 'stick' a little better than fleece.
Just throwing ideas out there, but you might be interested in something like this for the protection. The good thing about just a standard felt pad is that after 2 or 3 decent rides, they will conform themselves to the horse's back.
Economy Wool Western Blanket Liner - Horse.com
And then you could use a blanket to add a bit more thickness in a color that you like.
Tough-1 Shoshone Saddle Blanket - Horse.com
If you do that though, I always buy a blanket that is at least 2x2 inches bigger than the pad. That way, the blanket will completely cover it. If you buy a blanket that is the same size as the pad, you'll end up with the pad peeking out under the sides and end of the blanket and it will look tacky
.
---
Always remember that feeling of looking at a big, open country over the ears of a good horse, seeing a new trail unwind ahead of you, and that ever-spectacular view from the top of the ridge!!! Follow my training blog:
http://robertsontraining.blogspot.com/