Pee-Wee bit
---
Has anyone had any experience with this kind of bit? Someone I know who boards with us has a yearling she is trying to train & this bit is advertised as the "ultimate training bit". Any thoughts?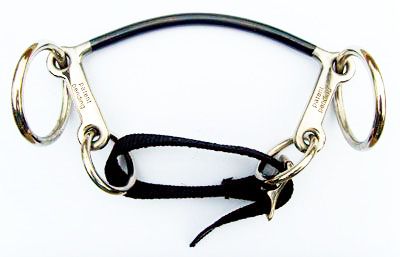 FAR from a training bit - in fact I would never consider putting any bit in a yearling's mouth. Sounds like a person who can't wait to do something with a horse that isn't ready - why we have so many horses that are messed up. Have they put a saddle on him yet as well?
---
I'm not arguing with you, I'm just explaining why I'm right.

Nothing sucks more than that moment during an argument when you realize you're wrong.

It's not always what you say but what they hear.

The horse is about 16 months old & does wear a saddle, but with no weight in it. They lunge him and pony him behind another horse. As for the bit, they said something about just wearing the bit just so he can get the feel of it in his mouth & taste the flavor. No intentions of using pressure on the bit.
I was simply curious as to whether this is a good training bit for my own personal information.
I wouldn't try that bit. I really wouln't even try bitting a horse that young, even if it's just to let him wear it.

But, depending on the structure of his mouth, a regular loose ring with an oval mouth or something, would probably be best.
---
"You're just as sane as I am."~Luna Lovegood.
Honestly, don't believe the hype about any bit, at all! If you find the right ad there will be some publication raving about the bike chain bits too, and how awesome and gentle they are(Rolls Eyes). My best advice for you is to find one of the threads on here regarding bits, how they're made, and what effects they have. As far as for a training bit for an adult horse, I wouldn't use it for training. It looks similar to a mullen mouth, but there is no movement capable whatsoever, not sure what someone would be going for with something like this.
I have a Peewee bit. I got intrigued by the hype and from time to time I like to experiment with new bits. It didn't do anything wonderful for my horse. He did not like the tongue pressure of it. So, it sits in my basement now. I didn't really use it long enough or on enough horses to really tell if it was a good bit or not. Just a couple of rides and Mac kept trying to pull the reins out of my hand, so thought maybe not so good for HIM.
A lot of people do have success with this bit here in Aus. It sits quite passively in the mouth when not being used.
Posted via Mobile Device
Thanks everybody for the info. I'm trying to learn everything I can since my mare just had a foal & I want to do everything right by him. There are 15 horses next door (4 are mine & many are boarders), & I am learning from their experiences as well, but I am sure that not all the info I get from them is good advice, so I came here to learn from others.

Thanks again. :)
I have the bit, and my horse does well in it.

I always rode him in a full check snaffle, but he was really bracing against it, so I thought it was worth a try. For the first 5-10 mins he wasn't sure, but he soon got used to it and is much more responsive in it. He doesn't brace, and is much more relaxed and happier when being ridden.


I punched an extra hole in the strap though as without that it did have a curb effect.