possible buy
---
do you think this is worth it for just an everyday saddle?
Equiroyal Event Winner Saddle Package
Package includes: saddle, stirrup leathers, stirrup irons, stirrup pads, web girth, quilted cotton pad and laced snaffle bridle with snaffle bit.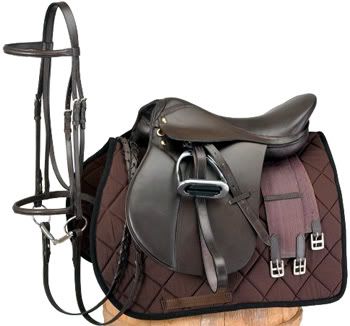 How much is it? It sounds like a nice deal if the price is good.
No. It's a cheap Asian saddle. I would not risk it.

Buy something used off eBay or tacktrader.com. You can find older, but in good shape saddles for good deals. Older used Wintecs are a good buy too.

If a used saddle you like doesn't come as a whole package (and you're not showing), you can buy nylon "leathers" (stirrup straps) and cheap irons from many online stores or eBay. You can use any thin western saddle blanket for a pad (looks cute too!) and your standard western headstall.
I can get those saddle plain, without the fittings, locally for $89.99. That's all you need to know...