Riding Boots
---
What brand of riding boots (western) do you have?
I have this pair of durango boots;
https://bootandtack.com/Scripts/prod...?idProduct=466
and love them.
Does anybody have ariat fatbaby's? I tried on a pair when I got those and didnt like the sole as much. But am thinking about getting a pair of them? What are your guy's opinions on them?
---
I buy the fairly inexpensive ones (durango) at the feed store for just daily farm work. I wear them out pretty fast. I have a pair of Tony Lama's for good.
My Tony Lama's look just like this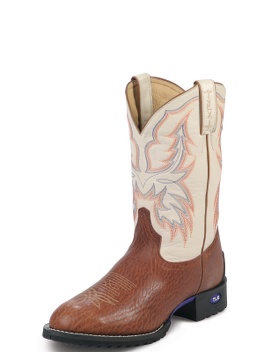 I have a friend who tried the Fat baby's and hated them.
---

"Until one has loved an animal, part of one's soul remains unawakened..."
- Anatole France
---
Last edited by Vidaloco; 05-24-2009 at

12:02 PM

.
I ride justins right now. I used to own a pair of Laredo, which I realy realy liked.
---
Proverbs 12:10, A righteous man regardeth the life of his beast...
Weanling
Join Date: May 2009
Location: Charleston, South Carolina
Posts: 601
• Horses:
8
I'm looking to get a pair of the Ariat's paddock boots. The fat baby's look too clunky to me. I like to be able to feel the stirrup through the sole of my boot.
I tried on the fatbaby's at the store and the sole was huge. And there was way too much tread on them to be safe in the stirrups in my opinion. I havent tried the justin gypsy boots, but I like them. Right now i am pretty satisfied with my durango's but doesnt hurt to have an extra pair. =]
---
I have a pair of Justin's that weren't terribly expensive and have been very comfortable.