Rope Sidepull ?
---
My pony has always had a hard time with bits. i wanted to see what he would respond like in a sidepull , but didnt want to spend the money on a tester so i got this ! mine is more rope halter but has the same nose straps.. He seems to work good in the pen with it at a walk. I was wondering if anyone had any comments on them ?
Rope Bitless Bridle Hackamore-Indian Bosal/Side Pull | eBay
bump:)
---
Leo & Irish Lola & Honor :)
There's a user named Wallaby here that uses an Indian Hackamore on her mare. Either she'll pop up or you can PM her.
I have no experience with indian hackamores myself, but my mare rides in what is basically a glorified rope halter. It's an attachment on my bridle. When I bought her, her owner told me she rode her in a rope halter because she rode better in it. I attempted various bits with her that ended with fights and one pissed off horse. So I got that and we've been smooth sailing since. Just her preference.
Mine looks like this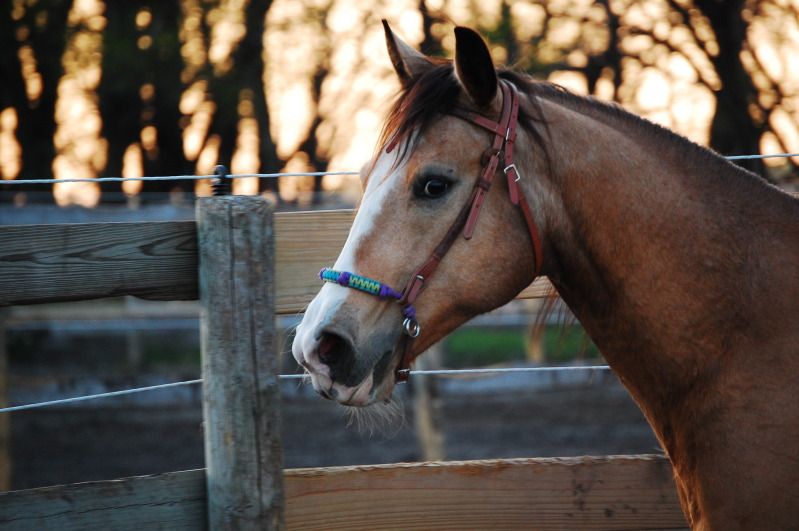 There's not a huge amount of finesse with that. For bitless options I normally rpefer a Little S hack, but that one is fine too for trails, pleasure riding, or even if your horse is sensitive enough to use it for gaming events. It's not legal in the show pen.
---
Pssh.I didn't pick up the wrong lead
It's called a counter canter...
...A very advanced maneuver.
thank you :) so can you use the noseband on any old bridle ? Mine is just a rope halter with it attached. Just wondering :)..

btw.. your horse is stunning :)
---
Leo & Irish Lola & Honor :)
Thanks. And yep. It's just a noseband with a curb strap that can be attached to any bridle.
Yes he just does trails,
---
Leo & Irish Lola & Honor :)
I use that on my mare, mine is a little bigger, and I found the rope rubs her nose, so I wrapped it in fleece. I've found she's VERY responsive to it, gives quickly and effectively with just a squeeze on the reins. Make sure if you purchase one the rope the reins clip to runs through metal rings, don't get the variety where they run through rope loops, the metal rings provide more immediate release of pressure.
We have an MFT at the rescue who just bull through bits, we only ride him very rarely because he has tying up syndrome, but when he feels good we have to go in a kimberwick, which he'll still pull through. I tried him the other day in this hackamore and he gave to it softly and effectively, he was fantastic!! Even wrapped in fleece the indian hackamore is a great tool. Don't underestimate it's strength though, setting it too low can be dangerous. Always keep it at least 2 inches up from the corner of the horse's mouth. I do 3 inches on my horses but that may vary, you want it securely on the boney part of the nose, not the soft area.
Good luck, hope your horse loves it as much as mine does
thank you !

Mine is set on 3 inches as well ! Is working great with my horses ! Really really happy with it ! But I did have that problem with my one boy leo. He is more "chunky" and it rubbed alittle :) I will use your idea !! Thank you :)
---
Leo & Irish Lola & Honor :)